Dr. Doug Newton On How Students, Parents, And Teachers Can Cope With School Shooting Fears - Exclusive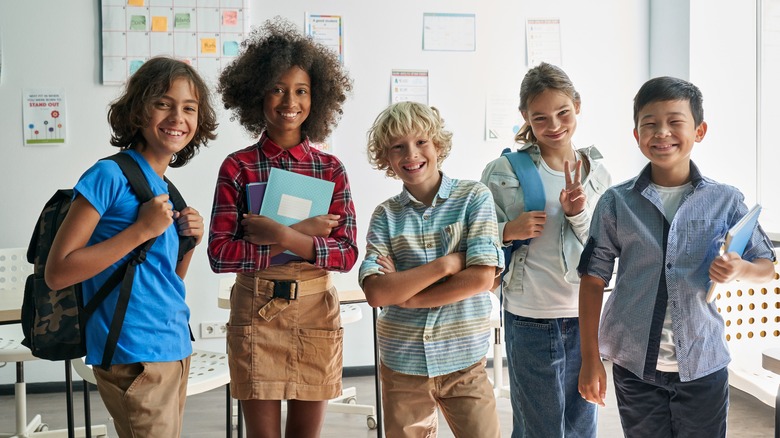 Ground Picture/Shutterstock
There have been over 20 school shootings so far in 2022, including the tragic event at the Uvalde elementary school in Texas (via NPR). It's no surprise that many people are having anxiety around this upcoming school year. "Around this time every year, we see students, as well as parents and teachers, having increased worries about how the impending school year will go," says Dr. Doug Newton. "We are all a little more on edge about what unknown things could happen this year."
Dr. Newton is the Chief Medical Officer at SonderMind, a mental health service that helps people connect with a licensed therapist for online video or in-person therapy sessions. He holds a Doctor of Medicine degree from the University of Wisconsin and a Master of Public Health degree from Yale University. In an exclusive interview with Health Digest, he shared advice for how students and teachers can mentally and emotionally prepare for the upcoming school year, including tips for how to cope with fear about school shootings.
Have those difficult conversations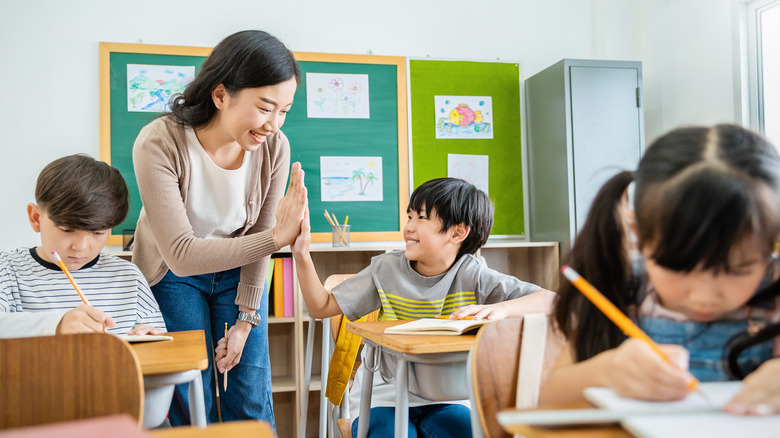 paulaphoto/Shutterstock
If you are a teacher or parent speaking to a child about school shootings, Dr. Doug Newton suggested you first reassure them that schools are generally a safe place. It's important to not minimize their fears: Validate that it is okay and normal to feel scared or worried, but highlight that schools are secure places to be. It's also important to consider an age-appropriate conversation.
"For elementary school-aged children, I recommend sharing the least amount of details. Be brief and simple in your conversations, giving basic reassurances," said Dr. Newton. "For middle school, you should start with understanding what your child knows, correct any potential misunderstandings, and reassure them it is okay to talk about their fears."
According to Dr. Newton, middle and high school kids tend to grow less comfortable acknowledging or talking about their thoughts and concerns. For this age group, it's important to let them know they can talk about their feelings and that you are providing a safe space to do so. "High schoolers may have stronger opinions about shootings and tragedies," stated Dr. Newton. "Be prepared to have nuanced, sophisticated conversations about the impact of gun violence not just on them but their community and society as a whole."
How to be a good mental health role model
Dusan Petkovic/Shutterstock
Dr. Doug Newton shared, "According to The National Child Traumatic Stress Network, children's and teens' reactions to school shootings are strongly influenced by how parents, relatives, teachers, and other caregivers respond to the event." Therefore, to be a good mental health role model as a parent or teacher, it is important to work on addressing your own anxiety and fears, so they don't rub off onto the kids — as Dr. Newton put it, "taking care of ourselves so we can take care of them."
There are many ways you can do this. Limit your consumption of news and social media, and make sure to exercise often. According to Dr. Newton, "Even 30 minutes a day of low-impact exercise has shown to significantly reduce stress." Make time in your schedule for things that help you relax and refresh, like taking a walk or bath, reading, practicing yoga, getting a massage, journaling, meditating, listening to or playing music — whatever works for you.
In addition, Dr. Newton "highly recommend[s] that parents and teachers talk to a therapist about their own feelings of anxiety and fear around school shootings. If you're better mentally equipped to face the new school year, your child will be as well."
SonderMind helps people connect with a licensed therapist for online video or in-person therapy sessions and is making it easier for people to access, receive, and participate in mental healthcare.