Will Salt Water Make Your Hair Grow Faster?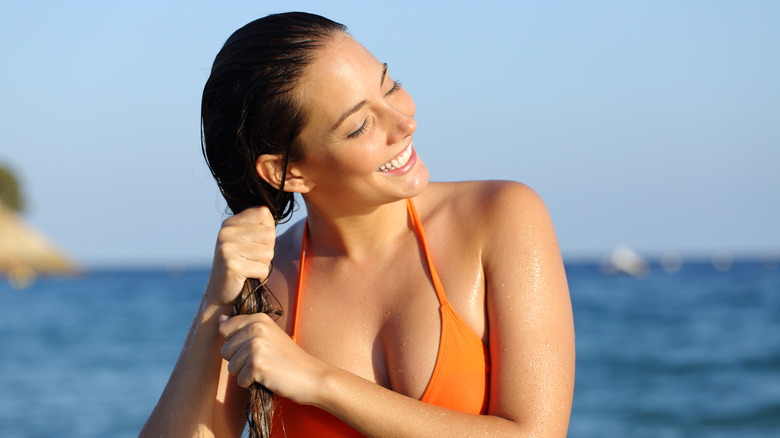 Antonio Guillem/Shutterstock
A dip in the ocean can leave you feeling better about your mane than a day at the salon. Beach hair feels thick and textured, looks va-va-voom voluminous, and can we talk about those effortless cool-girl beach waves? Women's Health says that's because ocean water is infused with minerals — which helps your hair and skin retain moisture — as well as salt. The ocean water turns into a natural shampoo that clarifies your hair and scalp by removing excess product buildup and dead skin.
Beyond giving you the best hair day ever, saltwater might also be able to help you grow your hair fast. Have you noticed how mermaids always seem to have the most luxurious trail of hair flowing freely behind them? The science might still be out on mermaids in general, but the explanation for their exquisitely long hair could be found in their environment. Let's take a closer look.
Why does saltwater promote hair growth?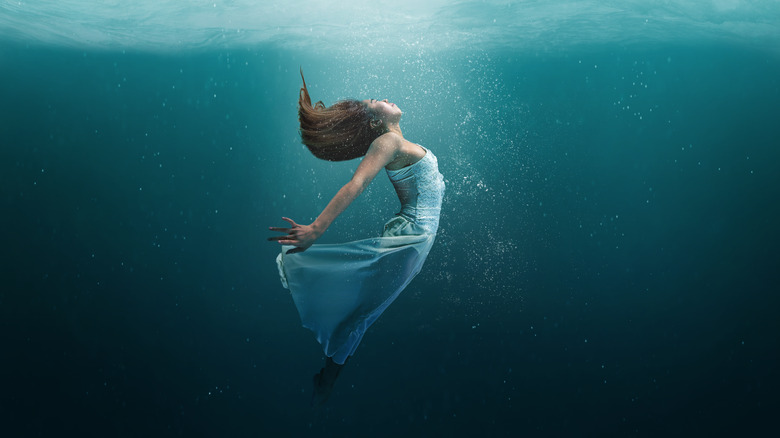 Ronnie Chua/Shutterstock
As humans, we developed from the sea, so it's no coincidence that our mineral profiles match, explained Philip Tanswell of Cornish Sea Salt Co to Women & Home. Rich in anti-inflammatory minerals, like zinc, iron, potassium, and magnesium, seawater can promote healing in those with itchy skin conditions, like eczema and psoriasis, which can negatively affect the scalp, and subsequently, hair growth. Speaking of magnesium, The Hair Fuel notes that magnesium has proven to be effective in the reduction of stress and has also been linked to better hair growth.
What's more, a 2001 study published in the Journal of Clinical Investigation reported that mice given a protein to promote blood vessel growth grew thicker and longer hair. Additionally, salt in ocean water can help to oxygenate our blood, improving circulation (via Women & Home).
If you're looking for the best way to grow your hair quickly, a 2014 study published in Toxicological Research put salt water up against jojoba oil, peppermint oil, and minoxidil for hair growth and found that at week two, peppermint oil promoted hair growth more rapidly than saltwater and jojoba. By week four, peppermint enhanced hair growth by 92%, over minoxidil's 55%.