Why The COVID-19 Vaccine May Be Annually Recommended Like The Flu Shot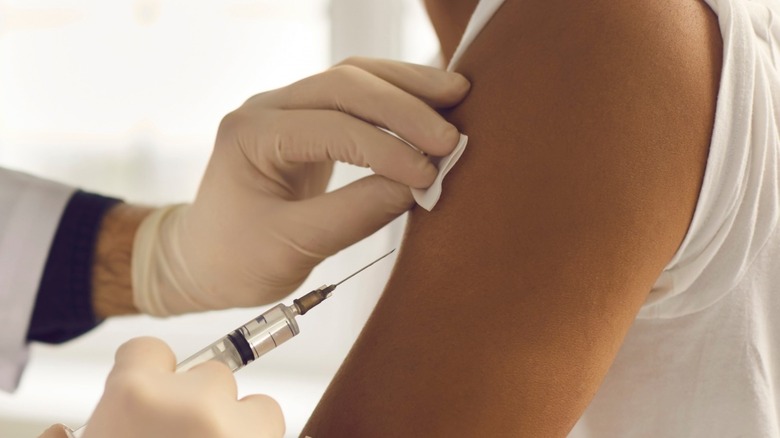 Studio Romantic/Shutterstock
The Food and Drug Administration (FDA) recently approved a new COVID-19 booster. According to a White House briefing, health experts hope that (for those who are eligible) it will become an annual vaccine to protect against COVID-19.
This latest COVID-19 booster is a combination, or bivalent, vaccine targeting the most common strains of the Omicron variant – BA.4 and BA.5. Half of the vaccine contains the medication that was put into use starting in December 2020, and the other half is made up of drugs that target these specific Omicron strains. The Pfizer-BioNTech booster is available to individuals 12 years old and up; the Moderna version is available for adults 18 years and older, per AP News.
Ideally, annual updated COVID-19 shots will provide enough protection for a full year against severe infection and illness for healthy individuals. Older adults and those with compromised immune systems may need more than a once-a-year shot. During the briefing, Director of the Centers for Disease Control and Prevention (CDC) Dr. Rochelle Walensky voiced her support for an annual COVID shot. She emphasized that preliminary data suggests updated COVID-19 vaccine doses this fall could prevent up to 100,000 hospitalizations and 9,000 deaths — as well as save billions of dollars in medical costs.
Should I get the COVID-19 booster and flu shot at the same time?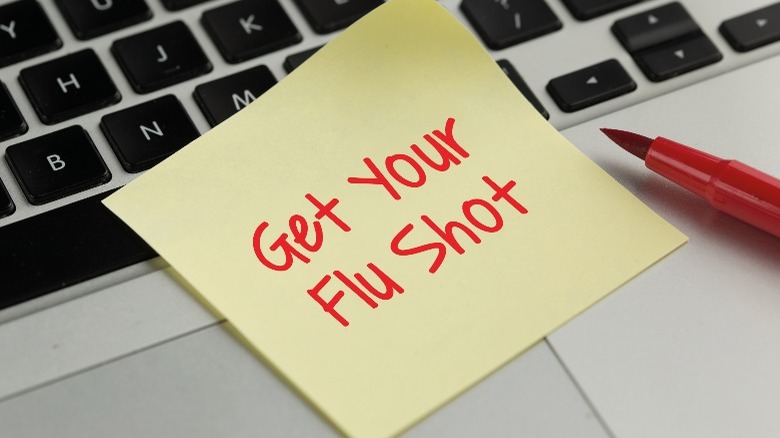 garagestock/Shutterstock
Considering we are about to enter flu season, it seems it would be both wise and efficient to get the latest COVID-19 booster at the same time that you get your annual flu shot. But is this safe, or is it better to space out the two shots?
UNC Health infectious disease specialist Dr. David Wohl told CBS 17 News that getting the latest COVID-19 booster at the same time as your annual flu vaccine is completely fine. When signing up for a COVID shot online at a pharmacy like Walgreens or CVS, you may even see an option to add in the flu shot. 
For many, getting both shots at once is a convenient and time-saving option. However, there may be a reason why you would want to space out the two shots. For instance, Dr. Wohl knows from experience that he feels lousy for about a day after getting his COVID shot. He says he would likely wait a few days for the side effects of his COVID booster to subside before getting the flu shot.
Data out of Australia indicates that the Northern hemisphere could potentially get hit hard and early this fall by the flu. However, Dr. Michelle Barron, a top infectious disease expert, told UC Health that if every eligible individual were to get their flu shot and COVID shot by October, we would see a dramatic drop in severe flu and COVID cases.