COVID Hotspots In The US Are Still A Thing. These Are The Counties With The Highest Averages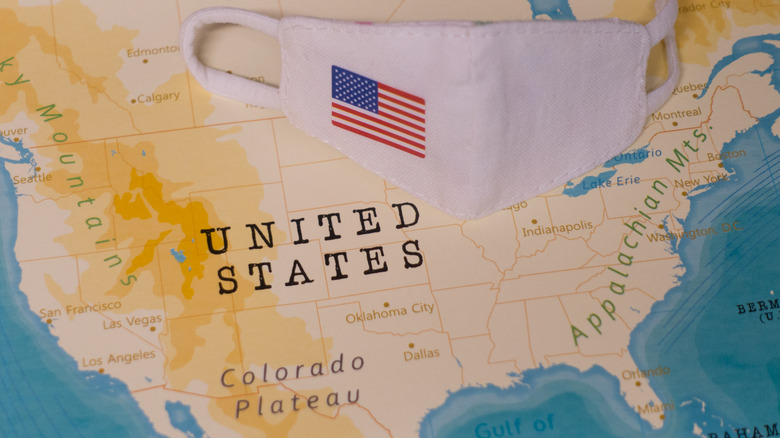 Hyotographics/Shutterstock
Since the start of 2020, Johns Hopkins University reports that there have been more than 96 million confirmed cases of COVID-19 infection across the country, reports CNN. Although the Biden administration recently announced that we are beginning to see the end of the pandemic, COVID tracking data shows certain counties across the U.S. continue to rank as COVID hotspots. 
Over the last two weeks, some states and U.S. territories have seen a significant decline in case numbers, according to CNN. Indiana, for example, saw a 73% decrease in cases. COVID cases in Louisiana fell by 47%, while Georgia and Arkansas both saw a decline of 48%. Conversely, some U.S. regions have seen a stark increase in cases over the last 14 days. Such areas include Massachusetts with a 15% increase in case numbers, a 21% increase in Rhode Island, and nearly a 50% increase in cases in Puerto Rico.
Further zeroing in on states with a high case count, let's take a closer look at which counties are still considered COVID hotspots.
Top 3 U.S. county COVID hotspots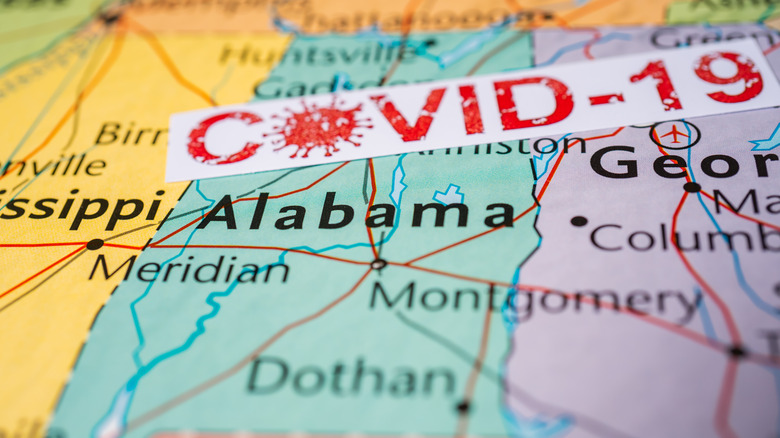 Alexander Lukatskiy/Shutterstock
As of September 29, the U.S. Centers for Disease Control and Prevention (CDC) identified 25 counties with the highest numbers of COVID-19 cases within the prior week (per U.S. News and World Report). In total, the U.S. saw an average of roughly 45,700 new cases per day.
As reported via U.S. News and World Report, among the top 25 identified hotspot counties, areas with the lowest case counts were Gem County, Idaho, with a daily average of 50 new cases per 100,000 people. Letcher County, Kentucky, saw a daily average of 52 new cases per 100,000 individuals, and the third lowest region was Clay County, Tennessee, with 53 new cases each day per 100,000 residents.
In contrast, the top three of the 25 hotspot counties identified during the same seven-day period were Winston County, Alabama, with an average of 87 new daily cases per 100,000 people (via U.S. News and World Report). The second highest county was also found to be in Alabama, with Calhoun County reporting a daily average of 90 new cases per 100,000 residents. The top COVID hotspot county in the U.S. for the week was Worth County, Missouri, with an average of 128 new cases each day per every 100,000 individuals.