Why You Should Avoid Drinking Water After Eating Fruits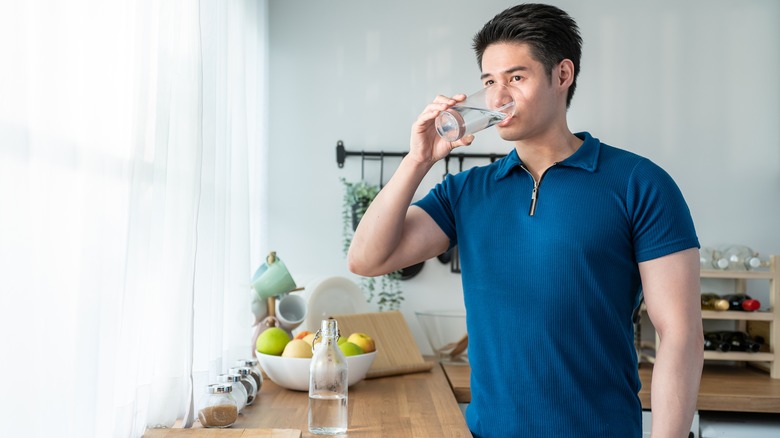 Hananeko Studio/Shutterstock
Fruit and water are both cornerstones of a healthy diet. A 2012 research review published in Advances in Nutrition indicated that consuming fruits (along with vegetables) increases fiber intake, likely leading to better health outcomes and lowering the risk of obesity. There's evidence that fruit may even boost mental well-being. Meanwhile, drinking water is essential for preventing dehydration, protecting tissues and joints, and regulating body temperature, according to the Centers for Disease Control and Prevention.
However, some have suggested that mixing fruit and water together might not be such a good idea. Similar to claims suggesting that there's an ideal time of day to eat fruit, there's also a common belief that drinking water after meals could disrupt digestion — some believe that hydrating on an empty stomach is better for the body. According to St. Clair Health, however, drinking water after eating food improves digestion, rather than impeding it.
Still, there's some evidence that gulping a glass of water after eating a bowl of fruit might do more harm than good.
Why fruit and water don't mix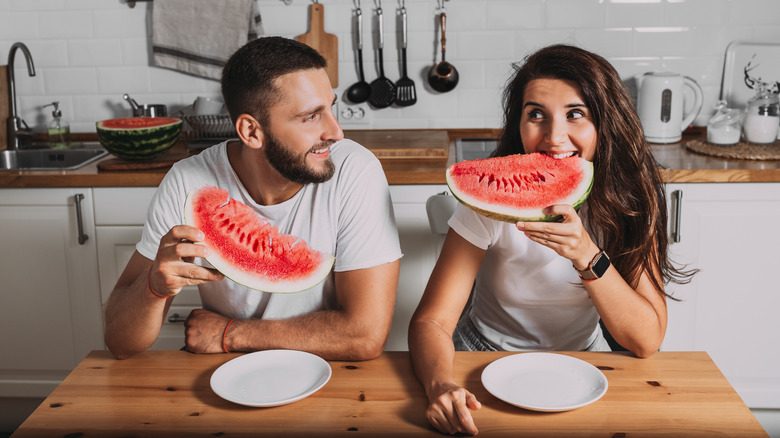 Sotnikov Misha/Shutterstock
One of the only times you may want to not drink water is while eating fruits with other sweet foods. One 2018 study published in the journal Clinical Nutrition ESPEN showed that participants who drank water while eating a sugary doughnut saw greater blood glucose spikes compared to those who didn't have water or waited 30 minutes after eating the doughnut before drinking. Though the study didn't look at the effects on blood glucose when eating fruit, it suggests a possible link between consuming water alongside sweet foods and higher blood sugar levels.
Additionally, mixing fruit and water could lead to overhydration. Healthline lists watermelon, strawberries, cantaloupe, grapefruit, peaches, and oranges as just some of the fruits that are made up of at least 88% water. That makes fruit both an easy snack and a healthy source of hydration. However, drinking water afterward can lead to consuming more fluids than intended. According to WebMD, overhydrating can trigger confusion, drowsiness, nausea and vomiting, weakness, and headaches. In serious cases, it can even be fatal.
While both fruit and water have their place in a healthy diet, spacing them out can help prevent potential blood sugar spikes and dangerous overhydration.