Could Chickpea Pasta Be The Source Of Your Bloating?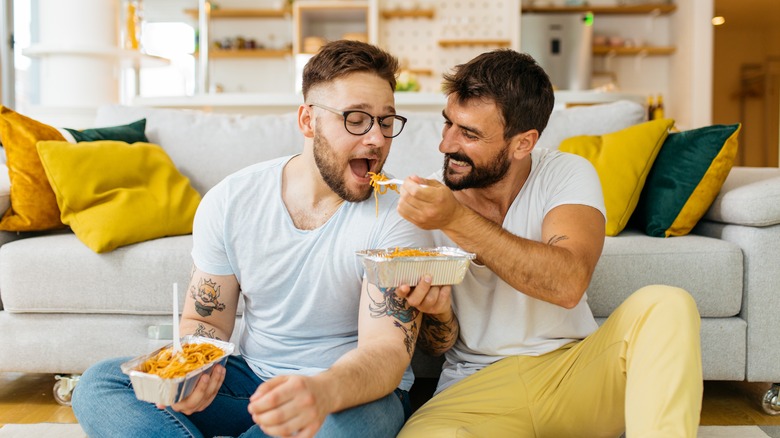 astarot/Shutterstock
Yup, you read that right! Chickpea pasta is a thing. Times have changed and now almost anyone with a gluten allergy can enjoy a comforting bowl of pasta. Take a stroll down a grocery store aisle and you'll also likely find other types of gluten-free pasta made from brown rice, beans, almonds, quinoa, cassava, and more (per Today). But one of the most common forms of gluten-free pasta is chickpea pasta. And it's not surprising as chickpeas (also known as garbanzo beans) are loaded with health benefits.
According to the U.S. Department of Agriculture (USDA), one 100-gram serving of chickpea pasta (Banza brand) has 333 calories, 24.6 grams of protein, 56.1 grams of carbs, and 6.14 grams of fat. It also contains high amounts of dietary fiber — 14 grams to be exact — which is important for digestive health. In addition, chickpeas are a rich source of iron, calcium, magnesium, phosphorus, zinc, selenium, folate, and B vitamins, explains Medical News Today. This nutritional profile gives chickpeas a powerful edge.
One 2016 study reported that chickpeas can support heart health by reducing LDL cholesterol levels. Other research explains that chickpeas can help with diabetes, cancer, and bone and mental health (per Medical News Today). What's more is that chickpeas can also support satiety, digestion, and keep you regular. While chickpeas are clearly loaded with great benefits, is it possible for chickpea pasta to cause bloating?
You may want to skip chickpea pasta if ...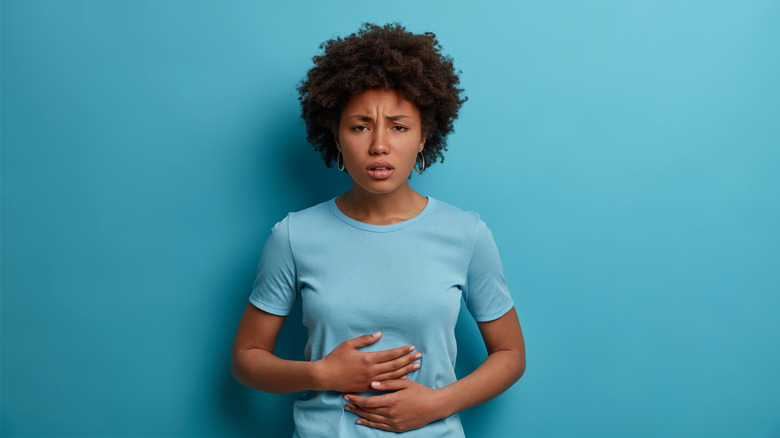 Cast Of Thousands/Shutterstock
If you're prone to indigestion and bloating, you may want to skip eating chickpea pasta, points out SheFinds. Why? Because chickpeas are a type of legume that's extremely high in fiber. Thanks to this high fiber content, chickpeas may aggravate irritable bowel syndrome (IBS) symptoms (via Medical News Today).
On top of the high fiber content, chickpeas also contain complex sugars. Medical News Today indicates that some people have a hard time digesting these complex sugars. When a person's digestive system struggles to digest the chickpeas, it can lead to intestinal discomfort and gas. In other words, chickpeas (like many other legumes such as lentils and beans) can lead to bloating.
Believe it or not, if you're new to eating chickpea pasta, it could also be a potential source of your bloating. Registered dietitian Jennifer Hanes tells SheFinds, "When a person suddenly increases their fiber intake, it can take a bit for the digestive tract to adapt." The solution here is to scale back your chickpea pasta intake until you feel better, Hanes explains. Otherwise it may be best to try a new gluten-free pasta altogether, as Medical News Today points out that some people may be sensitive or allergic to chickpeas. Some other tasty gluten-free options include brown rice pasta or quinoa pasta.