Why You Might Want To Eat Almonds Before Starting A New Workout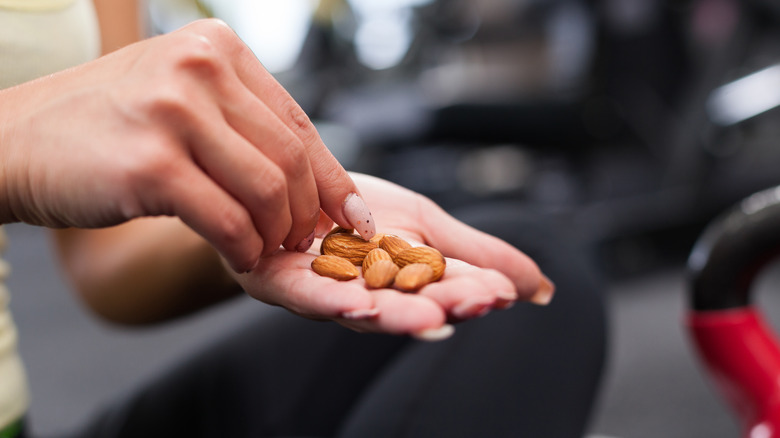 patrisyu/Shutterstock
Whether it's a protein bar, fruit smoothie, or your favorite cheese and cracker pairing, you may have a go-to snack that you reach for to help prime you for a workout or recover after the fact. For some people, their go-to snack may include a handful of seeds. It certainly makes sense. After all, seeds are rich in various nutrients including calcium, iron, magnesium, and more, thereby making them an asset to our health regimen (via Cleveland Clinic). Almonds in particular are one to watch. In fact, some research has linked these mighty seeds to cancer prevention, bone health, heart health, and blood sugar regulation, amongst other benefits (via Medical News Today).
Even more, if you're considering trying out a new workout routine, you might want to think about prepping ahead of time by snacking on some almonds in the days leading up to it. Why? A 2023 study published in the scientific journal Frontiers in Nutrition found an association between eating almonds every day for four weeks and improved muscle recovery following exercise.
Almonds may support metabolic health following physical activity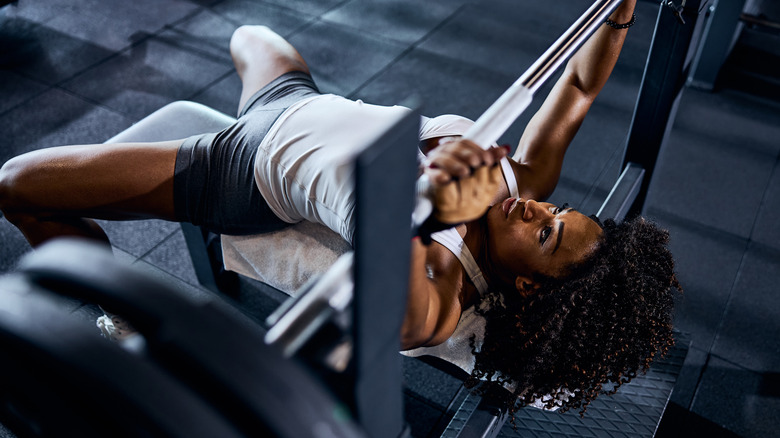 YAKOBCHUK VIACHESLAV/Shutterstock
Over the course of four weeks, 64 adults between the ages of 30 and 65 were given either a cereal bar or 57 grams of almonds daily as a supplement to their diet. Servings were split in half, with half of the almonds or cereal bar being consumed in the morning and the other half in the afternoon. None of the participants routinely engaged in resistance training exercises.
At the end of the four weeks, participants partook in a 90-minute eccentric exercise challenge that included vertical jumps, bench press exercises, leg-back strength activities, and more, as reported via Frontiers Science News. Significant muscle damage, inflammation, mood disturbances, reduced strength, and delayed onset of muscle soreness were among the reported aftereffects experienced by participants.
Blood samples revealed that right after the workout, levels of the beneficial fat known as 12,13-DiHOME were 69% higher in participants who ate almonds every day compared to individuals in the control group. Research has shown a link between 12,13-DiHOME and improved metabolic health and energy levels in humans, particularly post-exercise.
The connection between almonds and muscle recovery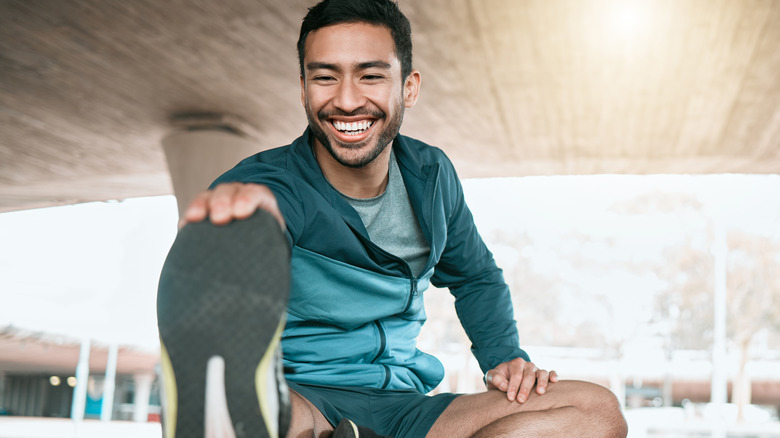 Peopleimages/Getty Images
Conversely, levels of another type of molecule known as 9,10-Dihydroxy-12-octadecenoic acid — which is thought to potentially hinder muscle recovery after exercise — were found to be 40% higher among control group participants immediately after the exercise challenge in comparison to those who had eaten almonds (via Frontiers Science News).
So how do scientists explain this potential relationship between almonds and muscle recovery? In part, the answer may lie in the seed's unique nutrient offerings. After all, almonds are loaded with protein, fiber, minerals, vitamin E, and more. However, that's not all. "[T]he brown skin of almonds contains polyphenols that end up in the large intestine and help control inflammation and oxidative stress," said corresponding author of the study Dr. David C. Nieman to Frontiers Science News. Through the combined efforts of nutrients and the polyphenols housed in an almond's skin covering, experts suggest that it's these elements that may afford us faster muscle recovery after vigorous exercise.