World Health Organization Warns Of New COVID Symptom In Children To Watch Out For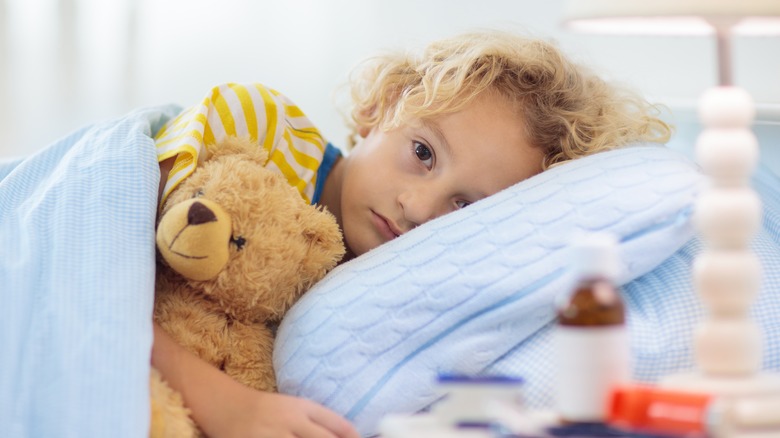 FamVeld/Shutterstock
The World Health Organization (WHO) is on alert after reports have emerged about a new COVID-19 variant that may be causing a unique symptom in children not often associated with preceding variants (per WebMD).
While data released by the WHO suggests that COVID-19 cases are down in most of the world, the new variant — which trackers have been calling Arcturus — is believed to be responsible for a recent upswing in the number of reported COVID-19 cases in India (per Fortune).
As a subvariant of Omicron, the new variant is not known to be lethal, according to the BBC. However, there is some concern over the way the new variant seems to be impacting children. In a tweet published on April 6, Dr. Vipin Vashishtha — an India-based pediatrician and former head of the Indian Academy of Pediatrics Committee on Immunization — suggested that, for the first time in six months, COVID-19 cases in children under the age of 12 have been on the rise in the country (per Fortune). What's more, the tweet revealed that children who have tested positive for COVID-19 are exhibiting a new symptom in addition to the usual fever and cough: itchy and sticky eyes, similar to that of conjunctivitis.
COVID-19 and conjunctvitis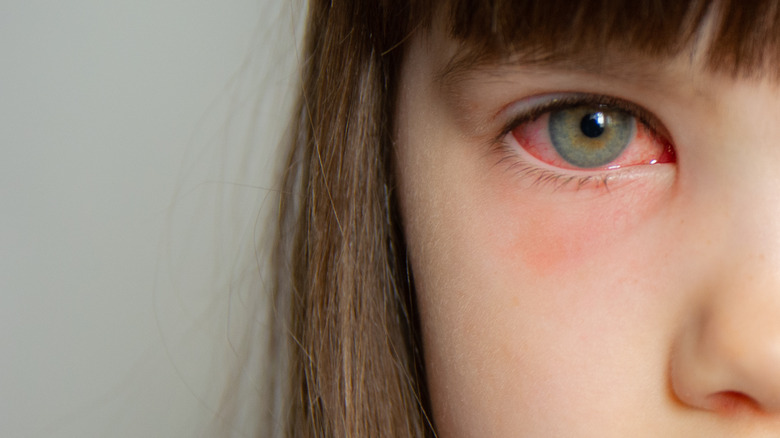 vitafidak/Shutterstock
This is not the first time pink eye symptoms have been linked to COVID-19. Last November, Nebraska Medicine published a blog post revealing that a research group at the Truhlsen Eye Institute discovered a link between the presence of the virus in the tear film and inflammatory symptoms like redness, swelling, itchiness, and discharge.
It's worth noting that, at the same time that India is experiencing a surge in pediatric COVID-19 cases, there has also been an increase in the number of children being hospitalized for another virus (per Fortune). The adenovirus — which produces symptoms similar to COVID-19 — can also be the cause of conjunctivitis. To make things more complicated, the adenovirus and COVID-19 can only be told apart through testing. However, parents have been hesitant to subject their children to COVID-19 testing, as many children find it to be uncomfortable.
As of now, Arcturus has not made it onto the CDC's watchlist, but a representative from the WHO has said it's "one to watch" (per WebMD). The New York Post reported that cases involving the new variant have also emerged in other countries, as well as in a few U.S. states.