Study Finds Dangerous Levels Of Melatonin And CBD In Gummies Marketed For Sleep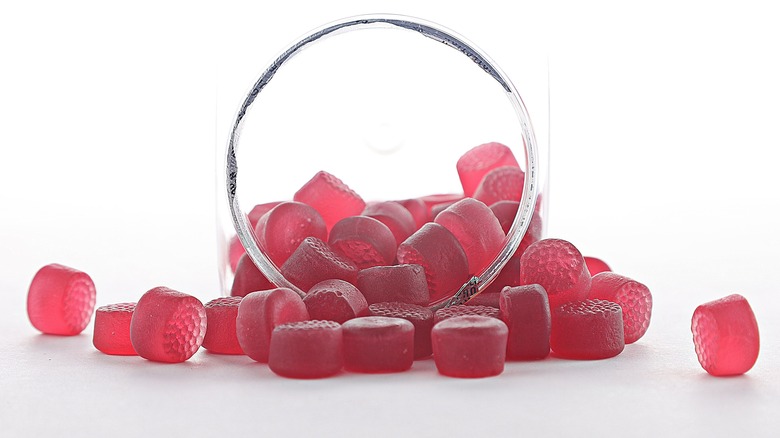 Angel Alexis Luna Larios/Shutterstock
The pandemic caused melatonin sales to surge in 2020, with Americans spending more than $800 million on the sleep supplement (via Business Insider). And because melatonin gummies might be mistaken by children for candy, they pose an elevated poisoning risk — indeed, melatonin-related calls to United States Poison Control Centers increased significantly between 2012 and 2021, according to a report from the Centers for Disease Control and Prevention. Because many of these melatonin ingestions were unintentional, a recent study in the Journal of the American Medical Association sought to analyze what's in melatonin gummies.
The study looked at 25 brands of melatonin gummies available for purchase online. One product claiming to have 5 milligrams of melatonin had melatonin levels too low to be detected in the analysis but had 31.3 milligrams of cannabidiol (CBD). Five melatonin gummy brands had CBD in them, but the amount of CBD in the gummy was between 4% and 18% more than what was indicated on the label.
The amount of melatonin in the gummy was also inaccurate in 22 of the brands tested. Some melatonin brands had less than what was stated on the label, but most of them had significantly more. One melatonin product had 10 milligrams of melatonin in the gummy — more than three times the 3 milligrams that was stated on the label. 
Are melatonin gummies safe for children?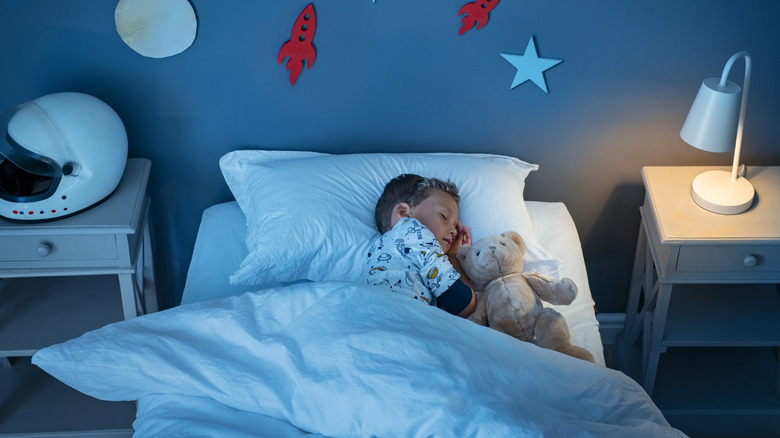 Ground Picture/Shutterstock
The National Center for Complementary and Integrative Health says melatonin is generally safe for children, but there haven't been many studies on its effects on children, including long-term effects. Since melatonin is a hormone, it's unclear if it might impact the hormonal development of children. The study researchers also point out that when the amount of melatonin in a product dramatically exceeds what's stated on the label, it might contribute to interactions with other medications, or exacerbate known side effects such as headaches, agitation, or bed-wetting. The CBD is an issue as well: Dr. Cora Collette Breuner, a professor of pediatrics at Seattle Children's Hospital at the University of Washington, who was not involved in the study, points out to CNN that CBD isn't recommended for most children.
According to the American Academy of Sleep Medicine, melatonin is the second most common supplement given to children next to multivitamins. The organization put out an advisory warning parents to treat melatonin like any medication and keep it out of children's reach. Rather than give your child a melatonin gummy to help with sleep, it's best to consult a pediatrician about sleep problems. A pediatrician can also advise the correct dose of melatonin if it's recommended.
The Food and Drug Administration (FDA) doesn't regulate supplements, so there's no guarantee what you'll find in any supplement. When buying a melatonin product, the American Academy of Sleep Medicine recommends looking for a USP Verified Mark on the label. This mark indicates that the manufacturer has met quality controls that ensure that what's on the label is what's in the product itself. The USP mark also assures there is nothing harmful in the product.