Is TikTok's Magic Shell Yogurt Trend Actually Healthy? Here's What We Know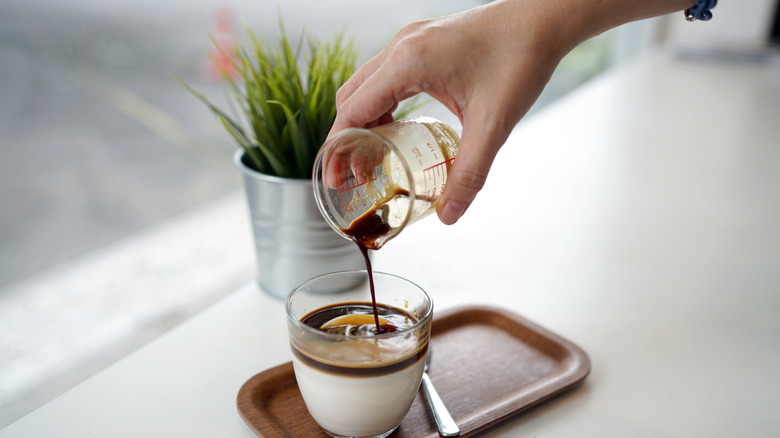 thaweerat/Shutterstock
TikTok truly is a place of many wonders. From learning how to contour your face with eyeliner to putting together healthy snacks with just a few ingredients, you really can find it all. 
It's also the place for blasts from the past that take on their own interesting variations. One such trend is the magic shell yogurt recipe. Originally introduced by food company Smucker's, magic shell was an ice-cream topping made of chocolate, sunflower oil, and coconut oil (among other ingredients), and the allure of it was that it froze instantly when poured on top of cold ice cream. If the 1980s advertisement of the blond-haired boy having "crackling good" topping with ice cream was any indication, the treat sure does look delicious. 
Now, TikTok has improved upon this classic recipe by apparently making it healthy. It's replaced ice cream with yogurt and regular chocolate with dark chocolate (melted with coconut oil) and also added in ingredients like peanut or almond butter, plus sea salt and other nutritious toppings. The origins of this social-media-fueled version of the magic shell might be a little hazy, but according to nutritionists, it might just be one of those desserts that are actually healthier than you think. 
The magic shell yogurt cup is packed full of proteins
Yogurt, especially Green yogurt or sugar-free yogurt is good for you. In addition to being a great source of good bacteria (probiotics) that support gut health and also being low in calories (when compared to ice cream), yogurt is also rich in protein, according to registered dietitian nutritionist Roxana Ehsani (via Health). "Typically, a ¾ cup of Greek yogurt has about 16-17 grams of protein," she explained. 
Add to that the other magic shell yogurt cup ingredients like peanut butter or almond butter, and you've got yourself a protein-packed snack or dessert that you can guiltlessly turn to (if eaten in moderation of course). While commenting that protein-rich snacks like these can stave off hunger pangs for longer, Ehsani added to Health that the nut butters used in this recipe are a great source of "healthy monounsaturated fat" while being rich in vitamins and minerals. 
Dark chocolate has always been preferable to regular milk chocolate, mainly because of its high antioxidant content and also because it is rich in iron and magnesium. "The darker you go, the more antioxidants you'll get, but there needs to be a balance between eating palatable dark chocolate and getting the health benefits," added author and nutrition expert Toby Amidor to Everyday Health. If you get on TikTok to find this recipe, you'll be presented with a myriad of different methods. We found one by a dietician that you might enjoy.
Try this recipe with almond butter and yogurt
Dietician and TikTok influencer saltandsagenutrition starts off her video saying that she was tired of her usual high-protein snacks and this was what led her to try out the magic shell yogurt cup trend. 
She starts off with a Siggi's 0% Icelandic yogurt (although according to nutritionist Ehsani, per Health, you could replace this with a lactose-free version if you're lactose intolerant). Seek out the healthiest brands of yogurt you can eat. "I think the key for this is starting with a really thick yogurt because you're supposed to add in almond butter or peanut butter or whatever you want to use," shared saltandsagenutrition, while adding in her almond butter to the yogurt. If you're concerned about nut allergies, you could skip this step or opt for some honey instead. Mix the yogurt and butter until it's incorporated well. 
The next step involves melting the dark chocolate and although saltandsagenutrition doesn't specify how she's melting the stuff, the trend on TikTok seems to favor using coconut oil to get the job done. You can simply melt the chocolate without the help of oil too. The goal is to get a nice and smooth consistency that you can pour over the yogurt. Once poured, sprinkle some sea salt and crushed nuts of your choice on top (saltandsagenutrition uses peanuts). Leave the cup in the freezer for about ten minutes before cracking the magic shell and devouring the tasty treat.