Are Healthy Choice Frozen Meals Actually Good For You? What To Consider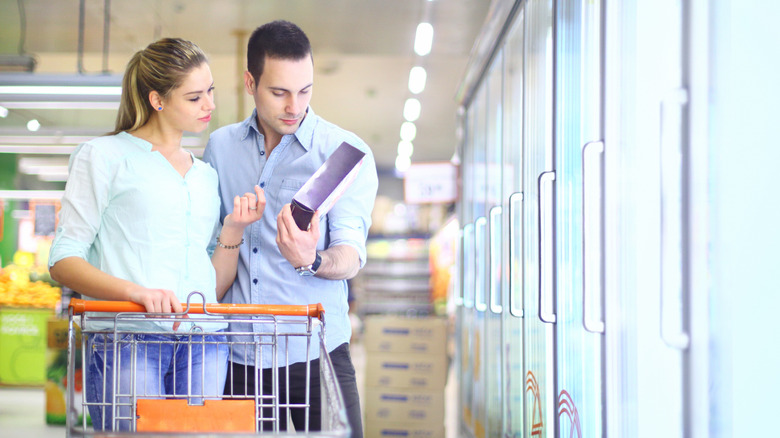 Gilaxia/Getty Images
With our busy schedules, it can be hard to find time to cook healthy meals at home. Lunch can be even more difficult, since you know eating out might have you eating twice what you would if you had done your meal prep on Sunday. Frozen meals have come a long way since the ones offering a mini-dessert such as cherry cobbler or chocolate cake. Frozen food options can often take up an entire aisle in the grocery store. 
Healthy Choice says it worked with the Food and Drug Administration in developing "healthy" standards for food. Along with its classic frozen dinner offerings, Healthy Choice has low-carb, grain-free, and vegan meals for different eating preferences. Even though these products have "healthy" in their name, how healthy are these meals? 
Consider one of Healthy Choice's most-rated meals, Grilled Chicken & Broccoli Alfredo Simply Steamers. According to Consumer Reports, a good frozen meal will have at least 6 grams of fiber, less than 760 milligrams of sodium, and low added sugars and processed ingredients. This particular frozen meal somewhat meets these standards with 5 grams of fiber, 600 milligrams of sodium, and less than one gram of added sugar. It also has few processed ingredients. Other Healthy Choice options may be more or less healthy as well.
Look for complete meals and enough calories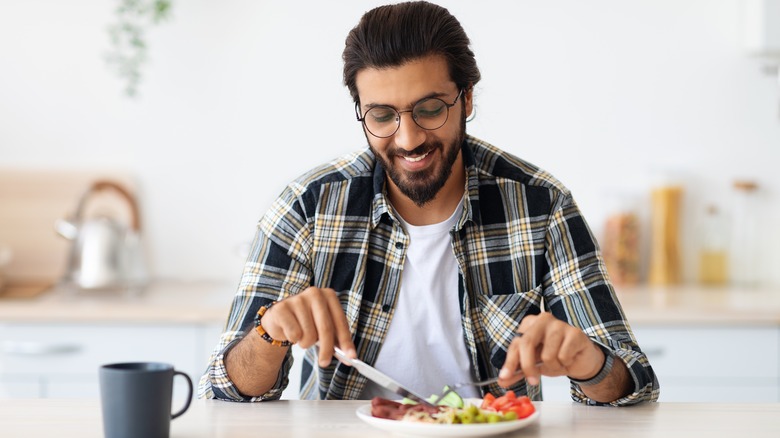 Prostock-studio/Shutterstock
Cleveland Clinic suggests that a good meal will have vegetables, protein, and a whole grain or starchy vegetable. The Simply Steamers Grilled Chicken & Broccoli Alfredo is missing whole grains, but you'll find a whole meal in the Chicken Parmigiana Classics dinner. This Healthy Choice meal has chicken, broccoli, and pasta to round out your meal, and you'll get a little fruit from the caramel apples dessert. You'll also get your complete meal in the Korean-Inspired Beef Power Bowl with its kale, spinach, and red quinoa.
Consumer Reports says that frozen meals should have between 400 to 600 calories. The Chicken & Broccoli Alfredo has 190 calories, which might have you reaching for other snacks later. The Chicken Parmigiana comes in with 320 calories, and it seems that most of Healthy Choice's frozen meals have less than 300 calories (aside from its Max options). Healthy Choice Max Honey Sriracha Chicken will fill you up with 450 calories. However, this meal has 13 grams of added sugar, which might not be a healthy choice if you're trying to reduce your daily sugar intake. The Dietary Guidelines for Americans suggests getting no more than 10% of your daily calories from added sugar.
Choose enough protein and watch the saturated fat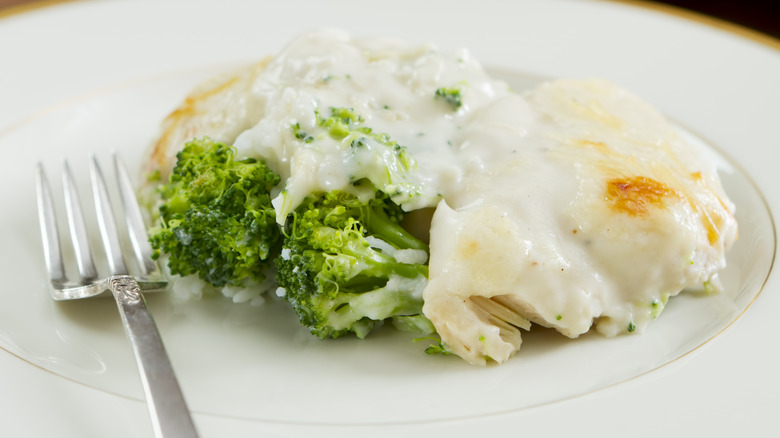 Boblin/Getty Images
Consumer Reports also suggests for your healthy frozen meals to have between 15 to 25 grams of protein. Although you'll hit this amount in all of Healthy Choice's meat-based options, you might come up a few grams short in the vegan and vegetarian options. However, the Green Goddess Power Bowl has 18 grams of protein — mostly from lentils and edamame. You'll also get 12 grams of fiber to help fill you up. Healthy Choice also offers meatless meals that have meat substitutes made from soy. However, these options might give you more processed ingredients.
The Grilled Chicken & Broccoli Alfredo from Healthy Choice has 5 grams of fat and 2.5 grams of saturated fat, which is 13% of the recommended daily value for saturated fat. U.S. News and World Report suggests choosing foods with less than 20% of your daily value, so this meal is suitable if you're trying to watch your fat intake. You'd think that the Country Fried Chicken might be high in saturated fat, but this option has just 3 grams in a 330-calorie serving. Even Healthy Choice's Power Bowls are relatively low in saturated fat. 
Almost all of Healthy Choice's frozen meals are healthy options because they are low in saturated fat. However, it's important to note that the meals are very low in calories. You might need to add other vegetables or whole grains to fill out the meals.