The Surprisingly Healthy Appetizer You Can Order At An Italian Restaurant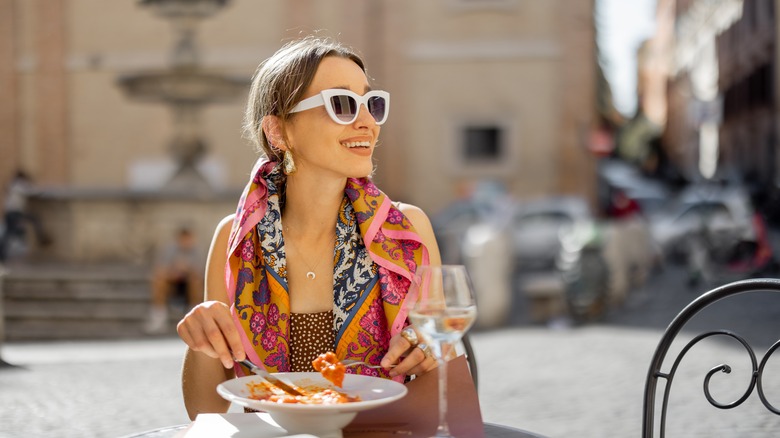 RossHelen/Shutterstock
Italian food has a flavor profile unlike any other. However, it's easy to get mesmerized by the carb-rich pastas and pizzas that are characteristic of this cuisine. 
If you're ordering a deep-dish meat-lover's pizza or spaghetti carbonara at an Italian restaurant, you're probably not making the healthiest choices. The former is loaded with carbs from a thick crust and lots of calories (courtesy of the sausage and cheese). The latter also has a high carb content — and adding bacon and cheese doesn't make the dish any healthier, (per WebMD).  
But despite a reputation for comfort classics, Italian cuisine offers more for a health-conscious consumer. This is especially true with one classic and delicious appetizer – bruschetta. In fact, it's a favorite choice for registered dietitian nutritionist and chef, Michelle Dudash (via Self) whenever she eats at an Italian restaurant. "If it's a larger party where we can share appetizers, I like to add on some light bruschetta topped with vegetables, like the traditional tomato, basil, and olive oil flavor," she explained. What makes this appetizer an option that's actually healthier than you think? 
The ingredients that make bruschetta healthy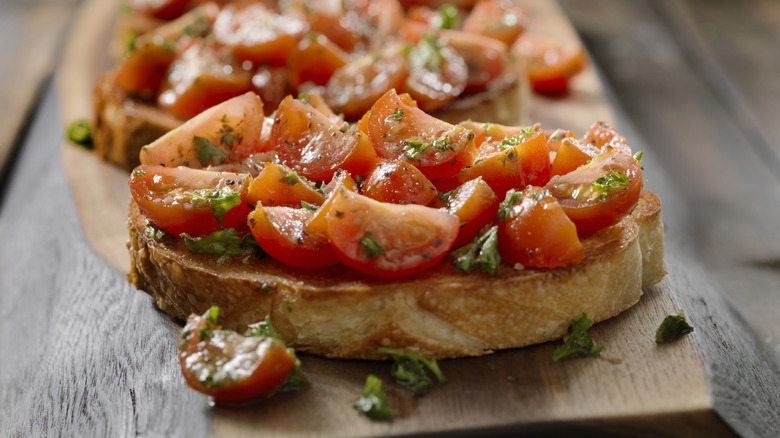 Lauripatterson/Getty Images
As a kid growing up, you probably heard your parents talking about the many nutritional benefits of tomatoes. And they weren't wrong. Tomatoes are low in calories and packed full of vitamin C and potassium. Their red hue is attributed to an antioxidant called lycopene, which is also good for your health. Lycopene has been linked with heart health and even the prevention of certain types of cancer, namely breast and prostate cancers, per Healthline. This antioxidant is also associated with bone health and preventing macular degeneration in older adults. 
A classic recipe for bruschetta contains olive oil and if you're feeling super healthy, extra virgin olive oil. Although olive oil is one of the healthiest oils out there, extra virgin olive oil is the purest and least processed version. It's rich in heart-healthy fats like omega-6 and omega-3 fatty acids, and is packed with vitamins E and K. The only green hue in this world-renowned appetizer comes from basil. This leafy herb is rich in many minerals and vitamins — and also has a lot of antioxidants. 
Some might add fresh lemon juice or vinegar to their bruschetta, and both of these ingredients have their own health benefits. Lemons are a good source of vitamin C, calcium, potassium, and folate, and vinegar contains the highly beneficial antioxidant – polyphenols. Polyphenols protect our bodies against oxidative stress.
How to make this appetizer at home
While Italian restaurants may go with Italian bread like ciabatta or even a French baguette to make this appetizer, choosing something like whole grain sourdough bread will give you an edge if you're health-conscious. Whole grains are a rich source of fiber and are associated with lowering bad cholesterol, insulin, and blood pressure levels, per Mayo Clinic. 
You'll need bread, fresh tomatoes, garlic, basil leaves, extra virgin olive oil, salt, and pepper. Lemon or vinegar is optional. 
Begin by toasting your bread after cutting them into decent-sized slices. Chop up your tomatoes and set them aside in a bowl. If you find that your tomatoes are too watery, you can try spritzing some salt on them while they sit in a strainer. The salt will draw out the liquid in the fruit — but be mindful of just how much you use. Too much salt is never a good idea if you're trying to eat healthy. 
Combine chopped basil in the bowl with tomatoes. Add some olive oil, salt, and pepper, and mix. Rub some peeled garlic on the toasted bread for flavor and top with the tomato mix. Serve just like that. Bruschetta is so simple to make that it can even be one of those go-to healthy snacks for when you need something to nibble on at home.