The Surprisingly Healthy Cheese You Can Buy At A Gas Station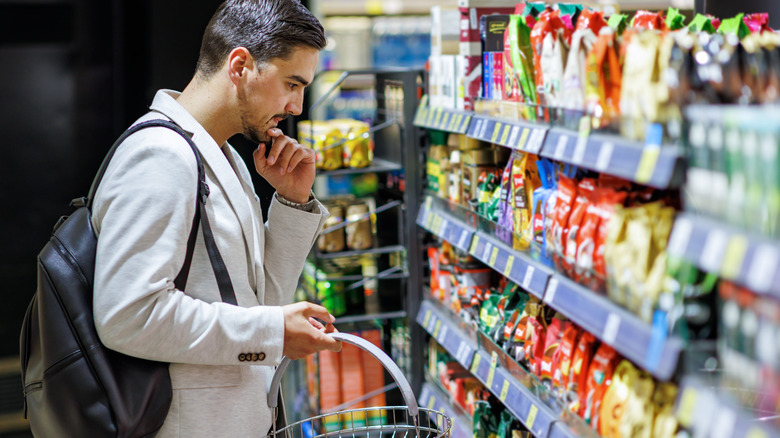 Realpeoplegroup/Getty Images
Road trips can be great excuses to eat unhealthy foods you'd never consider eating at other times. Gas station foods are rife with snacks you probably won't even find in grocery stores, and depending on where the gas station is, some foods might have been there for a while. You might opt for some of the hot foods at gas stations that sit on rollers underneath a heating element, but they might have been there since the day before. Sure, you can order some famous fried chicken from some convenience stores, even if fried food makes you a little sick.
These days, road trips don't necessarily mean you have to eat unhealthy food. Many gas stations and convenience stores offer foods in their refrigerated section, so you can find more fresh food rather than packaged, processed food. From high-protein chicken wraps to low-fat yogurt, a gas station can sometimes keep you within your health-conscious choices. Rather than settle for nachos with processed cheese on top, you can choose a surprisingly healthy yet tasty treat at a gas station.
String cheese is a healthy snack
Felixmizioznikov/Getty Images
A single piece of Sargento string cheese has only 90 calories, with 7 grams of protein. If you're cutting or reducing carbs, this cheese has just 1 gram. You'll also meet 15% of your daily calcium needs with string cheese. Because many packaged and processed foods have ingredients you haven't heard of, you'll want to limit your snack foods to those with five ingredients. You'll also want to be able to pronounce these ingredients, or at least be able to find them in your kitchen somewhere (via Today). This string cheese has pasteurized milk, cheese culture (the bacteria strains used to make cheese), salt, and enzymes.
With that said, if you're trying to limit your saturated fat and sodium intake, string cheese might not be a wise choice. String cheese has 190 milligrams of sodium and 3 grams of saturated fat. The American Heart Association suggests limiting your saturated fat intake to about 13 grams a day for a 2,000-calorie diet. However, the cholesterol in string cheese is only 15 milligrams.
Add some fiber and carbs for a complete snack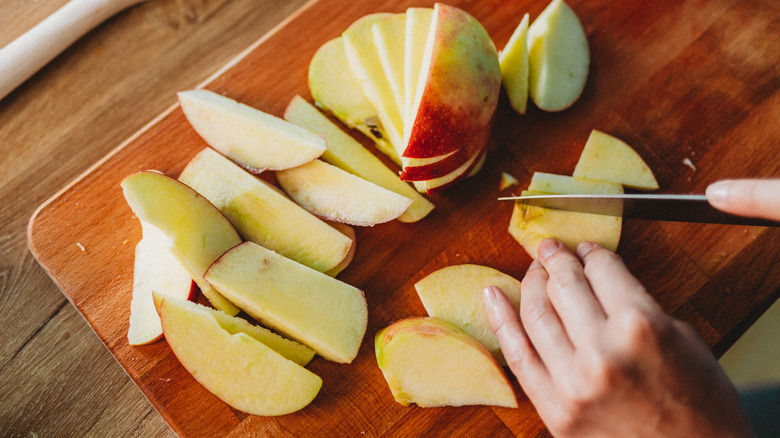 Milan2099/Getty Images
A single serving of string cheese might not fill you up for too long while you're on the road, so WebMD suggests pairing string cheese with some fruit. Gas stations sometimes stock their stores with apples or bananas, but some companies offer apple slices in small packages for the road. A cup of sliced apples has around 57 calories and almost 3 grams of fiber to help you feel full. Plus, you'll be getting a healthy dose of the antioxidant vitamin C.
If fresh fruit isn't available, check out the cracker aisle. Whole-grain crackers can give you some added fiber to keep you full. If gluten is an issue for you, you could stash a box of Blue Diamond Artisan Flax Seed Nut-Thins in your car for long trips. A 130-calorie serving of these crackers gives you 22 grams of carbs and 2 grams of fiber. These crackers also have 3 grams of protein. Because the crackers are made from brown rice, almonds, and flax seeds, you'll also get 400 milligrams of heart-healthy omega-3s.