Is This Decadent TikTok Protein Dessert Actually Good For You? What To Consider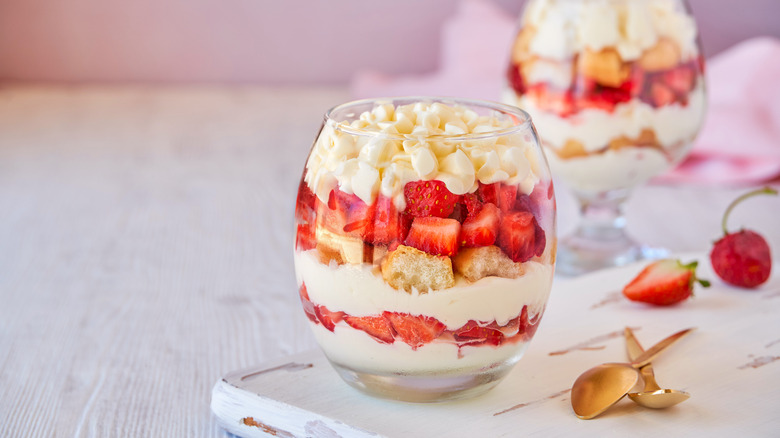 Veliavik/Shutterstock
When trying to maintain an active lifestyle, build muscle, or follow a balanced diet, protein plays a crucial role. However, relying solely on eggs, chicken, lentils, and nuts can become monotonous over time. This may be why a decadent protein dessert created by registered dietician nutritionist Zach Coen gained nearly 700,000 views on TikTok. Coen uses simple ingredients available at Walmart, such as Great Value Whipped Topping, to create an easy and protein-rich snack he says can help "keep you on track."
Coen begins by instructing viewers to add two scoops of whey chocolate protein powder to an 8-ounce tub of whipped topping. "After adding the protein, this entire tub of whipped cream is 845 calories and 46 grams of protein," he explains. Then, after advising viewers to divide the container into four servings, Coen suggests either freezing the mixture to enjoy as ice cream or scooping it into vanilla dessert shells and topping it with strawberries.
Although this treat may appear to be a healthy dessert option, there are some factors to consider before diving in. First, what Coen refers to as whipped cream is actually whipped topping, which Dana Angelo, a registered dietitian, certified athletic trainer, and owner of Dana White Nutrition, told Food Network has a "hot list" of ingredients "you've been warned to avoid."
Look for trans fats and saturated fats in your whipped topping
Debbismirnoff/Getty Images
While whipped topping generally contains fewer calories and fat than whipped cream, this doesn't mean you can ignore the other ingredients in this product, especially the hydrogenated oils and high-fructose corn syrup. The Great Value Whipped Topping that Coen uses has 0 trans fat even though it contains hydrogenated vegetable oil. This is likely because the oil is fully hydrogenated, rather than partially hydrogenated. But with fully hydrogenated oil, saturated fat becomes a concern. 
Walmart's whipped topping contains 2 grams of saturated fat per serving (2 tablespoons). According to the American Heart Association, someone requiring 2,000 calories a day should limit their saturated fat intake to 13 grams a day. As Harvard Health Publishing explains, saturated fats, although not as bad as trans fats, pose a risk for increased cholesterol levels and heart problems. The key is to consume in moderation, so eating it straight from the tub may not be a good idea. Another concern is the high-fructose corn syrup, which has been linked to weight gain, inflammation, and type 2 diabetes, per Healthline. 
Also, most whipped toppings and creams come with dairy in them. So for those who are lactose intolerant or vegan, you may want to look for a plant-based option.
What about the other ingredients?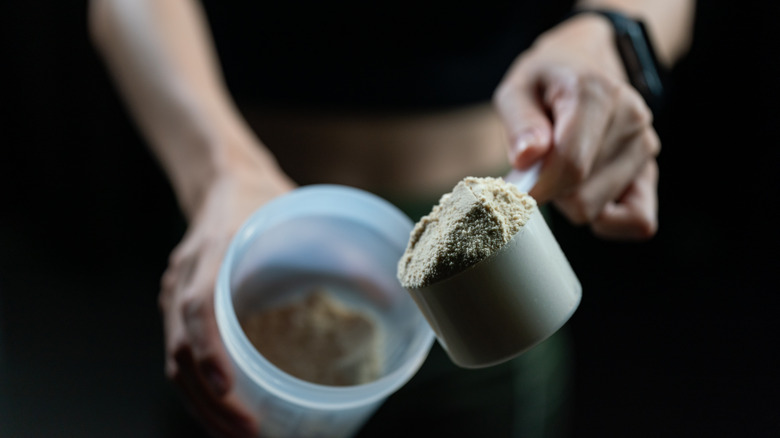 MBLifestyle/Shutterstock
Protein supplements like whey protein powder have their benefits, especially when it comes to getting your recommended protein intake. This is probably why they are popular among professional athletes. They're easy to consume and versatile because they come in different flavors, aid with muscle repair and growth, and keep you feeling full for longer.
If you're looking to increase your protein intake with one unexpected dessert ingredient, whey might not be a bad idea (provided you're not vegan or lactose intolerant). As explained by family, emergency, and obesity medicine doctor based in Ontario, Dr. Ashley White (via CBC), "There's not really anything inherently wrong with bars and supplements at all. It's just a matter of how much, when and instead of what." Even so, protein supplements come with their own potential side effects, per Harvard Health, including unregulated product labeling, lack of research on long-term effects, digestive issues, and high added sugar content. 
As for Walmart's Vanilla, Dessert Shells, they contain 60 calories per serving, 14 grams of carbs, 8 grams of sugars, and 1 gram of protein. Strawberries are great fruits to add to your diet, mainly due to their high concentration of fiber, antioxidants, magnesium, and potassium, per WebMD. Ultimately, the goal with all trending decadent recipes on TikTok is to weigh the merits of each ingredient. Look at the labels and be aware of what you're going to consume.