This Less-Invasive COVID-19 Test Is Nearly As Accurate As The Nose Swab
Shutterstock
Sharing our stories of when we received a COVID-19 test to others has become as natural as sharing what we had for dinner the night before. And what most of us have heard or experienced is that the nose swab used for the test goes farther up the nostril than we had previously assumed possible. Yes, it's invasive and pretty uncomfortable, but luckily there is another testing method that's gaining popularity.
According to Healthline, saliva-based testing is nearly as effective as nose-throat swabs to test for COVID-19. In an analysis of 16 different studies published in JAMA Internal Medicine in January 2021, nose-throat swab tests have proven to have an 85 percent accuracy rate, while saliva-based tests were right behind with 83 percent accuracy. The latter was also shown to have a 99 percent success rate with identifying negative cases of COVID-19, and is a more attractive alternative for those looking to avoid a 'stick in the nose' test.
Saliva based tests are both efficient and provide flexibility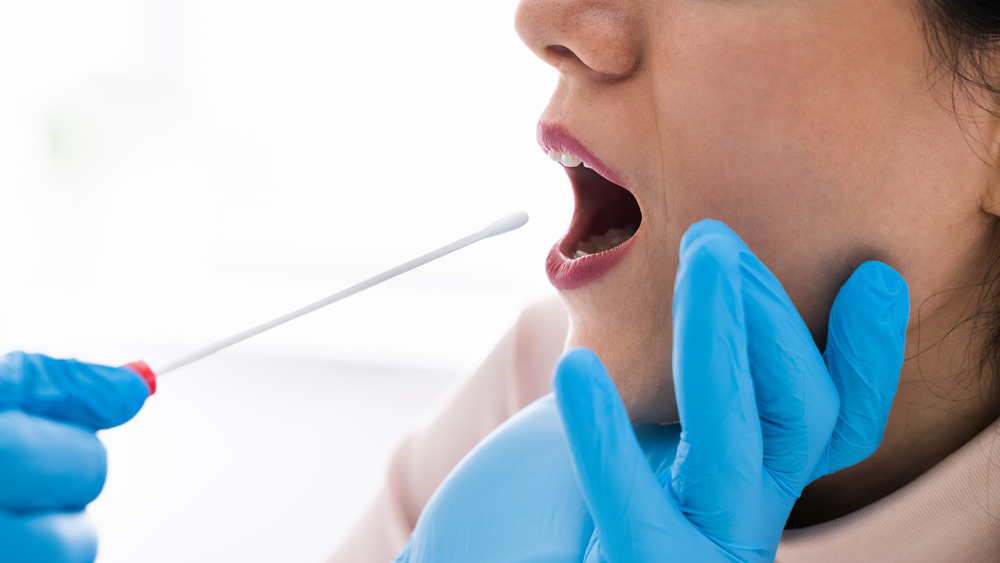 Shutterstock
Saliva-based testing is also being praised as a "game changer" in testing innovation. U.S. Food and Drug Administration (FDA) Commissioner Stephen M. Hahn, M.D. explains to the FDA that using the saliva-based tests designed by the Yale School of Public Health will aid in mass testing. "Providing this type of flexibility for processing saliva samples to test for COVID-19 infection is groundbreaking in terms of efficiency and avoiding shortages of crucial test components like reagents," he says.
And Spencer Kroll, M.D., Ph.D., FNLA, an internal medicine specialist in New Jersey, tells Healthline his opinion of this alternative testing method. "Saliva testing is very sensitive. It can detect the virus as well as one copy per microliter of saliva," he says. And he's encouraged by the medical research surrounding these types of tests. "It is reassuring that many saliva test kits show high concordance with nasal swab polymerase chain reaction (PCR) testing for SARS-CoV-2 detection." 
In short, it's encouraging to learn saliva-based tests are nearly as accurate as the nose swab tests. But perhaps even more encouraging is knowing there are ever-evolving testing methods being developed during this ever-evolving pandemic.