The Lettuce Tacos You'll Want For Lunch Every Day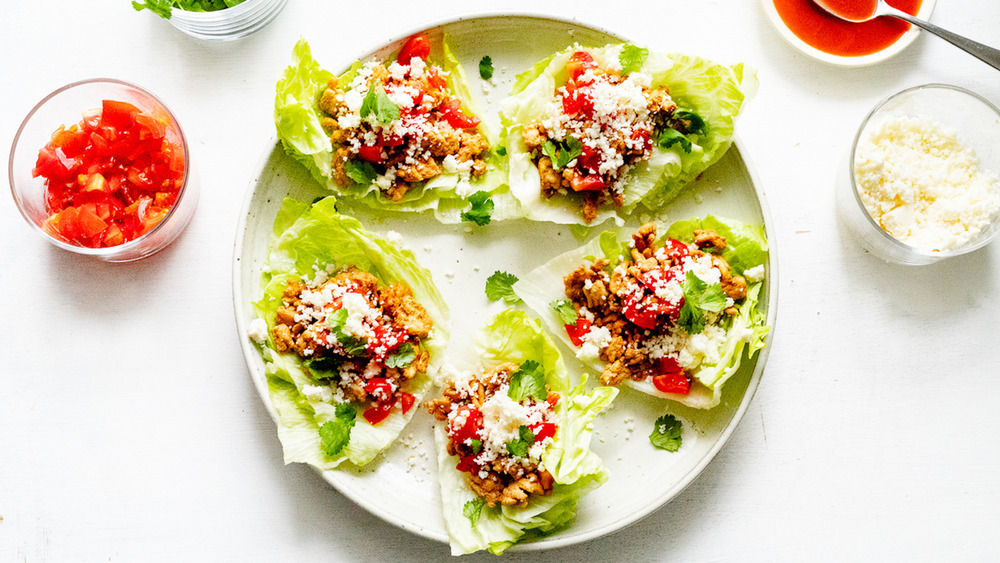 Sher Castellano/Health Digest
When you're looking for a quick and delicious meal, few dishes can match up to tacos. They're fast to cook and full of flavor. And best of all? Tacos are endlessly customizable. You can go for tacos that are heavy and spicy, snackable, or enough to count for a whole meal. Even people who are looking for ultra healthy recipes can turn to tacos. Enter the lettuce taco.
This lettuce taco recipe from Sher Castellano is delicious, filling, and healthy. It's perfect for anyone who is looking for a nutritious meal that doesn't take too much planning or prep work. Plus, it's a crowd-pleaser, so the full family will happily devour the tacos whether they're regularly healthy eaters or not. Yes, even people who typically avoid your average, run-of-the-mill lettuce wrap will enjoy them thanks to a well-rounded list of spices and toppings.
Here's how to make lettuce tacos that you'll want to eat again and again.
Gather your ingredients for these lettuce tacos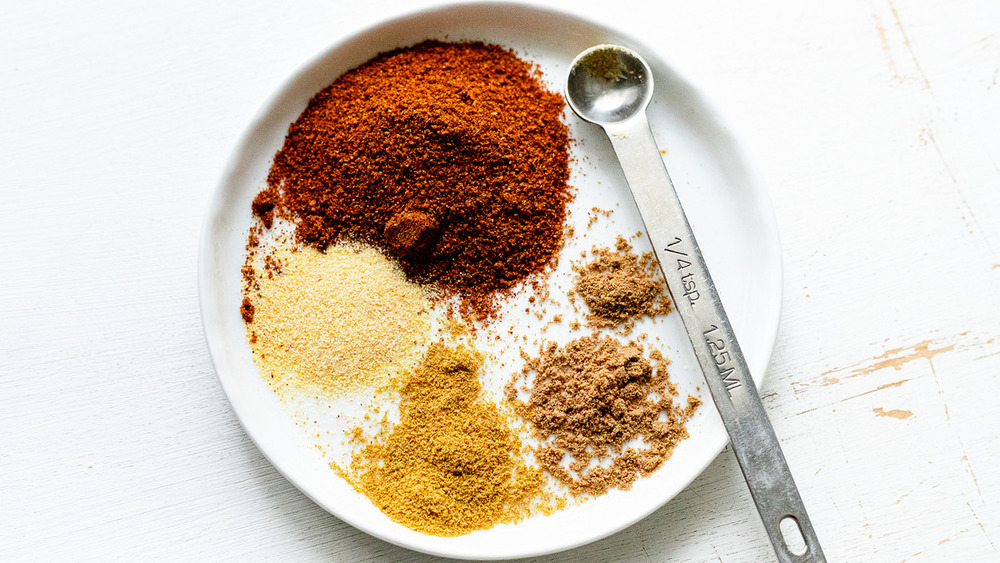 Sher Castellano/Health Digest
These lettuce tacos are all about the herbs and spices that dial up the flavor while keeping the recipe healthy. At first glance, it may seem like a bit of a hefty spices list, but fear not: All of these herbs and spices can be found at your neighborhood grocery store.
On the spice front, you'll need cumin, coriander, garlic powder, and fine sea salt. You'll also need chili powder, which is a mix made with dried and ground spicy peppers along with other spices and dried ingredients like cumin, onion, and garlic. Having those spices represented in both the pre-mixed chili powder and added additionally on your own results in a wonderfully seasoned meat.
Other than spices, you'll need olive oil, a pound of ground chicken or turkey, a head of iceberg lettuce, cotija cheese (a Mexican cow's milk cheese similar to feta), tomatoes, cilantro, and, if you're into spicy foods, your favorite hot sauce.
Choose the lettuce for your lettuce tacos wisely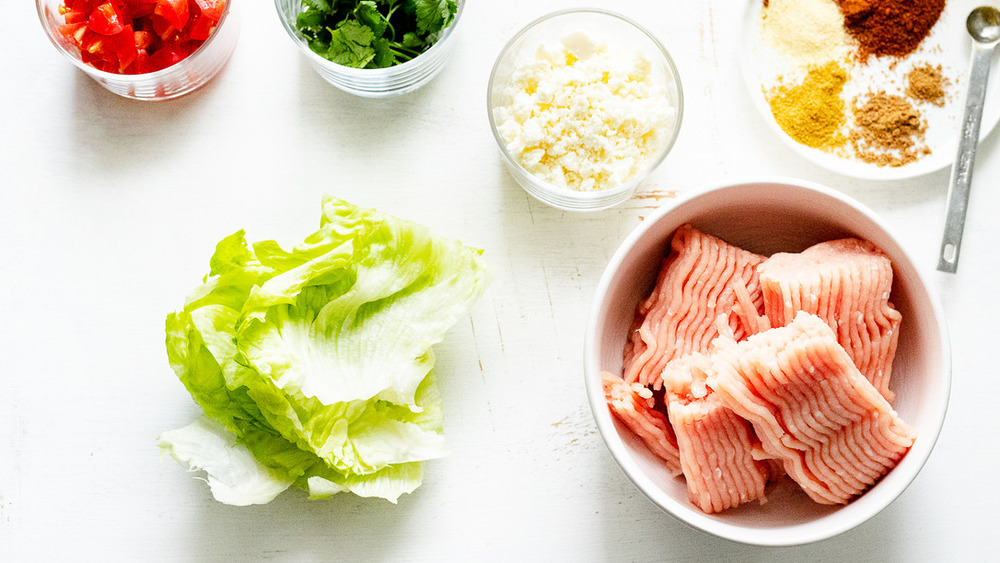 Sher Castellano/Health Digest
There's one seemingly simple ingredient choice that you have to pay a bit more attention to than you might initially think: the lettuce. Lettuce is the backbone of the recipe and keeps everything together. Buy a head of lettuce that's too flimsy, and you won't be able to hold any of the other ingredients without making a mess. Get one that's too stiff, and it'll be harder to create the ideal lettuce taco shape.
Iceberg lettuce gives a nice crunch and crispness to the lettuce tacos as opposed to varieties like butter lettuce, which is often too soft, or romaine lettuce, which can be a little bitter and change the flavor of the overall dish. Iceberg lettuce is like the Goldilocks of lettuce for this recipe. It's neutral-tasting, sturdy, and the leaves have just the right shape to hold a good amount of filling.
Pro tip: Get a head of iceberg lettuce that has a sturdy rib, and keep it in when assembling the tacos.
Chop up the toppings for your lettuce tacos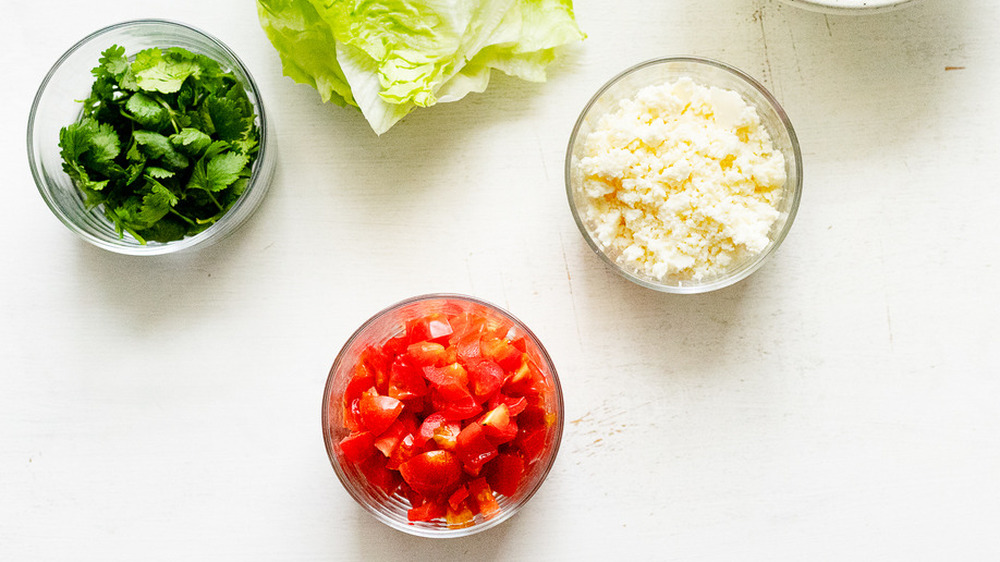 Sher Castellano/Health Digest
Once you've gathered all of your ingredients for lettuce tacos, you'll want to break everything down to the right size. For the iceberg lettuce, that means breaking off the leaves and cutting them to the right size (if necessary, of course, some leaves will naturally be the perfect size and shape). You'll also need to chop your cilantro. The leaves are what you're going for here, so you can leave the stems behind. Roughly chop the cilantro leaves so that they're just the right size for even distribution across each lettuce taco.
Next on the chopping block are the tomatoes. You'll end up needing about a cup of diced tomatoes. The right way to cut a tomato starts with a good serrated knife or an ultra-sharp straight-edge knife. Slice into the tomato first, and then spread the meat of the tomato flat and dice it into small pieces — the seeds and juice are delicious but will water your taco down if you're not careful.
Finally, crumble your cotija cheese. This is easy enough to do with your hands.
Heat the seasonings for your lettuce tacos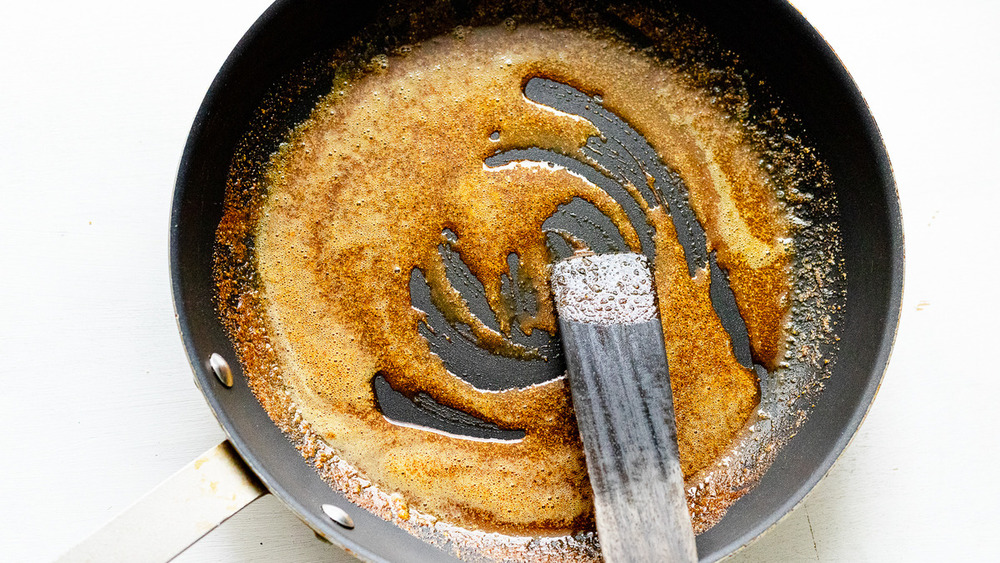 Sher Castellano/Health Digest
Now it's time to get to cooking. Grab your two tablespoons of olive oil and heat it in a sauté pan over low-medium heat. Then, add the tablespoon of chili powder and the quarter teaspoon each of cumin, coriander, garlic powder, and fine sea salt. Grab your favorite cooking spoon and stir the oil and spices together to combine everything. 
Note that you don't want the pan and oil to get too hot, or else the spices will burn and you'll lose out on the great flavors you put the spices into the pan for in the first place. That's why the low-medium setting is ideal. Olive oil has a relatively low smoke point (also sometimes called the burn point) compared to other oils — between 325 and 375 degrees Fahrenheit versus something like vegetable oil that has a smoke point between 400 and 450 degrees Fahrenheit, according to Master Class. Burned oil leads to worse-tasting seasonings and a worse-tasting dish overall.
Cook the meat in the seasonings for your lettuce tacos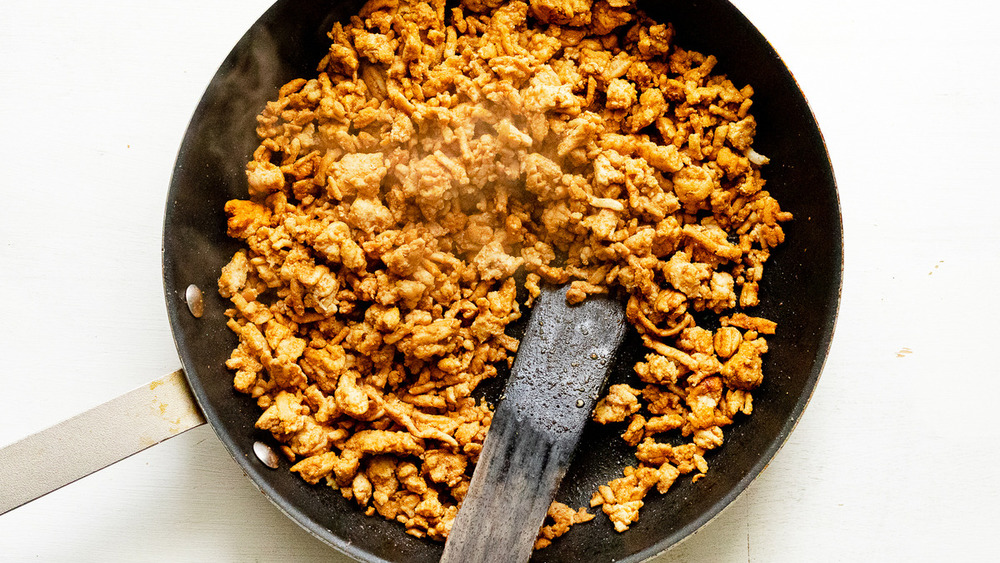 Sher Castellano/Health Digest
Once your seasonings and oil are heated up, it's time to add the ground meat to your lettuce tacos. Whether you opt for ground chicken or ground turkey is up to your taste preferences (and the taste preferences of everyone else enjoying this meal). Both will cook similarly and hold the flavors from the spices in a related way. Whichever you use, toss it all into the pan and keep the heat at the same low-medium level.
Cooking ground chicken or ground turkey is similar to cooking ground beef or ground pork. You'll just want to make sure that the chicken is cooked thoroughly, which should take between five and seven minutes. Another thing you'll want to make sure you follow through with is breaking up the ground meat enough so that the spices are evenly distributed. Stir the meat thoroughly, and make sure that spice-filled heated oil gets all over the meat. You'll know it's done when it's browned.
Assemble your lettuce tacos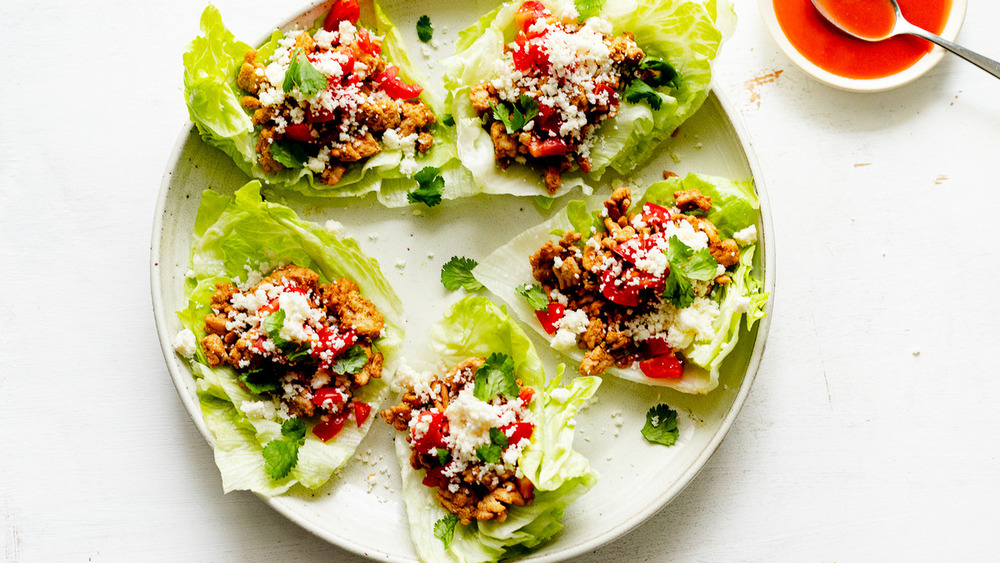 Sher Castellano/Health Digest
With everything cooked, all that's left to do is put the various parts of your lettuce tacos together. Assembly of these tacos, like all tacos, is all about layers. Start with the iceberg lettuce leaf base, and then add a spoonful of meat. Top that with the crumbled cotija cheese, followed by the tomatoes and the cilantro. You can stop there or toss your favorite hot sauce on top. Exactly which brand you use is up to you, but something that's acidic adds nice balance to the spice.
You can put all of the tacos together yourself before bringing them out on a serving plate. You can also have a more DYI-style taco meal by bringing out all of the parts and then letting each person make their own — which is ideal if you have anyone who is picky about proportions.
If there are leftovers, keep the ingredients separate and put them in airtight containers. They'll last about five days in the fridge. Then, simply reheat the meat on the stovetop when you're ready for another delicious meal of lettuce tacos.
The Lettuce Tacos You'll Want For Lunch Every Day
This lettuce taco recipe is delicious, filling, and healthy. It's perfect for anyone who is looking for a nutritious meal that doesn't take too much planning.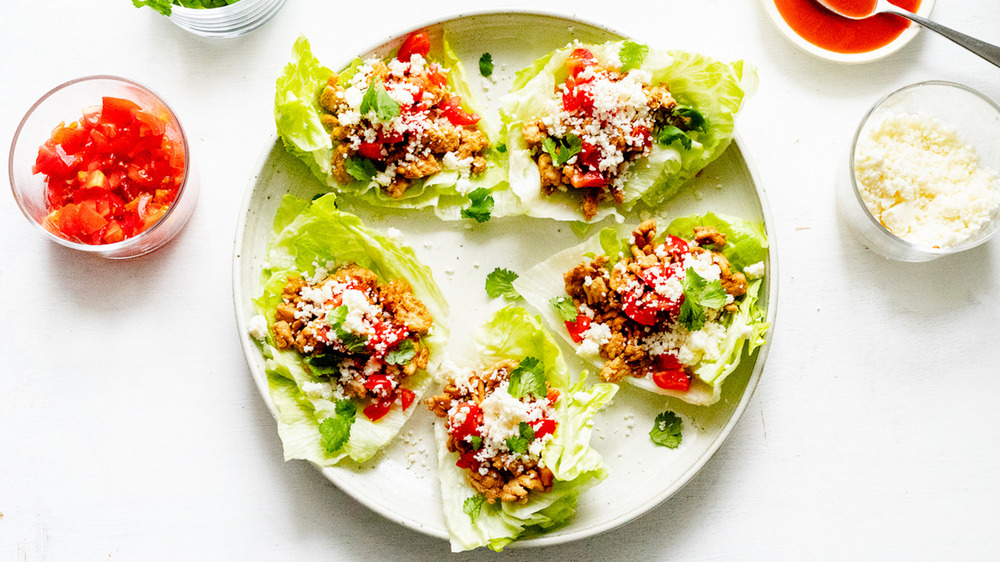 Ingredients
2 tablespoons olive oil
1 tablespoon chili powder
¼ teaspoon cumin
¼ teaspoon coriander
¼ teaspoon garlic powder
¼ teaspoon fine sea salt
1 pound ground chicken or turkey
1 head iceberg lettuce
4 ounces cotija cheese, crumbled
1 cup tomatoes, diced
½ cup fresh cilantro leaves
Optional Ingredients
Directions
Heat the oil over low medium heat in a sauté pan and then add in the seasonings. Stir to warm and combine with the oil.
Add in the ground meat and stir to cook until browned, about 5 to 7 minutes.
Spoon the meat onto lettuce leaves and top with cheese, tomatoes, and cilantro. Hot sauce is optional.
Nutrition
| | |
| --- | --- |
| Calories per Serving | 143 |
| Total Fat | 10.0 g |
| Saturated Fat | 3.4 g |
| Trans Fat | 0.0 g |
| Cholesterol | 50.3 mg |
| | |
| --- | --- |
| Total Carbohydrates | 3.1 g |
| Dietary Fiber | 1.1 g |
| Total Sugars | 1.5 g |
| Sodium | 273.6 mg |
| Protein | 10.9 g |