This Heart-Healthy Smoothie Is A Delicious Snack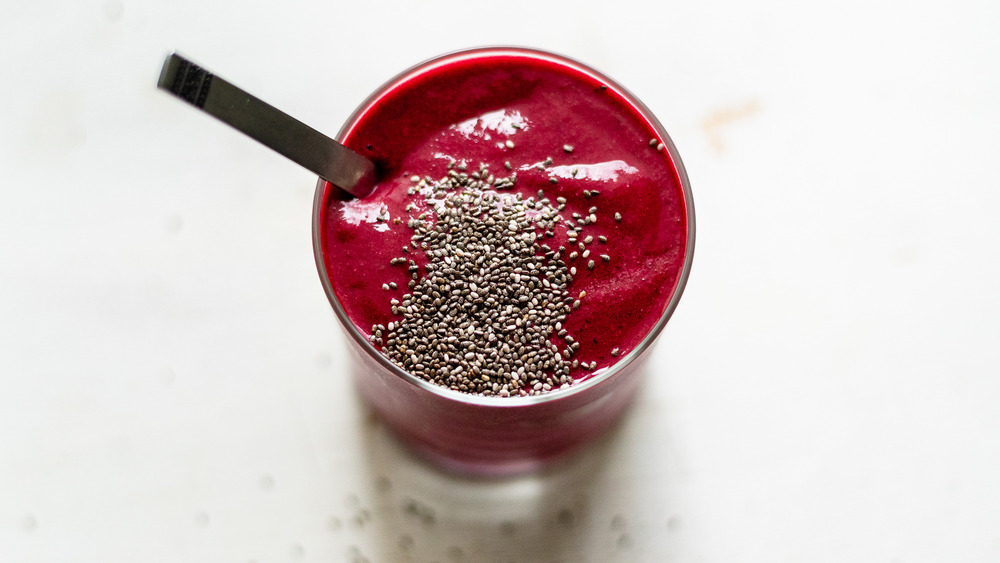 Sher Castellano/Health Digest
No matter the time of year, this refreshing beet and berry smoothie is practically guaranteed to hit the spot. "[It] sounds weird, but it's incredible," says recipe developer Sher Castellano. "The earthiness and natural sugars of the beets meld the tartness of the berries together." 
An added bonus? The combination of beets and berries is a boost for your heart health. According to Healthline, the nitrates in beets lower blood pressure, which might lessen the risk of having a stroke, heart attack, or heart failure. In addition, berries can enhance arterial function (via Healthline).
Of course, a single smoothie is unlikely to make massive changes to your heart function, but little changes and steps implemented over time just may assist with that. By incorporating this quick and easy smoothie into your weekly routine, along with additional lifestyle changes, you might be surprised how your health and overall lifestyle improve. So, it's time to show you how to make this tasty treat at home.
Gather the ingredients to make this heart-healthy beet and berry smoothie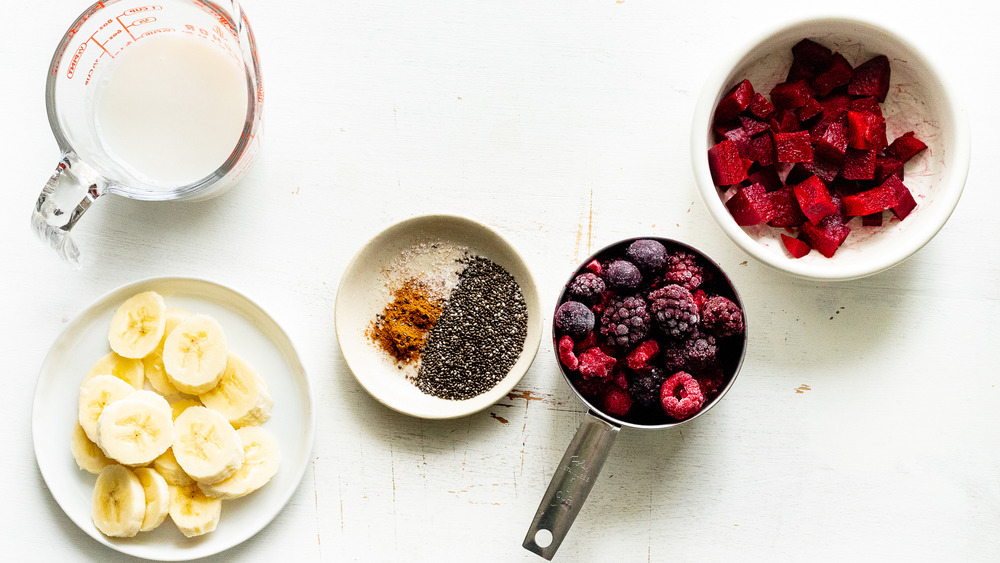 Sher Castellano/Health Digest
The beauty of this beet and berry smoothie is how easy it is to whip up. All you need to do is peel and dice ½ cup of raw red beets (wear gloves if you're worried about the beet juice staining your fingers), 1 cup of frozen berries, 1 small banana, ½ cup of unsweetened almond milk or the milk of your choice, 1 tablespoon of chia seeds, ¼ teaspoon of cinnamon, and a pinch of fine sea salt.
While all berries deliver heart-healthy benefits, your best bet is to opt for blueberries or mixed berries when making this recipe. As Castellano points out, other types of berries tend to be too tart and won't deliver the sweetness you really want from this recipe. Also, using only frozen berries is crucial. "They make the smoothie cool without watering it down with ice," says Castellano. 
Put your ingredients in the blender, and blend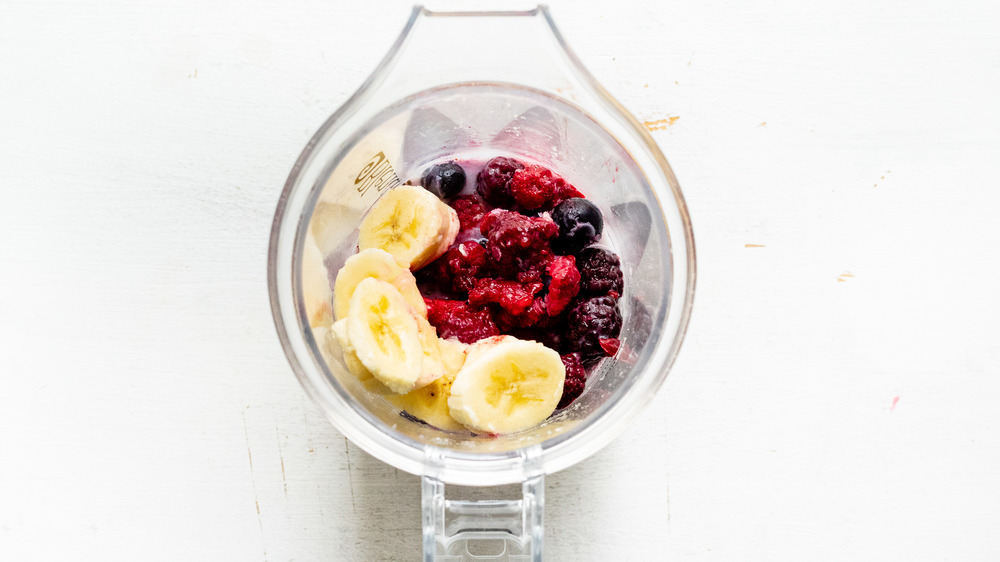 Sher Castellano/Health Digest
Once you have your fruits and beets sliced, diced, and ready to go, there's really nothing more to making this recipe. Simply add all the ingredients directly to your blender, and blend them together for roughly a minute until the smoothie is, well, smooth. While any blender will do, because beets tend to be a fairly hard vegetable, it's handy if you have access to a high-speed blender to help pulverize them to the consistency you want in a drink.
Serve your beet smoothie immediately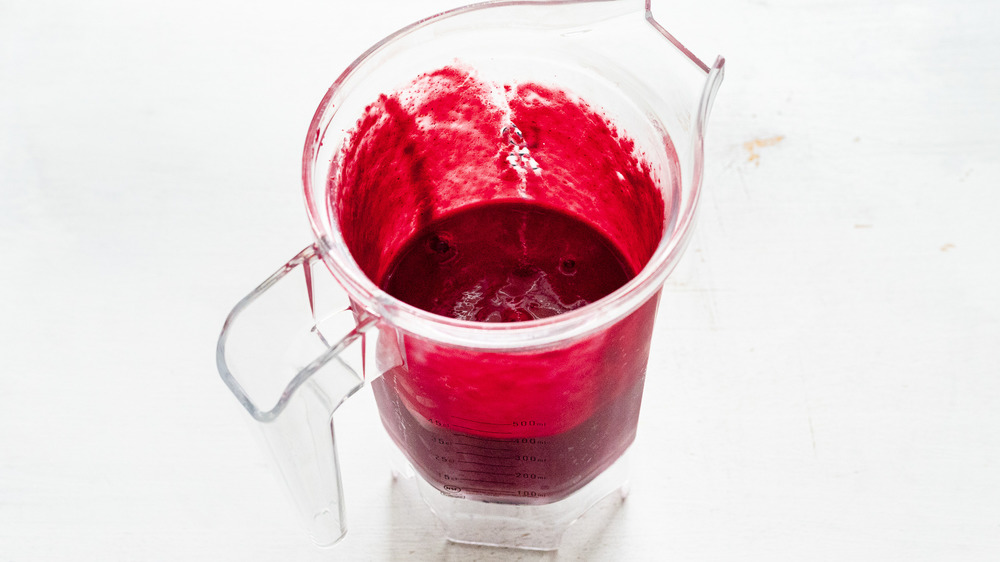 Sher Castellano/Health Digest
Once your smoothie is sufficiently smooth, it's best to drink up immediately to take advantage of the heart-healthy benefits. "[The smoothie] starts to oxidize after blending, [so it's] best [to drink it] within an hour," Castellano says. This basically means that the nutritional benefits found in the fruits and beets start to break down and become less potent the longer they're exposed to the air. And because blending fruits and vegetables exposes the insides of the produce to oxygen (they're no longer protected by the skins), the process speeds up. So, while you can certainly double, triple, or quadruple this recipe to make enough for your whole family, it's not a good idea to pop a second serving in the fridge to store for the next day.
This Heart-Healthy Smoothie Is A Delicious Snack
No matter the time of year, this refreshing beet and berry smoothie is practically guaranteed to hit the spot.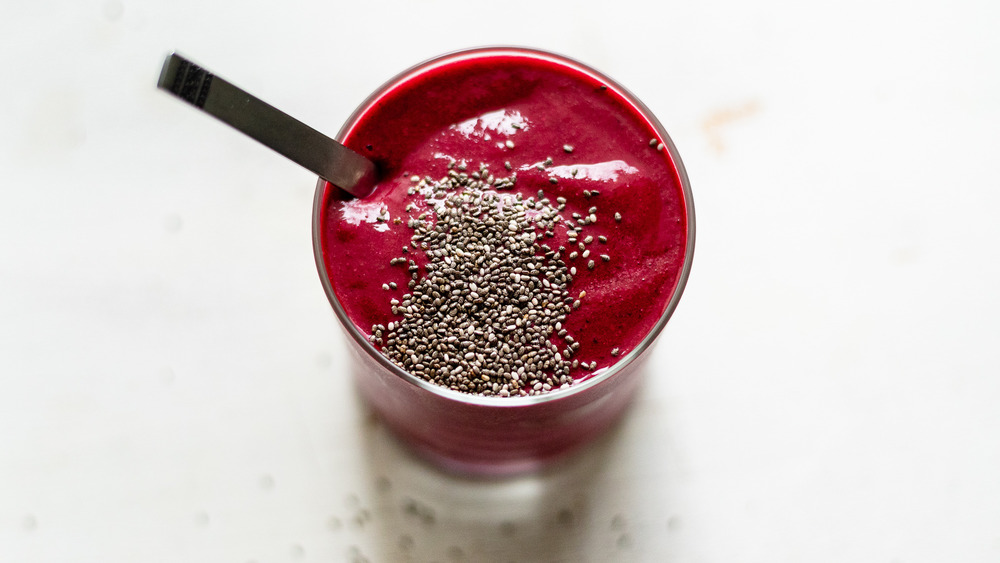 Ingredients
1 cup frozen berries
½ cup raw red beets, peeled and diced small
1 small banana, sliced
½ cup unsweetened almond milk (or preferred milk)
1 tablespoon chia seeds
¼ teaspoon cinnamon
pinch fine sea salt
Directions
Peel and dice ½ cup raw red beets. Slice 1 small banana.
Combine all of your ingredients in a blender, and blend everything until smooth.
Enjoy!
Nutrition
| | |
| --- | --- |
| Calories per Serving | 274 |
| Total Fat | 5.9 g |
| Saturated Fat | 1.0 g |
| Trans Fat | 0.0 g |
| Cholesterol | 0.0 mg |
| | |
| --- | --- |
| Total Carbohydrates | 56.3 g |
| Dietary Fiber | 12.8 g |
| Total Sugars | 30.6 g |
| Sodium | 276.8 mg |
| Protein | 5.7 g |