Bobby Flay's Chili With A Twist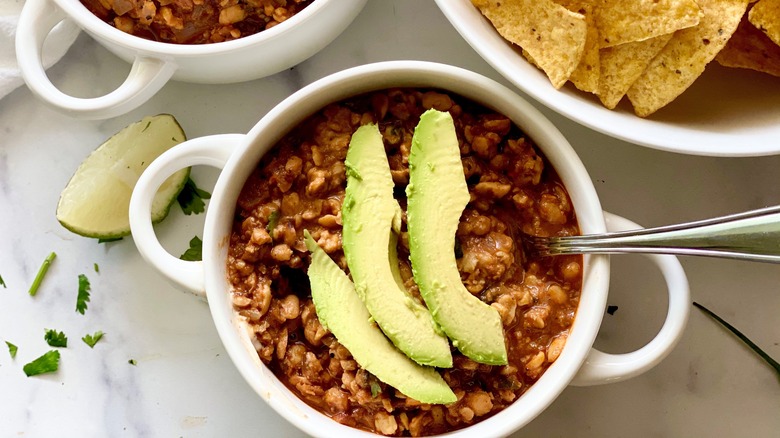 Miriam Hahn/Health Digest
One of the most recognized and recognizable chefs in the culinary universe is Bobby Flay. He first made his name on Food Network in 1994 as a master of the grill and barbecue, and then expanded his already impressive repertoire by creating recipes for Throwdown with Bobby Flay. If you haven't seen the show, Flay challenges U.S. regional cooks to a contest to see who makes the best version of a recipe that the cook is famous for in their hometown. 
Wellness coach and recipe developer Miriam Hahn of Youcare-Selfcare took Flay's recipe for red beef chili (which ended up tying with the local chef's chili) and gave it a healthy twist. Hahn's version still packs a big bold punch of heat, thanks to the eight kinds of chile peppers, but she makes a big change with one ingredient that we'll reveal at the end. Let's just say that Hahn's chili recipe is pure fire.
Gather up the ingredients for Bobby Flay's chili with a twist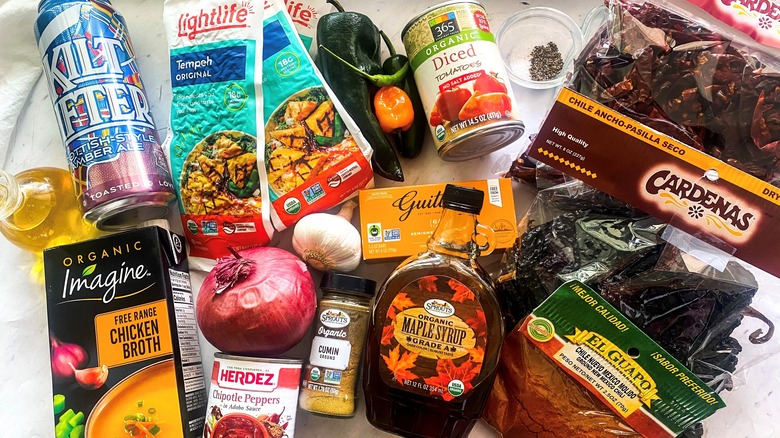 Miriam Hahn/Health Digest
You might take a look at the ingredient list and think, "Hey, where are the beans in this chili?" Flay challenged a Texas chili queen to the throwdown, and as Texans know, Texas chili is just beef (or sometimes, pork or venison) with no beans ... ever! Hahn says that if you really want beans, "This would also be great if you added kidney or black beans." The eight chile peppers in Hahn's take on Flay's recipe are a blend of fresh chiles, dried chiles, canned chiles, and powdered chiles, which you can find in a regular supermarket or at a Mexican specialty store.
An unusual addition that Flay made in the original is semi-sweet chocolate. Some chili purists might cry foul because chocolate pushes the recipe into mole (pronounced MOH-lay) territory. But, Flay adds chocolate and maple syrup at the end for sweetness. This also adds a complex — and often unidentifiable — flavor to the chili.
Sauté the tempeh for Bobby Flay's chili with a twist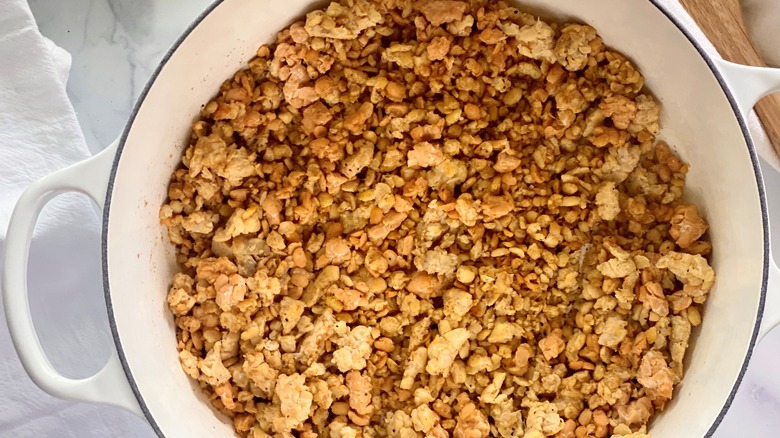 Miriam Hahn/Health Digest
Hahn favors plant-based recipes, and she uses tempeh in Flay's chili recipe. Tempeh is made from fermented soybeans, and as Hahn says, it has "lots of protein and calcium." Tempeh is compressed into a thick bar that you'll need to break up and crumble to the size and consistency of ground beef.
Start by heating 2 tablespoons of canola or vegetable oil in a large Dutch oven over high heat. When you see the oil shimmer, it's hot enough to add the tempeh. Sauté the tempeh crumbles, stirring with a wooden spoon, until they're nicely browned all over. 
Sprinkle the cumin over the tempeh, and give it a good stir. Deglaze the pot with the dark beer, and bring it to the boil. Keep stirring the tempeh until the beer has almost completed evaporated. Take the Dutch oven off the heat, and use a slotted spoon to transfer the tempeh to a large bowl.
Grind the dried chile peppers for Bobby Flay's chili with a twist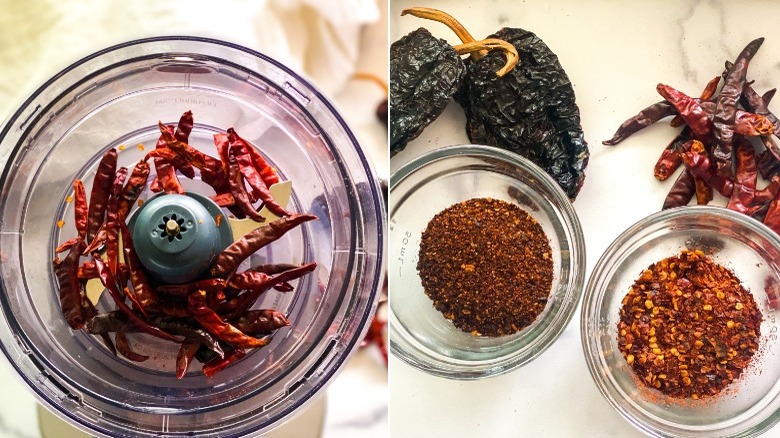 Miriam Hahn/Health Digest
Dried chile peppers are an essential ingredient for chili. Some have a mild, fruity taste, while others are blazing hot. Two types of whole dried chiles are used in this recipe: arbol and ancho. Dried ancho chiles are often mislabeled as ancho-pasilla. The ancho is a dried poblano, while the pasilla is a totally different chili and tastes like raisins (via MasterClass). If your package is labeled ancho-pasilla, don't worry, that's the chili you want. Both are too large to grind into a powder with a spice grinder, so Hahn grinds the arbol and ancho separately in a food processor. Once you've ground the chiles, reserve 1 tablespoon of each, and store the rest for later use. Put the chipotles in a small food processor, and process into a puree. You'll only need 1 tablespoon, but you can use the rest for another recipe.
Sauté the onion, garlic, and fresh chile peppers for Bobby Flay's chili with a twist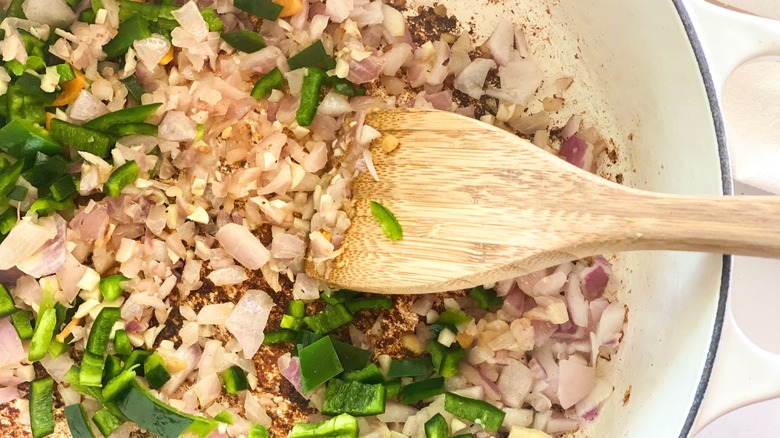 Miriam Hahn/Health Digest
The heat level — known as the Scoville scale — of some chile peppers can be controlled by splitting them open and scraping out the seeds and membrane. The habanero is the hottest of the chile peppers in Flay's chili, and if it's too spicy for you, Hahn says it's okay to omit it. The Thai bird chile — which despite its small size — is very hot. You're probably familiar with jalapeños, and they can vary in heat levels. Poblanos are very mild and are often roasted and stuffed for the popular Mexican dish chiles rellenos.
After you've deseeded and diced the chiles, wash your hands thoroughly, because they will retain the capsaicin that gives chiles heat. Heat the remaining 1 tablespoon of oil in the same pan you cooked the tempeh, and sauté the red onion until softened. Next, add the garlic, and let it cook for 2 minutes. Add the diced fresh chiles and 1 tablespoon of the chipotle puree, and sauté them for about 5 minutes.
Puree the ingredients, and add the tempeh to the pot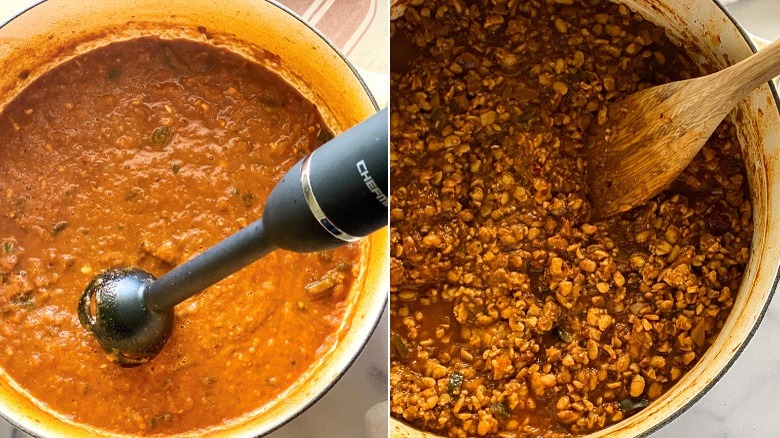 Miriam Hahn/Health Digest
Add in the reserved 1 tablespoon each of the ancho and arbol chile powders and 1 teaspoon of the New Mexico chile powder, and stir everything together. Pour in the chicken stock and tomatoes, and increase the heat to bring the mixture to a boil. Let it cook for about 15 or 20 minutes until it's slightly thickened. If you have an immersion blender — if not, this is the perfect time to get one — puree the mixture. Alternatively, you could puree everything in a blender in small batches. But don't rush it, or you might be cleaning chili off your kitchen ceiling! Transfer the cooked tempeh to the sauce, and lower the heat to medium. Keep the chili at a simmer for 1 hour and 15 minutes.
Finish Bobby Flay's chili with a twist by adding chocolate and maple syrup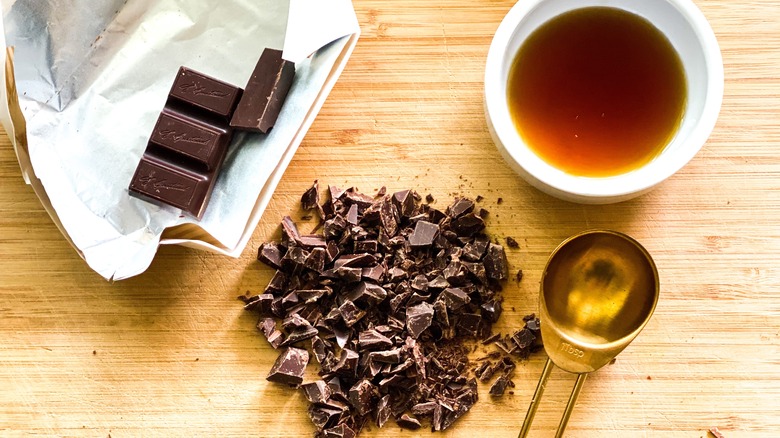 Miriam Hahn/Health Digest
The final touches to Bobby Flay's chili with a twist are the additions of chocolate and maple syrup. Flay adds both to his recipe to counteract the bitterness that chiles sometimes bring to chili. In the chili episode of Throwdown with Bobby Flay, he calls the chocolate his "secret ingredient." It's actually not very much of a secret, though. The Aztecs discovered long ago that chiles and chocolate pair well together (via Southern Living). 
Once your pot of chili has finished simmering to the consistency that you like, take the Dutch oven off the heat, and stir in the chopped chocolate and maple syrup. Keep stirring until the chocolate has completely melted. Give the chili a taste, and add more salt or other seasonings if needed.
What we changed in Bobby Flay's chili recipe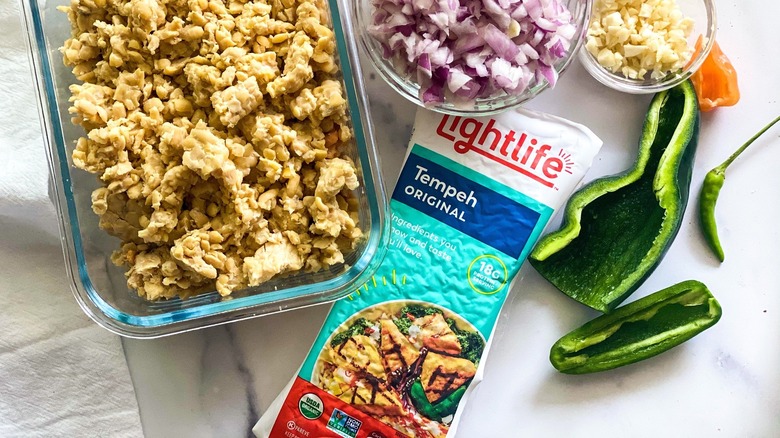 Miriam Hahn/Health Digest
You've probably figured out that Hahn's spin on Bobby Flay's chili recipe is the tempeh. Tempeh is an excellent substitution for beef. Not only does it soak up whatever sauce it's cooked in, but tempeh also has potential health benefits. It differs from tofu (also made from soy), however, by adding prebiotics, which can positively affect your digestion.
Hahn loves to serve this chili with chopped red onion and sliced avocado. "Sour cream can also balance out the heat level," she says.
You can serve this chili in tacos or wrapped up in warmed corn or flour tortillas as well. For vegetarians and vegans — or even, meat lovers — this twist on Bobby Flay's chili is not only hearty and satisfying, but it's good for you, too!
Bobby Flay's Chili With A Twist
Bobby Flay's chili with a twist packs a big bold punch of heat, thanks to the eight kinds of chile peppers.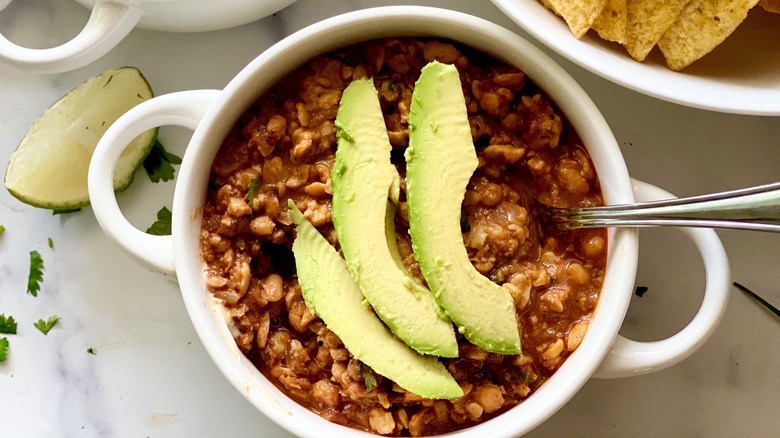 Ingredients
3 tablespoons canola or vegetable oil
3 packages tempeh, crumbled
2 tablespoons cumin
12 ounces dark beer
1 large red onion, finely diced
4 cloves garlic, finely chopped
1 teaspoon seeded and chopped habanero chili
1 Thai bird chili, seeded and chopped
½ jalapeño, seeded and chopped
½ poblano, seeded and chopped
1 tablespoon ancho/Pasilla chile powder (ground from dried chile)
1 tablespoon Arbol chile powder (ground from dried chile)
1 teaspoon New Mexico chile powder
1 tablespoon chipotle pepper puree
5 cups chicken broth or water
1 (14-ounce) can whole tomatoes, drained and pureed
2 tablespoons finely chopped semisweet chocolate
2 tablespoons maple syrup (or more as needed)
kosher salt
pepper
Directions
Heat 2 tablespoons of the oil in a large Dutch oven over high heat. Add the crumbled tempeh to the pot and add salt and pepper. Sauté until the tempeh is browned on all sides. Sprinkle with the cumin and stir well.
Deglaze the pan with the beer and bring to a boil. Cook until the beer is almost completely reduced. Remove the tempeh from the pan and set aside.
In a food processor, grind the dried Ancho/Pasilla chile, measure out 1 tablespoon, and set aside. Do the same with the dried Cascabel Arbol peppers.
Add the chipotle peppers to a small food processor and blend into a puree. Measure out 1 tablespoon and set aside.
In the same pan that you cooked the tempeh, add the remaining tablespoon of oil and add the onions. Cook on medium heat until soft. Add the garlic and cook for 2 more minutes. Add the habanero, Thai bird chili, jalapeño, poblano peppers, and pureed chipotle chile to the pan and cook until soft, about 5 minutes.
Add the ground powders and the New Mexican chile powder to the pot and cook for 2 more minutes.
Add the chicken stock and tomatoes and bring to boil and cook until slightly thickened, 15 to 20 minutes.
Puree with an immersion blender. Add the tempeh back to the pan, reduce the heat to medium, cover, and simmer until the chili is thick, about 1 hour 15 minutes.
Remove from heat and add in the chocolate and maple syrup and stir until the chocolate is melted and combined. Adjust seasonings.