CDC Updates Mask Guidance For Those Vaccinated Against COVID-19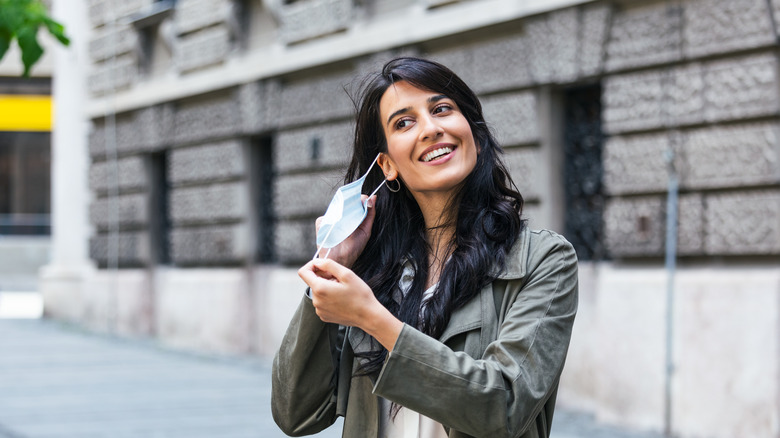 Shutterstock
After weeks of waiting, the U.S. Centers for Disease Control and Prevention has officially announced updated outdoor mask guidelines for Americans who are fully vaccinated against COVID-19. The updates come as nearly 30 percent of the US population is fully vaccinated and over 40 percent have received at least one dose (via CDC). A person is deemed fully vaccinated two weeks after receiving the final dose of their COVID-19 vaccine. For those receiving Pfizer or Moderna vaccines, that's two weeks after their second dose, and for those receiving the Johnson & Johnson vaccine, it's two weeks following their only dose.
The updated guidelines state that fully vaccinated individuals do not need to wear a face mask outdoors while performing a range of activities such as running, walking, hiking, biking alone, or with members of their household (via The New York Times). It also states that masks are not necessary for small outdoor gatherings or dining outside with vaccinated members of other households, but discourages attending medium- to large-size gatherings. If you are still planning to attend a larger gathering, the CDC does encourage mask-wearing during these events, even if outdoors (via CNN). While the CDC did not define small, medium, or large gatherings, they do recommend wearing a mask during crowded sporting events, parades, and so on.
What else can fully vaccinated individuals do safely?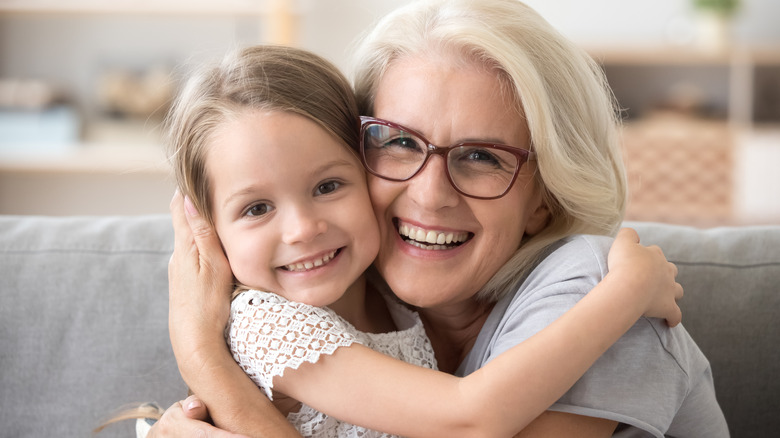 Shutterstock
Currently, individuals who have been fully vaccinated are the closest to returning to some semblance of "normalcy." Previous guidelines stated fully vaccinated individuals can meet with other fully vaccinated people indoors without masks or social distancing, resume domestic travel without needing to self-quarantine or get tested before or after traveling, as well as visit and interact with unvaccinated people from a single household who are at low risk of severe COVID-19 disease (via CDC). This is particularly good news for the older population, many of whom haven't hugged or seen their grandchildren and kids in over a year.
While this is exciting news to many, public health officials continue to stress that these guidelines are for fully vaccinated individuals. Those who are not yet vaccinated or who do not wish to be vaccinated are still encouraged to wear a mask when social distancing is not possible, stay six feet away from others, and continue practicing good hand hygiene. President Biden is expected to mention the updates as he addresses the nation later today regarding the state of the pandemic (via CNN). In the meantime, it is important to remember that the more people get vaccinated against COVID-19, the closer we all get to the end of this deadly pandemic.