Quick Immunity-Boosting Smoothie Recipe That Also Tastes Delicious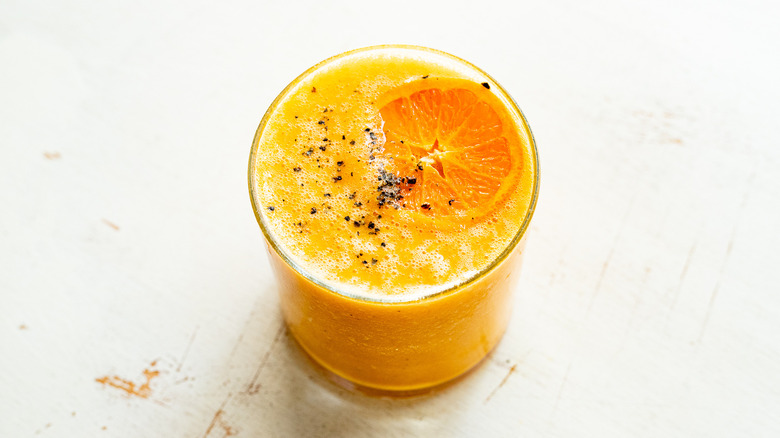 Sher Castellano/Health Digest
The foods (and drinks) you consume can really impact how effectively your immune system functions. And while nutrients such as vitamin C can't technically prevent colds or other illnesses, when you're consuming nutrient-dense foods that are jam-packed with vitamins, minerals, and antioxidants that support your immune system (particularly boosting white blood cell production, as vitamin C does), your body will be ready to fight back when a foreign invader (like a bacteria or virus) decides to make a visit.
This immune system-bolstering smoothie recipe put together by plant-based chef and recipe developer Sher Castellano features oranges (a citrus fruit that's a great source of the antioxidant vitamin C), ginger (which contains antioxidant and anti-inflammatory properties), turmeric (featuring curcumin, which is a known antioxidant and anti-inflammatory powerhouse), and bananas (which is a great fruit to consume when you're coping with a cold). Just don't wait until you're sick to start whipping up the recipe — it's best to keep your immune system functioning at its peak capacity by consuming these ingredients on a regular basis. Of course, that doesn't mean you'll never get sick, it just means when your body comes under attack, it's more prepared to rally its most effective response.
Now, let's get into how you can prepare this refreshing, immunity-boosting treat.
Gather your ingredients to prepare this immunity-boosting smoothie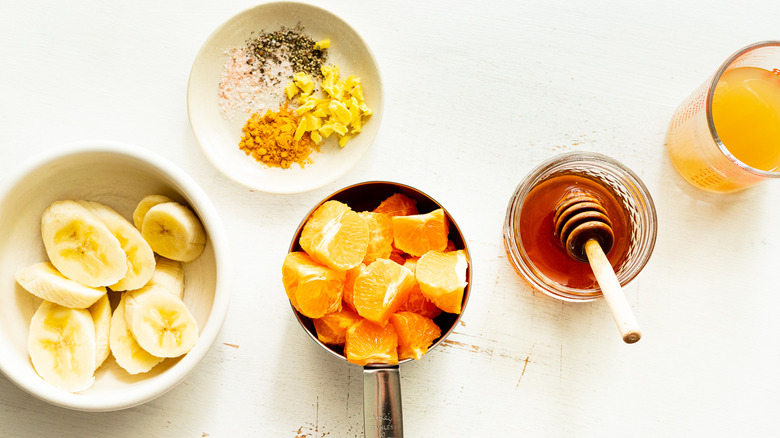 Sher Castellano/Health Digest
Gather and prep all your ingredients before starting to make your smoothie. You'll need to peel and dice a cup's worth of oranges and a small banana. Also, mince a teaspoon of fresh ginger (a teaspoon isn't very much, so it won't take long). Otherwise, simply gather together apple cider vinegar, honey, ground turmeric, pink Himalayan salt, black pepper, and a cup of ice. That's it!
While you may be tempted to sub ground ginger for freshly minced ginger, try to ignore the temptation. Castellano points out that the drying process removes some of the gingerol content, reducing the spice's immunity-boosting properties. "Gingerols are phytonutrients that [contain] anit-inflammatory properties," she says. "Fresh ginger is best here for its flavor and immunity-supporting purpose."
Prep and blend your smoothie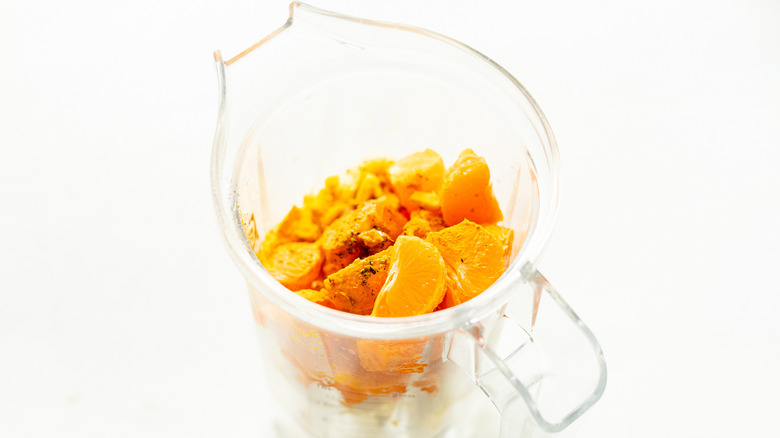 Sher Castellano/Health Digest
When it comes time to make your smoothie, you know what to do. Simply add all the ingredients to your high-speed blender, then blend until completely combined and smooth. For the quickest blend (and to avoid "losing" spices on the sides of the blender), start by placing the apple cider vinegar, honey, and spices in first, stirring for a second to combine, then follow up with the bananas and oranges, saving the hardest ingredient (the ice) for last. 
Garnish your smoothie with an orange slice and pinch of pepper, and drink up
Sher Castellano/Health Digest
When your smoothie is ready to go, simply pour it into a glass, top with an orange slice and a pinch of pepper for garnish, and enjoy this refreshing treat! And remember, the flavor should be tart and sweet (thanks to the oranges and banana), but if you still need a little more sweetness, you can add an extra drizzle of honey. And if you can, make sure you're buying local honey from a verifiable source — incidents from 2013 shed light on the reality that imported honey is often "faked," and may be nothing more high-fructose corn syrup (via Insider).
Quick Immunity-Boosting Smoothie Recipe That Also Tastes Delicious
Top this immunity-boosting smoothie off with an orange slice and a pinch of pepper for the most refreshing treat.
Ingredients
1 cup oranges, peeled and diced
1 small banana, diced
1 teaspoon apple cider vinegar
1 teaspoon honey
1 teaspoon fresh ginger, minced
¼ teaspoon ground turmeric
⅛ teaspoon pink Himalayan salt
⅛ teaspoon black pepper
1 cup ice
Directions
Blend the diced oranges, diced banana, apple cider vinegar, honey, minced ginger, ground turmeric, pink Himalayan salt, black pepper, and ice together until smooth.
Pour this immunity-boosting smoothie into a glass, top with an orange slice and a pinch of pepper, and enjoy.
Nutrition
| | |
| --- | --- |
| Calories per Serving | 201 |
| Total Fat | 0.6 g |
| Saturated Fat | 0.2 g |
| Trans Fat | 0.0 g |
| Cholesterol | 0.0 mg |
| | |
| --- | --- |
| Total Carbohydrates | 51.2 g |
| Dietary Fiber | 7.3 g |
| Total Sugars | 35.1 g |
| Sodium | 302.2 mg |
| Protein | 3.0 g |