The Bizarre Subway Diet You Probably Forgot About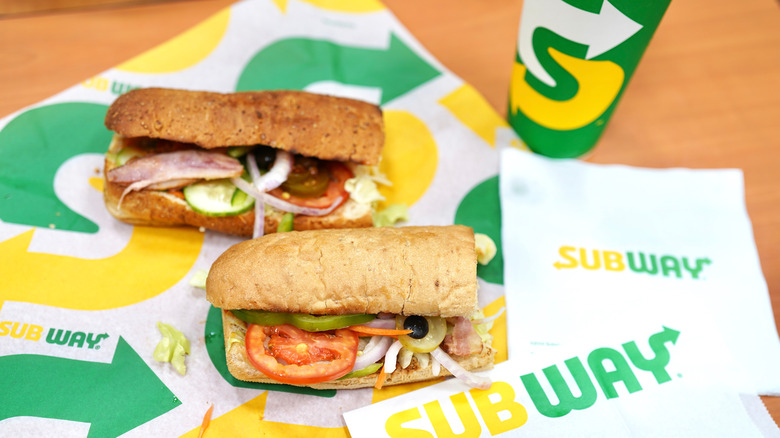 Shutterstock
Does anyone else remember the Subway diet and its spokesman, Jared Fogle? Let's take a trip down memory lane. According to The Morning Call, the Subway diet became a trend in the early 2000s when real-life dieter, Fogle, lost an astonishing 245 pounds by eating two Subway sandwiches a day for nearly a year. After being hired by the famous sandwich company, the newly trim Fogle connected with consumers by spreading his story across television, print advertisements, and at least 15 different Subway commercials. Fast forward to today, and the Subway diet (along with Jared Fogle himself) haven't managed to sustain their celebrity in the world of dieting trends. Here's why.
The initial fall of the Subway diet is related to the loss of Fogle as their spokesman. According to Insider, the company once claimed that the former celebrity was responsible for at least half of Subway's annual growth which was $3 billion in 1998 and rose to $11.5 billion in 2011.
Fogle sits in prison as the company defends their product
Shutterstock
Currently, Fogle is now serving a 16-year prison sentence after being found guilty of possessing child pornography and having sex with minors. The company has since disassociated themselves with the fallen face of the Subway diet campaign, says Insider.
In addition to dropping their once bankable spokesman, health-conscious consumers are now enjoying more healthy fast-food options. At the same time, the sandwich chain now faces some serious allegations regarding the nutritional value of their menu. According to NPR, an Irish court recently deemed Subway's bread as illegal to be referred to as bread. The ruling came after it was shown that 10% of the weight of the flour used in the company's bread recipe actually comes from sugar. The company was also recently forced to remove azodicarbonamide from their bread, a chemical used in the creation of yoga mats, after a petition surfaced demanding it be done away with.
With Subway as the subject of recent headlines, and with the questioning over just how healthy their sandwiches really are, the now dated Subway diet and its former front man, Fogle, are a thing of the past. Sure, Subway may have some healthy options on their menu, but the trend of eating two of their sandwiches a day in order to loose weight has failed to remain a lasting diet trend.