Why You Should Think Twice Before Eating Subway's Bread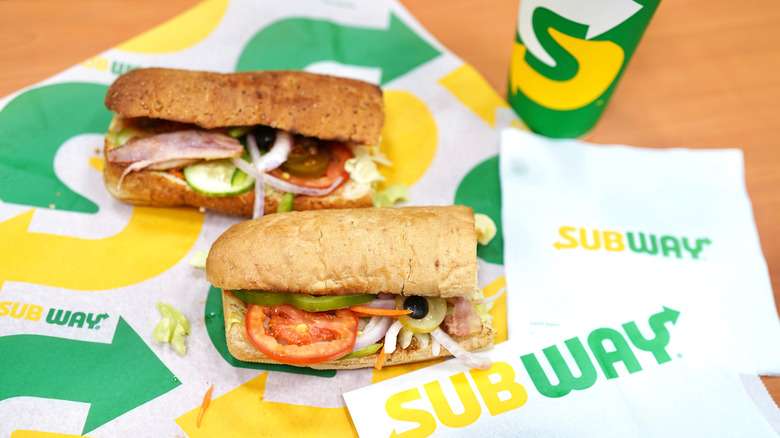 Shutterstock
Subway is a popular sandwich chain known for its customization options. Even though it's labeled as a healthier fast-food option, you may want to reconsider your next trip to this restaurant. Here's why.
Subway offers up to 13 different types of bread depending on the location (via Subway). Most restaurants offer 9-Grain Wheat, Multi-grain Flatbread, Italian, Italian Herbs & Cheese, and Flatbread. Select locations may also offer Hearty Italian, 9-Grain Honey Oat, Jalapeño Cheese, Monterey Cheddar, Parmesan Oregano, Roasted Garlic, Rosemary & Sea Salt, Rye Bread, Gluten-Free Bread, Spinach Wrap, and/or Tomato Basil Wrap.
Although the nutritional information for each type of bread will vary, they all contain some questionable numbers. The amount of added sodium can be high in many options. According to Subway's website, one six-inch loaf of Italian Herbs & Cheese bread contains 500 mg of sodium. That's over ⅕ of the daily recommended sodium intake of 2,300 mg per day (via U.S. Food and Drug Administration). The Spinach and Tomato Basil Wraps each contain over 700 mg of sodium per wrap.
Fans of Subway's bread need to watch out for added sugar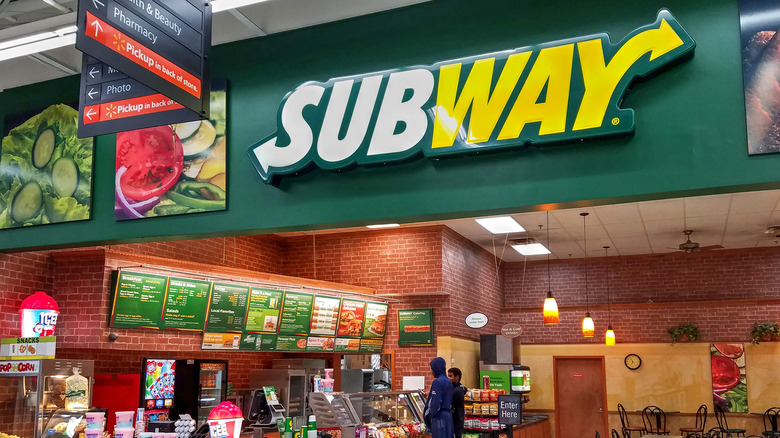 Shutterstock
High sodium content isn't the only thing to think about at Subway. In 2020, an Irish court judge ruled that Subway's bread can't be defined as bread in the country because it contained too much sugar (via The Guardian). According to Ireland's Value-Added Tax Act of 1972, the amount of sugar in a bread product "shall not exceed 2% of the weight of flour included in the dough." According to The Guardian, Subway's 9-Grain Wheat bread contains five times the allotted amount with 5 grams of sugar in a six-inch loaf.
That all being said, Subway's 9-Grain Wheat bread is still the best option if you're craving the sandwich chain. One six-inch loaf contains 180 calories, 230 mg of sodium, eight grams of protein, and four grams of dietary fiber. According to Eat This, Not That!, the healthiest sandwich on the menu at Subway is the Oven Roasted Chicken on 9-Grain Wheat bread. One six-inch sub contains 270 calories, 3.5 grams of fat, 560 mg of sodium, 40 grams of carbs, and 23 grams of protein. Of course, you can always order one of Subway's salads and omit the bread altogether.