What Is Aquafaba And Is It Good For You?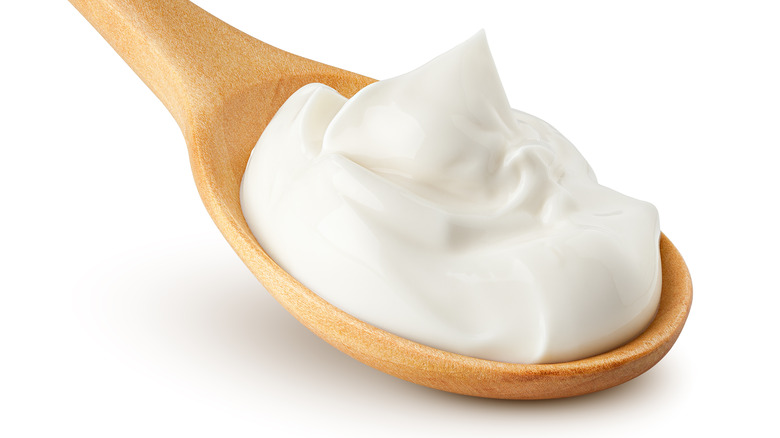 Shutterstock
Do you want an egg replacement that comes free with the ingredients you buy for hummus? Are you vegan and want to make meringues? Do you just want a really fun word to say? Aquafaba is the solution to all three problems.
It might sound like a futuristic drink or an '80s exercise craze, but aquafaba is a natural byproduct of either boiling dried legumes or opening a can of them, which is where the product gets its name, according to McGill. "Aqua" is Latin for "water" while "faba" means "bean" and that is exactly what it is. Bean water.
Aquafaba can be made with any beans but certain beans make the liquid better suited for certain uses. And that, unfortunately, is just about where information on aquafaba ends. A 2018 study published in the Journal of Visualized Experiments sought to determine the composition of aquafaba, specifically the kind made using chickpeas or garbanzo beans. They were successful but were careful to specify that aquafaba is largely an internet-based trend and there is very little research on either its use or its nutritional value.
Not much is known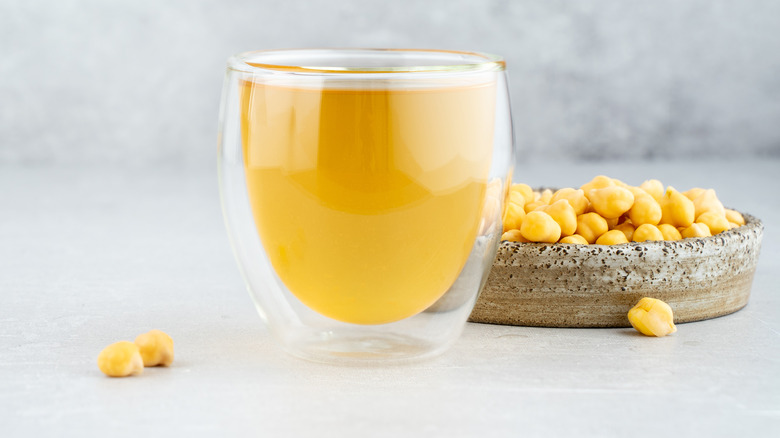 Shutterstock
Because aquafaba is largely untested, nobody is really sure about its nutritional impact. Healthline states that there are between three and five calories in every tablespoon, but that is the most information currently available. That limitation has not stopped it from quickly becoming a staple vegan food, however.
It started as an experiment, according to Health. Joël Roessel, a French cook, began looking for an egg replacement in 2014. One of the options he tried was the liquid from a can of chickpeas. A year later two French scientists ran with Roessel's findings and made chocolate mousse by whipping what we now call aquafaba.
The substitution was an almost overnight hit. America's Test Kitchen even went so far as to write a profile on it, starting with the product's origins and ending with instructions and making and storing it. When whipped the liquid becomes light and fluffy, apparently light enough to make not only mousse but also marshmallows and meringues. It has foaming properties most other egg replacement options seem to lack, explaining why so many people are flocking to its use despite the limited information available.