Easy Mushroom Chili Recipe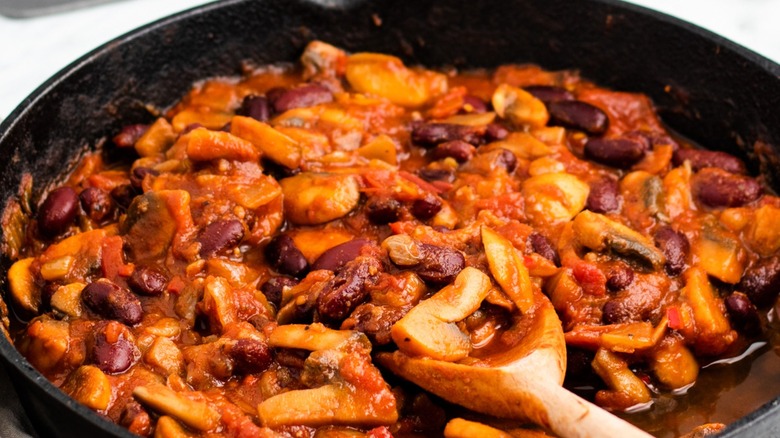 Catherine Brookes/Health Digest
While chili is usually a hearty, meaty dish, it's sufficiently tasty that it can stand on its own even without the meat. While beans alone can add both the bulk and the protein you'd otherwise get from meat, recipe developer Catherine Brookes of gluten-free blog Blue Sky Eating makes her veggie chili even more filling and flavorful with the addition of mushrooms. While she's not a strict vegetarian, she tells us, "I like to have a few meat-free days a week, and this is one of my favorites." As to what the mushrooms add, she tells us they're "great for adding texture to meat-free dishes," adding that "mushrooms are a great source of B vitamins as well as vitamin D."
This recipe is a dish that can be put together in a hurry. Apart from the fresh mushrooms and the lime, everything else in it is a pantry staple. The prep time involved is minimal, like opening a few cans and chopping a few vegetables minimal, although you might be able to shave off a minute or two if you buy your mushrooms already sliced so you don't have to chop them yourself. Luckily, it doesn't take too long to cook either. Pair this healthy chili with the side dish of your choosing, and dinner's all set to go!
Make sure you have all of the ingredients on hand to make this mushroom chili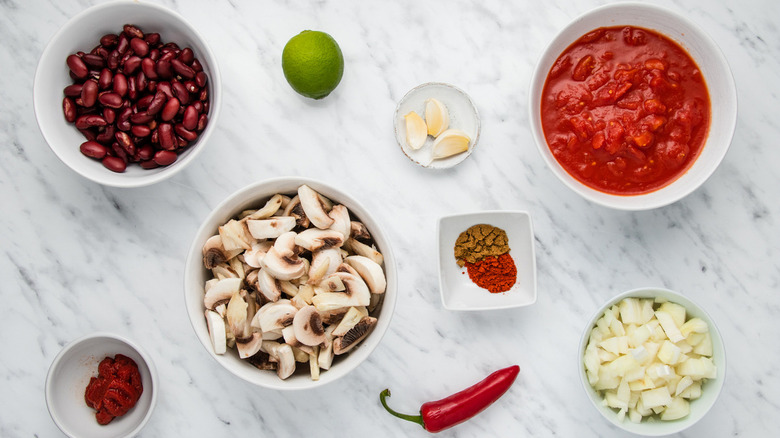 Catherine Brookes/Health Digest
Once you decide to cook this mushroom chili, you should first check your cabinets to see what you've already got on hand. Can of diced tomatoes? Check. Can of tomato paste? Check. Can of kidney beans? Check. Got onions in the house? How about garlic? Now the spice cabinet: smoked paprika and garlic on hand? (If you have no smoked paprika, the regular kind will do, though the flavor will be a bit less, well, smoky.) Salt, pepper, and vegetable oil should be a given.
You may, unless you've just been on a grocery run, need to swing by the supermarket produce section to pick up a few things: a carton of button mushrooms, a lime, and a fresh chile pepper. While Brookes used a Fresno chile, you could also go with either a jalapeno or a serrano. Or, what the heck, blow your head off with a habanero or a ghost pepper. This recipe is pretty forgiving, so use whatever type of chile you like, or none at all, if that's your preference.
Prep the veggies for the mushroom chili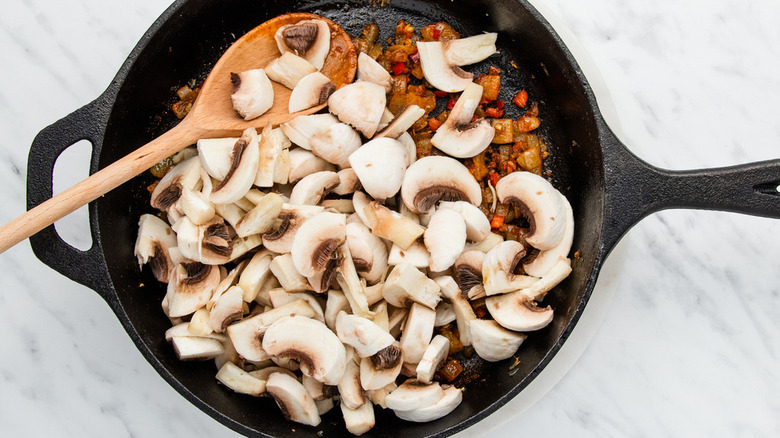 Catherine Brookes/Health Digest
Did you buy the pre-sliced mushrooms? If not, that's okay — you can chop or slice them yourself. Mushrooms tend to shrink up a bunch as you cook them, so it doesn't really matter how you cut them. You'll also need to peel and dice an onion ... we know, it hurts. If you want a tear-free option, you can always use frozen, pre-chopped onions. If not, just grit your teeth, hold your breath, and dice through the pain.
When you're done with that, wipe your eyes (after washing your hands!), then take a cleaver, a mallet, a muddler, or anything else with some heft to it, and bash those garlic cloves. Slip the skins off, and those are good to go, though you can always mince them finely if you wish. Finally, mince the chile pepper. If you picked a really hot kind, you might want to use gloves for this, and again, you'll definitely need to rinse your hands and utensils well when you're done.
Sauté the veggies with the spices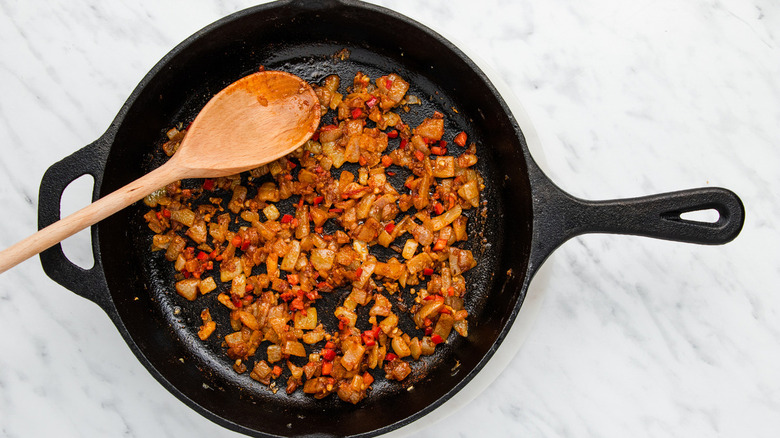 Catherine Brookes/Health Digest
Heat the oil in a frying pan over medium heat. Once both oil and pan are hot, add the diced onion and cook it for about five minutes, stirring frequently. Once the onion has started to soften, add the garlic and the chile and cook, stirring, for another minute. Stir in the paprika and the cumin, then cook the chili for one more minute. At this point, things should be starting to get pretty fragrant! Now stir in the mushrooms and cook for five minutes until they are softening up and starting to shrink.
Finish off the chili with the tomatoes, beans, and lime juice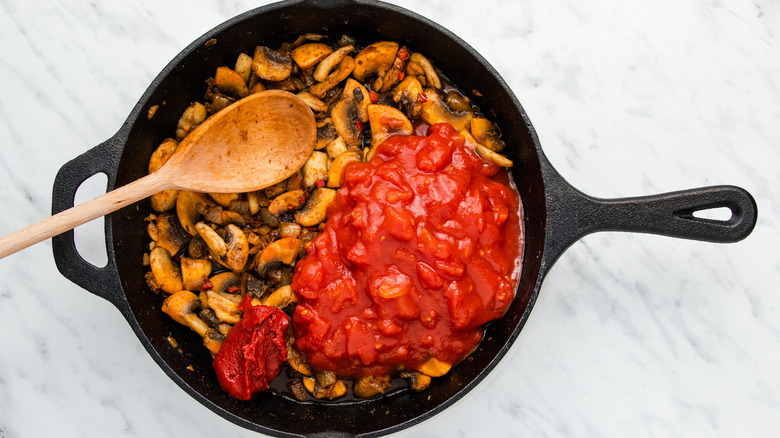 Catherine Brookes/Health Digest
Add both types of tomatoes (the paste and the diced), and stir them into the sautéed veggies. Simmer the mixture for two to three minutes before adding the beans — Brookes says to drain these first, although if you forget, you can just simmer the chili a little longer until the liquid cooks out. (If you do drain the beans, though, be sure to save the liquid for some experimental baking!)
Add the lime juice as well, then taste the chili and add salt and pepper until it's just the way you like it. Simmer the chili for another four to five minutes, then turn off the heat and let it cool just a tiny bit before you dig in.
Serve the chili with your toppings of choice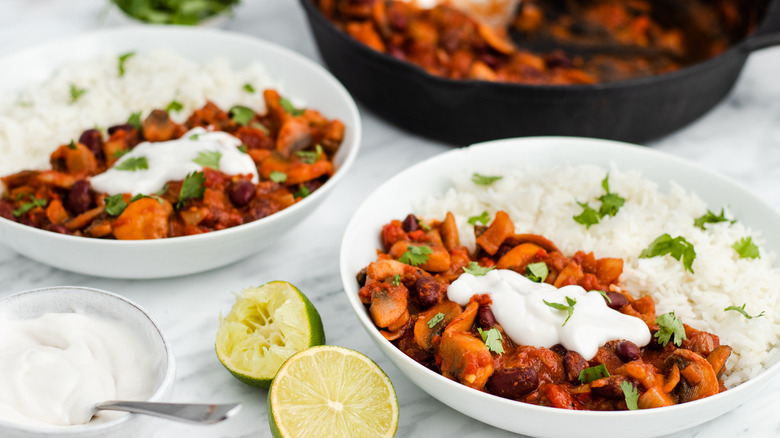 Catherine Brookes/Health Digest
Brookes says this chili, which she describes as having "rich tomato and garlic flavors with a good amount of spice," doesn't really need much in the way of adornment. She likes to serve it over rice topped with a little fresh cilantro, yogurt, and an extra squeeze of lime. As she likes to keep her mushroom chili vegan, she uses yogurt made from coconut milk, but you can use plain yogurt, Greek yogurt, or sour cream if you don't mind dairy. In that case, you may also want to sprinkle on some shredded cheese, as cheese and chili are a classic pairing. Other favorite chili toppings include chopped onions, sliced scallions, and pickled jalapenos.
Instead of rice, you could also pair your chili with crackers or cornbread or serve it on a bed of noodles. Brookes also suggests a side of guacamole and chips and maybe a green salad.
Easy Mushroom Chili Recipe
While chili is usually meaty, it's tasty enough to stand on its own without the meat. Pair this chili with the side dish of your choosing, and dinner's ready!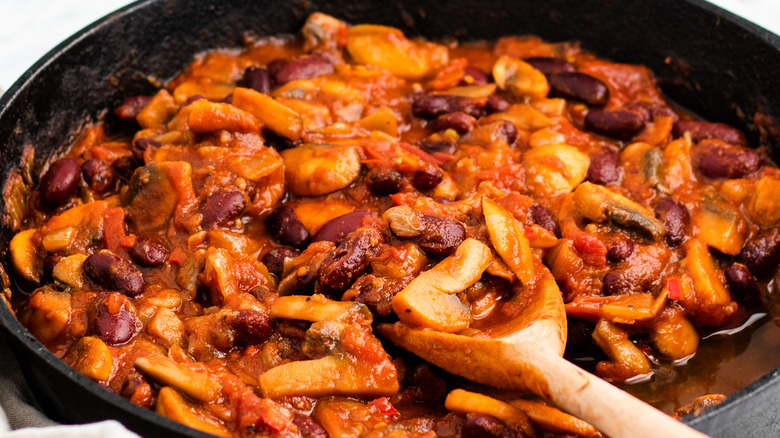 Ingredients
1 onion
10 ½ ounces mushrooms (14 button mushrooms)
1 fresh chile pepper
3 cloves of garlic
1 tablespoon vegetable oil
1 ½ teaspoons smoked paprika
1 ½ teaspoons cumin
1 heaping tablespoon tomato paste
1 can diced tomatoes (14 to 15 ounces)
1 can kidney beans (14 to 15 ounces)
Juice of 1 lime
Salt and pepper to taste
Optional Ingredients
Rice
Fresh cilantro
Plain yogurt
Extra fresh limes, quartered
Directions
Dice the onion and mushrooms.
Finely chop the fresh chile.
Peel and crush or mince the garlic.
Heat the vegetable oil in a frying pan over medium heat and add the onion. Cook for about 5 minutes, stirring frequently.
Add the crushed garlic and chopped chile and stir together. Saute for another minute.
Stir in the paprika and cumin and let everything cook for another minute.
Add the diced mushrooms and cook for about 5 minutes until they're soft, stirring frequently.
Add the tomato paste and can of chopped tomatoes. Stir until everything is well combined and simmer for another 2 to 3 minutes.
Drain the kidney beans and add them to the pan along with the lime juice.
Season the chili with salt and pepper to taste. Stir well and cook for a final 4 to 5 minutes.
Serve with rice, cilantro, yogurt, and extra limes as desired.
Nutrition
| | |
| --- | --- |
| Calories per Serving | 187 |
| Total Fat | 5.1 g |
| Saturated Fat | 0.5 g |
| Trans Fat | 0.0 g |
| Cholesterol | 0.0 mg |
| | |
| --- | --- |
| Total Carbohydrates | 29.6 g |
| Dietary Fiber | 9.1 g |
| Total Sugars | 8.8 g |
| Sodium | 817.8 mg |
| Protein | 9.8 g |