What Happens If You Don't Get A COVID-19 Booster Shot?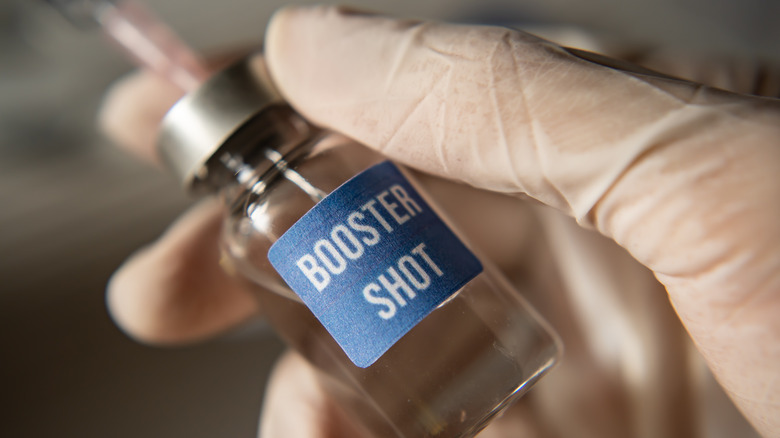 Wachiwit/Shutterstock
As the COVID-19 vaccines began to roll out across the country in early 2021, government officials cautioned citizens against permanently laminating their proof of vaccination card. The reason being, that at some point in the future, disease experts believed booster shots would likely be necessary for the general population and updates to vaccine cards would need to be made. With recent announcements from the current administration as well as the FDA, it appears that "someday in the future" is now readily approaching.
During the month of August, the Food and Drug Administration (FDA) authorized the issuing of an additional booster shot for specific populations who have received both vaccine doses of either Pfizer or Moderna (via Yale Medicine). With the ongoing development of coronavirus variants across the country as well as across the globe, the booster shot has been approved in order to protect the country's most vulnerable populations including the elderly, those with long-term health conditions, and immunocompromised individuals (via The Atlantic). When it comes to the general public, this third round of vaccination shots is in the works to be distributed as early as late September, as soon as the CDC and FDA issue official safety approval for widespread use.
Why is a third round of vaccination recommended?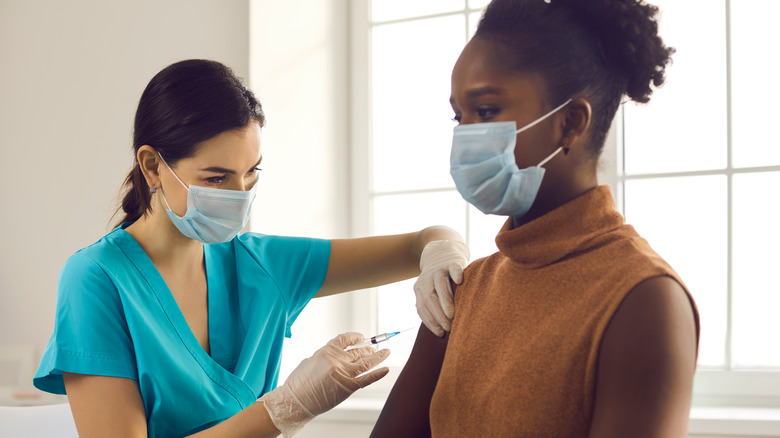 Studio Romantic/Shutterstock
Some individuals have expressed concerns over potential long-term side effects associated with the COVID-19 vaccine, leaving them uncertain as to whether or not a third shot is necessary for them. The Centers for Disease Control and Prevention (CDC) have emphasized that severe long-term side effects are extremely rare, and any aftereffects are generally short-lived.
Health experts explain that the push for a third round of vaccination is based on the long-studied history of vaccines. Some vaccines, such as the tetanus shot, require repeated vaccination, as they have been shown to decrease in immunity protection over time (via The Wall Street Journal). Therefore, although having completed two doses of the Pfizer or Moderna vaccine does offer virus protection, those who decline to receive a third vaccine shot are at an increased risk for contracting COVID-19 without the additional boost of antibodies provided by the third dose.
According to The Wall Street Journal, a study conducted by researchers in Israel revealed that a Pfizer booster shot provided increased protection against coronavirus infection in seniors by nearly 90%. As of yet, booster shots have not been recommended for recipients of the Johnson & Johnson vaccine. As we await final approval from the CDC and FDA, according to The Atlantic, those in the general population fully vaccinated with either the Moderna or Pfizer vaccine are encouraged to seek a third round of vaccination eight months after having received their second dose.