Healthy Blueberry Smoothie Recipe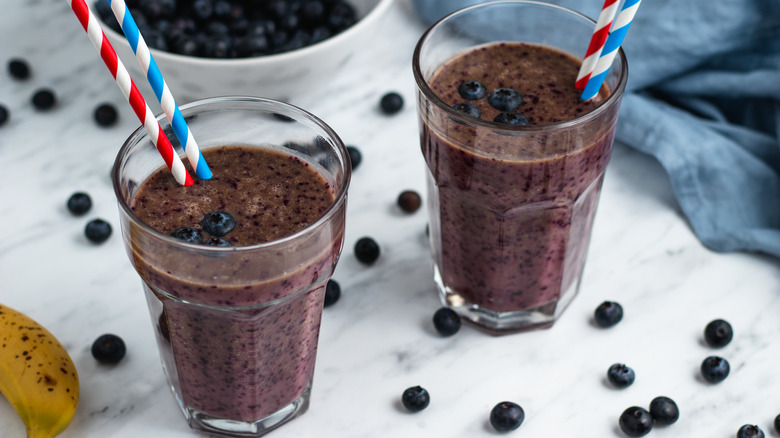 Catherine Brookes/Health Digest
You don't need to make a pit stop at Jamba Juice to get a world-class smoothie. In fact, you can create one in the comfort of your own home, and it's a lot easier than you might expect. This recipe for a healthy blueberry smoothie is not only delicious, but it's incredibly nutritious. It's filled with fruit, a hidden veggie, and some rich yogurt and flaxseed, providing you with the perfect jump-start to your morning. It's wonderful for kids and adults alike, and it would also be great to drink after a workout. Really, any occasion and excuse to have one of these delightful drinks is a good one. 
Recipe developer Catherine Brookes is the brains behind this tasty smoothie that is sure to be a favorite in your household. "I love how much delicious natural sweetness is packed into this healthy smoothie," Brookes raves. Need we say more?
Keep reading to find out how to make this amazing blueberry smoothie.
Gather the ingredients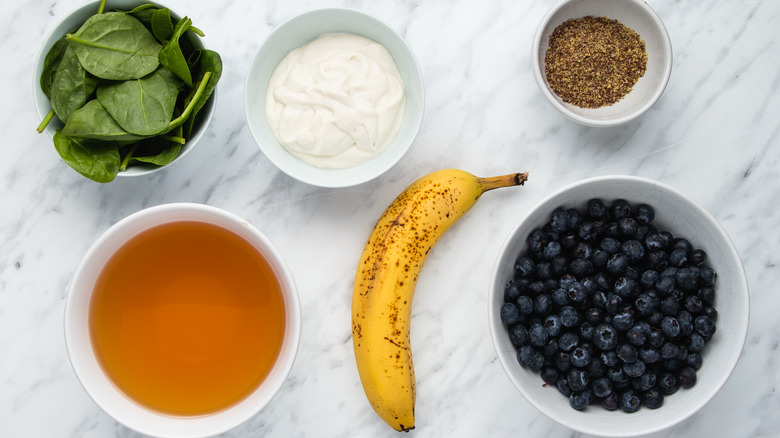 Catherine Brookes/Health Digest
The first thing you need to do to prep this wonderful smoothie is to gather all of the ingredients you need. It's no secret that you will need a few cups of blueberries to start. In addition, grab a ripe banana and a handful of spinach. Some may think that spinach sounds a little weird in a smoothie recipe, but it gives you a nice serving of greens, and it's common in a lot of smoothies.
To complete the recipe, you will need some apple juice and then some unsweetened coconut yogurt. The last thing that you need is flaxseed. Once you have everything ready, you can get started.
Throw the ingredients in the blender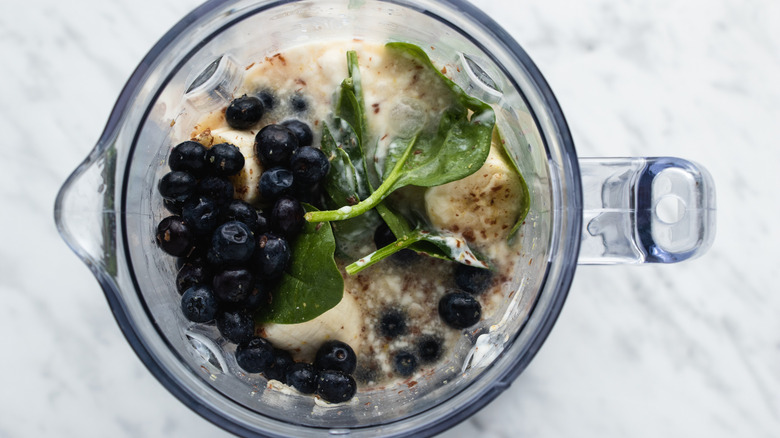 Catherine Brookes/Health Digest
Are you ready to get down to business? If you've never made a smoothie before, we can assure you that it's really easy. First, take out a blender and place it in a safe spot on your counter. Plug it in, and be sure there are no little hands that can yank it off of the counter (trust us, it happens). Open the lid to the blender and toss in every single ingredient that you purchased. This includes blueberries, bananas, and spinach, followed by apple juice, unsweetened coconut yogurt, and flaxseed.
Blend the smoothie
Catherine Brookes/Health Digest
After you have loaded everything into the blender, put the lid back on to prevent any splatters. Then, turn the blender on and continue mixing the smoothie until it's completely smooth with no chunks. It shouldn't take more than a few minutes to blend all of the ingredients, but we recommend turning the blender off and stirring the smoothie with a spoon to check for any remaining pieces that didn't break down. Sometimes it may not look like there are any, but they can be hard to see, so it's always good to check!
Serve and enjoy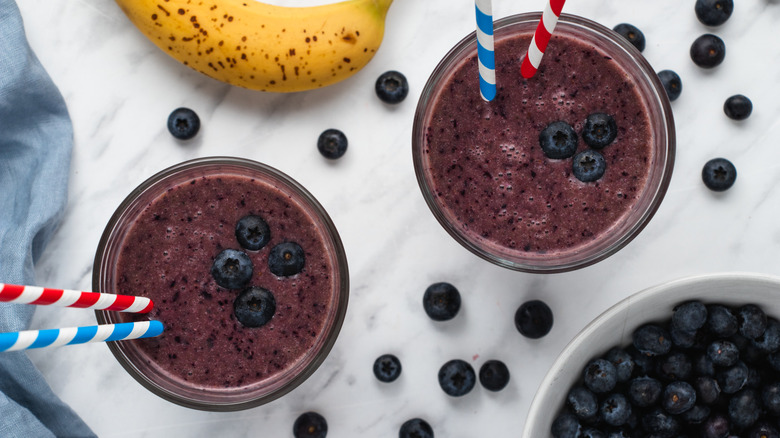 Catherine Brookes/Health Digest
Once the smoothie is completely smooth, turn the blender off and pour it in glasses for you and your guests. This recipe is good for two to three servings, depending on how big you want each smoothie to be. You can garnish the smoothies with blueberries or sliced bananas for a little extra something special. "You could turn it into a smoothie bowl and add some granola," Brookes suggests. 
We don't think you will have any leftovers, but if you do, no problem. "You could store leftovers covered in the fridge for up to 24 hours. It might separate a little, but you can give it a stir before drinking," Brookes shares. 
Health benefits of this smoothie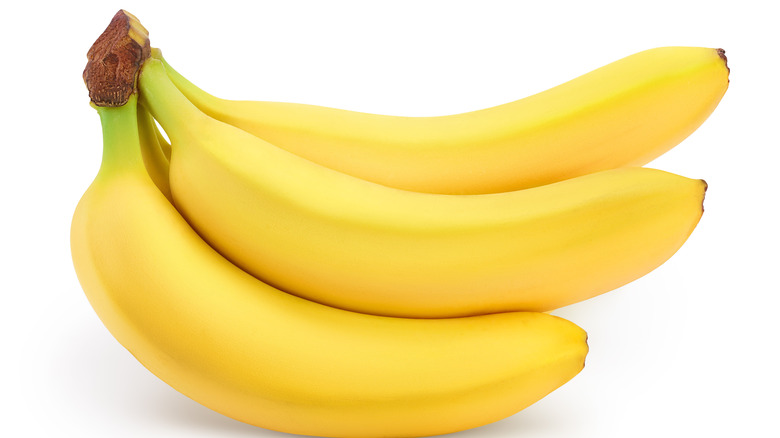 Nataly Studio/Shutterstock
As we mentioned before, this smoothie offers a ton of health benefits. "Bananas are a great source of potassium and vitamin B6 and help to keep you feeling full," Brookes shares. As for blueberries? They are just as good for you! "Blueberries are a great source of vitamin C and fiber," she says. Put the two together, and you have one incredibly healthy and great-tasting smoothie. It also helps that spinach is a great source of various vitamins as well. 
We hope you loved this smoothie as much as we do!
Healthy Blueberry Smoothie Recipe
You don't need to make a pit stop at Jamba Juice to get a world-class smoothie. In fact, you can create one in the comfort of your own home.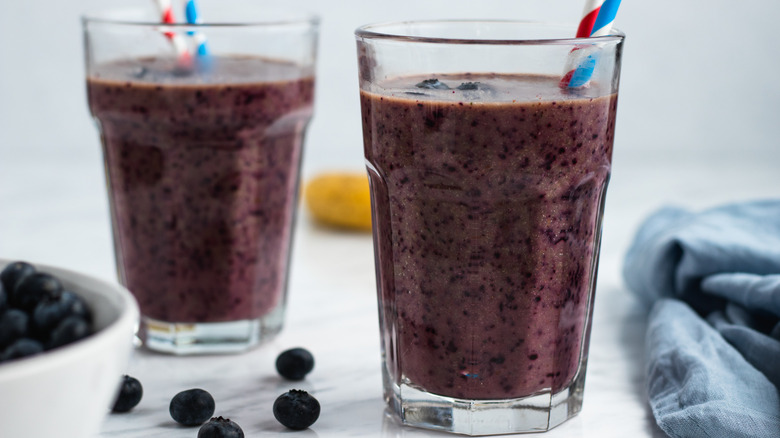 Ingredients
2 cups blueberries
1 ripe banana
Handful of spinach
1 cup apple juice
½ cup unsweetened coconut yogurt
2 tablespoons flaxseed
Directions
Add all ingredients to a blender and blitz until completely smooth.
Serve and enjoy.
Nutrition
| | |
| --- | --- |
| Calories per Serving | 286 |
| Total Fat | 7.2 g |
| Saturated Fat | 1.8 g |
| Trans Fat | 0.0 |
| Cholesterol | 8.0 mg |
| | |
| --- | --- |
| Total Carbohydrates | 54.6 g |
| Dietary Fiber | 8.2 g |
| Total Sugars | 36.8 g |
| Sodium | 39.8 mg |
| Protein | 5.9 g |