Why Are Johnson & Johnson COVID-19 Vaccine Recipients Being Urged To Get A Booster Shot Immediately?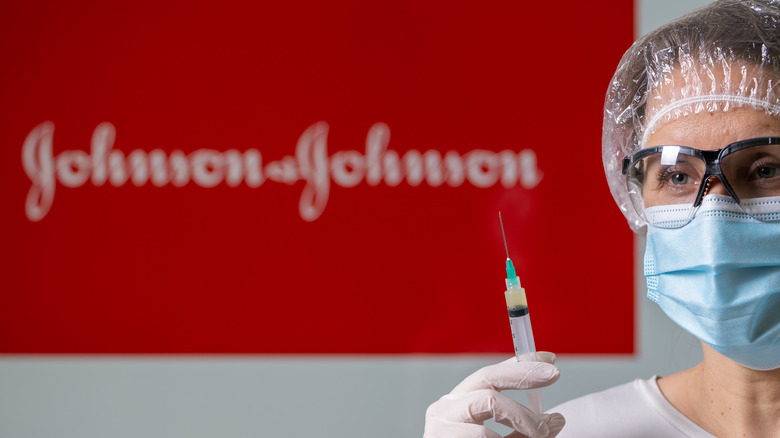 SoySendra/Shutterstock
For the over 15 million Americans who have received the Johnson & Johnson vaccine, health officials are now urging recipients to promptly seek a booster shot in order to raise protection that has proven to have been lost during the emergence of the delta variant (via New York Post).
A recent study determined that the effectiveness of the Johnson & Johnson vaccine in veteran participants had dropped over the course of five months' time, from March to August of 2021, from a nearly 90% protection rate to 3%. With Johnson & Johnson showing the lowest statistical protection when compared to the reduced protection rates of both Pfizer and Moderna, it's for this reason that researchers are stressing that Johnson & Johnson vaccine recipients take additional health measures such as masking, handwashing, and social distancing.
While awaiting final approval from the U.S. Food and Drug Administration (FDA), experts continue to explore who should be the first to receive the Johnson & Johnson booster shot and how soon it should be administered.
How soon should the Johnson & Johnson booster shot be administered after the initial dose?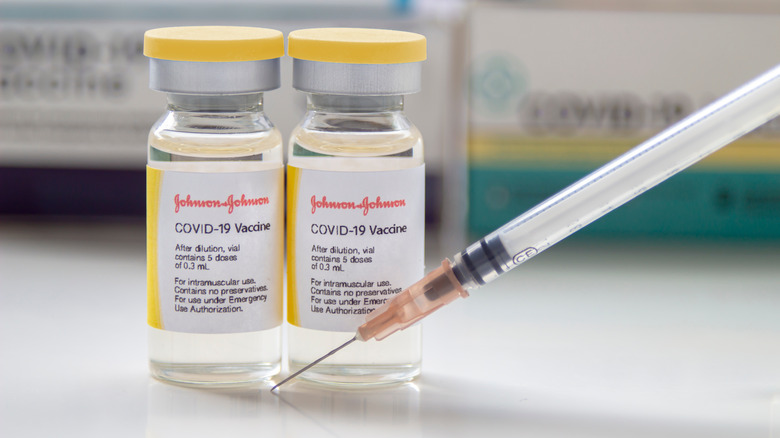 oasisamuel/Shutterstock
According to Johns Hopkins Medicine, a booster shot is defined as, "an additional dose of a vaccine given after the protection provided by the original shot(s) has begun to decrease over time." For this reason, booster shots prove vitally important to more-susceptible communities such as those with underlying medical conditions. But in this case, the FDA's advisory committee is suggesting the Johnson & Johnson booster shot be made available to anyone over the age of 18, and advises that the timeline for administering the shot should be two months following the initial one-shot dose (via CNBC). Similar to the mRNA vaccines Moderna and Pfizer, many health officials on the committee feel the Johnson & Johnson vaccine is best administered as a two-shot vaccine, as the booster shot has shown to increase effectiveness to a 94% protection rate.
Dr. Ashish Jha, dean of the Brown University School of Public Health, believes the Johnson & Johnson vaccine to be an effective vaccine, but urges the need for an additional dose as soon as possible, stating via CNN, "Probably one is not enough. And everybody who has had one needs a second one two months after the first. They are going to get full protection if they do that."