Can You Mix And Match Your COVID-19 Vaccine With Your Booster?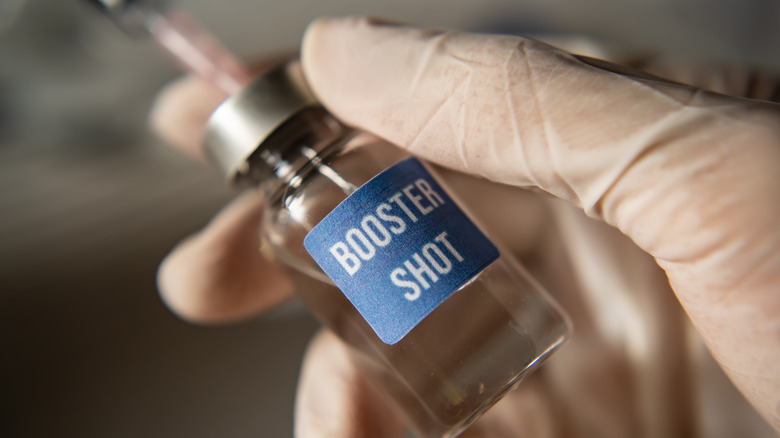 Wachiwit/Shutterstock
Following the U.S. Food and Drug Administration's (FDA) approval of the Pfizer COVID-19 booster shot in September, both Moderna and Johnson & Johnson booster doses of the vaccine have now also been approved for eligible populations (via CNN). Specifically, usage has been authorized for those age 65 and older, as well as those 18 and older who are at higher risk for COVID-19 infection and complications.
For those who received full doses of the two-shot vaccine, such as Pfizer and Moderna, it was initially emphasized by health officials that both doses should be of the same brand rather than mixing and matching. Now, recent data from the National Institutes of Health reveals that, unlike initial vaccination, receiving a booster shot of a different brand than the original vaccine received does not pose a risk to one's health (per CNN).
Dr. Peter Marks, director of the FDA's Center for Biologics Evaluation and Research, believes that authorizing the use of all FDA-approved vaccine booster shots will make protection through continued vaccination more accessible to the public. "Being able to interchange these vaccines is a good thing," Dr. Marks said in a briefing with reporters. "It's like what we do with flu vaccines. Most people don't know what brand flu vaccine they received."
COVID-19 booster shot eligibility requirements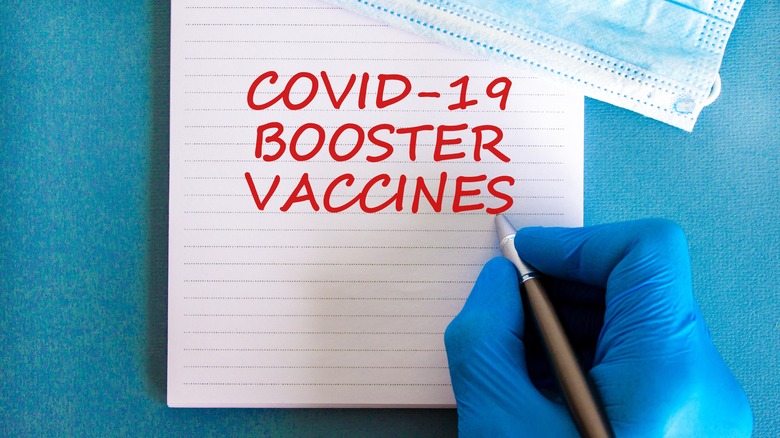 Dmitry Demidovich/Shutterstock
Currently, booster shots are not available to the general public. Eligibility requirements include age, health status, as well as specific vaccination timelines. Half doses of the Moderna booster shot, for example, have been authorized for those at least 65 years of age. These individuals must have been fully vaccinated at least 6 months prior (via CNN). Johnson & Johnson recipients are eligible for the booster shot if they are at least 18 years of age and were fully vaccinated 2 months prior or more.
When it comes to booster shot availability for the general population, the U.S. Centers for Disease Control and Prevention (CDC) is set to determine a final vote on Thursday, October 21 (via ABC News). Ultimate approval by CDC director Rochelle Walensky will influence how soon recipients can have access to a booster shot. If approved, those who wish to receive a booster dose may be able to do so as soon as within the week.
At this time, the FDA has no reason to believe that one brand of the vaccine booster shot is preferable over any other. As more data becomes available, however, the CDC may be able to determine which mixing of brands provides the highest rates of protection against COVID-19 infection.