This Is The Least Healthy Frozen Dinner You Can Buy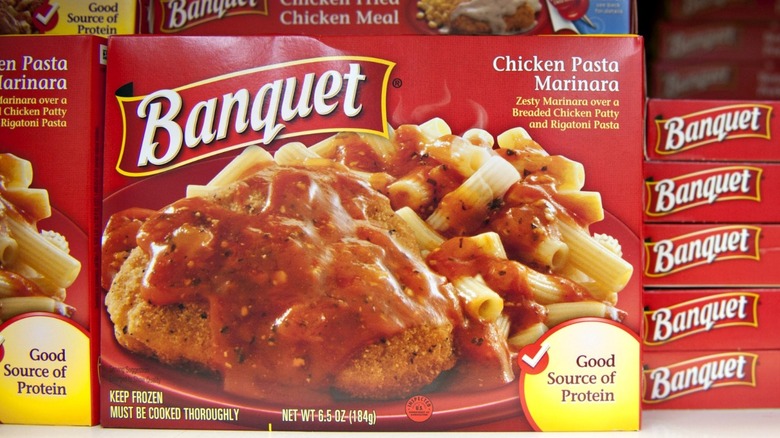 Bloomberg/Getty
If you love eating frozen dinners, you're in good company. According to Statista, nearly 128 million Americans consumed frozen dinners in 2020. This data aligns with a recent report from the American Frozen Food Institute, revealing that frozen dinners helped lead the way to a whopping 75% increase in frozen food sales that same year.
Given the limitations the world was under during the height of the pandemic, and with grocery stores being the primary food source for most people as many restaurants were closed, this makes sense. Yet, even as pandemic restrictions have loosened with the introduction of COVID-19 vaccines and with most restaurants reopened, the popularity of frozen dinners shows no sign of cooling off. Data from Statista forecasts that over 130 million people will eat frozen dinners in 2024.
Since the frozen dinner first came on the scene in 1953 by way of the Swanson turkey dinner (via Smithsonian Magazine), frozen dinners have been a convenient option for an easy meal. And these days, there are far more options than just turkey, mashed potatoes, and peas. However, among these many choices lurk frozen dinners that you should probably avoid.
Stay away from these frozen dinners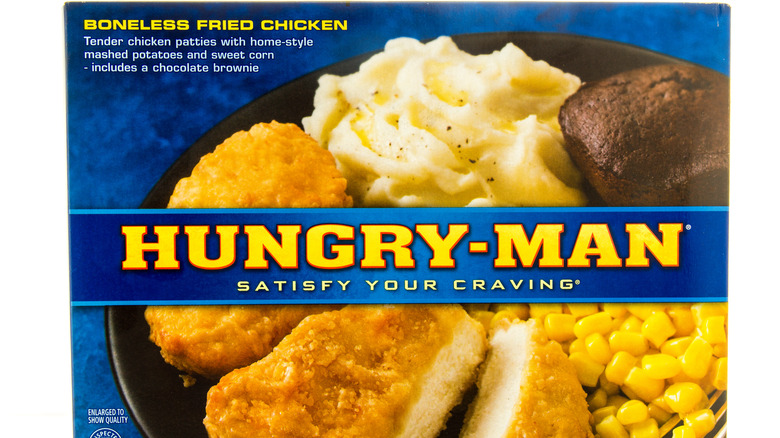 Keith Homan/Shutterstock
While it may seem counterintuitive, Lean Cuisine's Sesame Chicken takes the twelfth spot on Eat This, Not That's list of worst frozen dinners on store shelves. The meal contains 15 grams of sugar, along with a high amount of sodium. Its high sodium content isn't too surprising, though. According to the experts at Cleveland Clinic, your average frozen dinner is notorious for being packed with sodium.
With this in mind, you'll want to stay clear of Number 8 on the list: Banquet's Chicken Fried Chicken meal. Besides the obvious "fried" aspect, this meal is loaded with 990 milligrams of sodium, which is nearly half the amount you should be consuming in a day (per FDA). If you're craving pizza, choose something other than DiGiorno Cheese Stuffed Crust Three Meat Small-Sized Pizza (second highest on the list). Besides having 1,530 milligrams of sodium and 67 grams of carbohydrates — of which 11 grams is sugar — it contains 1 gram of trans fat, which the FDA essentially banned from processed foods in 2018 because of associated health risks.
The frozen dinner at the top of the list is Hungry-Man's Double Chicken Bowl Boneless Fried Chicken. Given that this meal contains 34 grams of fat, 2,090 milligrams of sodium and 76 grams of carbohydrates, this isn't really shocking. Bottom line: No need for you to put the freeze on eating frozen dinners. Just be sure to check their labels before taking them to the checkout line.