Keto Peanut Butter Cookies Recipe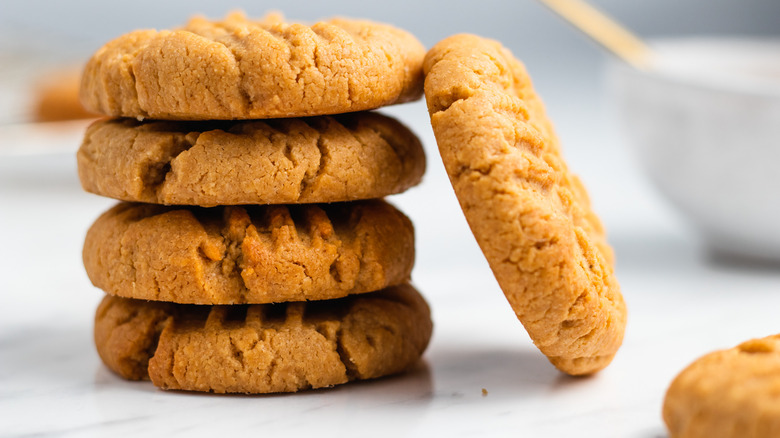 Catherine Brookes/Health Digest
If you only have a cursory familiarity with the popular keto diet, you might imagine that people following this eating plan exist on nothing but meat and dairy products. While such fare does have its charms, there's one major food group that's sadly underrepresented here, that being the dessert category. While anyone adhering to a keto-friendly eating plan cannot binge on sugary carbs, that doesn't mean that desserts are entirely off the menu. With a few ingredient swaps and tweaks, the keto diet can include candies, cakes, and yes, cookies as well.
This peanut butter cookie from recipe developer Catherine Brookes is nice and simple and calls for just a few ingredients that should be readily available. As Brookes tells us, these cookies are "so quick to whip up," adding that they have "no sugar, and [are] a great source of protein and healthy fat." She goes on to say, "They make such a tasty snack [as] they're packed with peanut flavor and have a lovely soft and buttery texture, too."
Gather the ingredients for these keto peanut butter cookies
Catherine Brookes/Health Digest
To make these peanut butter cookies you will, of course, need peanut butter. Be sure to double-check that there is no added sugar. Brookes uses the creamy kind, but says, "Chunky would be fine if preferred." You'll also need an egg and a sugar substitute. Brookes opts for erythritol but says the "proportion [should be] the same for any granulated sweetener." Finally, you'll need almond flour to round out the cookie dough. Brookes admits she hasn't tried using other types of non-wheat flour, explaining that "Almond flour does tend to give a soft, moist texture so that might be altered with other flours."
Start by preparing the cookie dough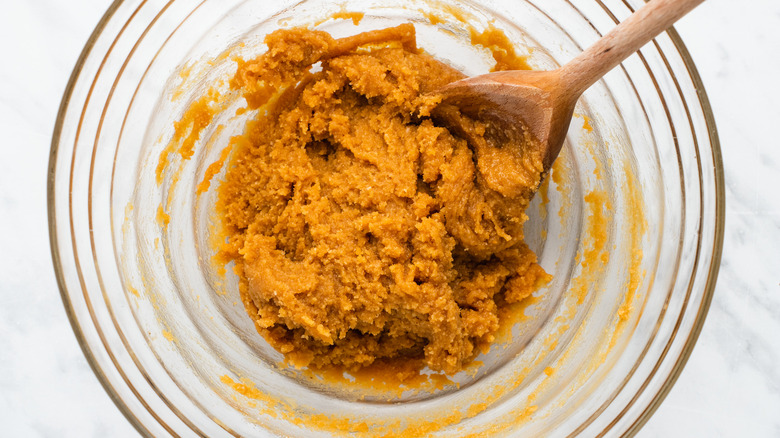 Catherine Brookes/Health Digest
As this recipe comes together fairly quickly, first preheat the oven to the standard 350 F before you make the dough. You'll also need to prepare a baking sheet by either lightly greasing it or lining it with parchment paper (Brookes favors the latter method).
Once the equipment is set to go, combine all four ingredients in a mixing bowl. Mix them together by hand –- Brookes uses a wooden spoon for this step. You just want the ingredients to be combined without overbeating them, which is a risk if you use an electric mixer.
Shape the cookies on a tray
Catherine Brookes/Health Digest
Measure out about 2 tablespoons of the cookie dough and roll it into a ball. Then, place the ball on the prepared cookie sheet and use a fork to flatten it out. Repeat the process until you've used up all the dough — you should have nine cookies. Make sure you've spaced them out on the baking sheet so they have room to spread out a bit as they bake.
Bake the cookies, then let them cool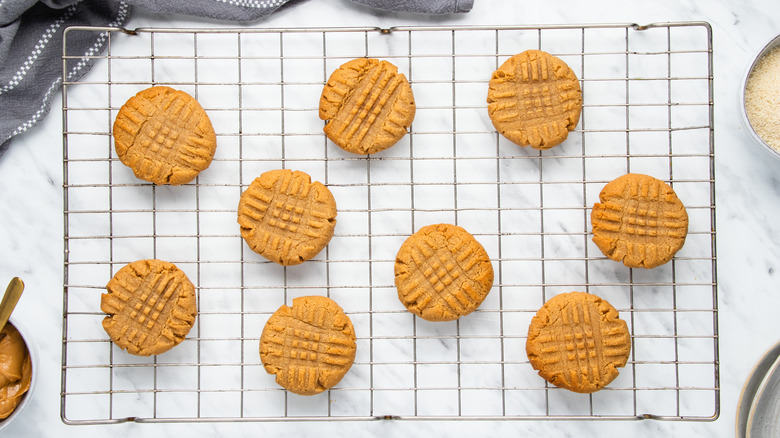 Catherine Brookes/Health Digest
Check to see if the oven temperature has reached 350 F yet. Once it's hot enough, transfer the cookie sheet to the oven and let the cookies bake for 10 to 12 minutes. You will know that they are done when they appear firm on the outside. Once you remove the cookies from the oven, let them sit on the baking sheet for 10 minutes before using a spatula to transfer them to a wire cooling rack.
This recipe makes a fairly small batch so you won't be too tempted to overdo it, but should you wish to bake a larger batch of these cookies for a keto-friendly party, Brookes does say it's "no problem scaling up!" She also notes that "These [cookies] will keep well at room temp[erature] in an airtight container for up to 5 days."
Keto Peanut Butter Cookies Recipe
These delicious peanut butter cookies are keto-friendly and easy to make. With only four ingredients, you can whip this treat up in no time.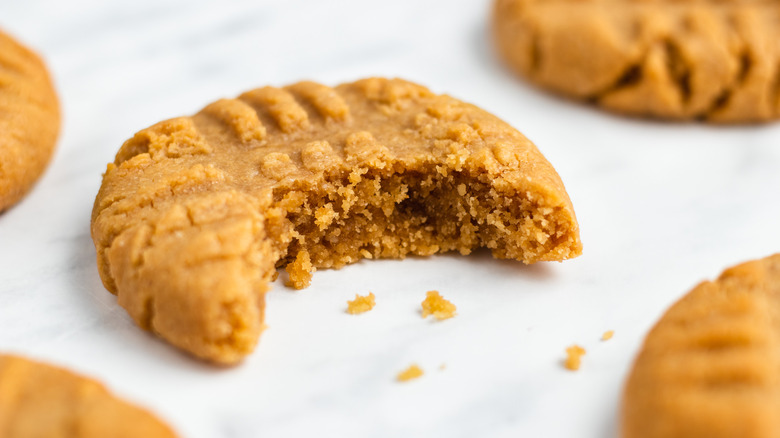 Ingredients
¾ cup creamy peanut butter
1 large egg
⅓ cup erythritol or another granulated sweetener
¼ cup almond flour
Directions
Preheat the oven to 350 F and grease or line a baking sheet.
Mix all the ingredients in a bowl, beating by hand until combined.
Measure 2 tablespoons of the dough and roll it into a ball using your hands.
Place the dough ball on the baking sheet and use a fork to squash it down into a flat cookie shape.
Repeat with the remaining dough to form 9 cookies.
Bake the cookies for 10 to 12 minutes, or until they have firmed up on the outside.
Leave the cookies on the baking sheet for about 10 minutes before transferring them to a wire rack to cool.
Nutrition
| | |
| --- | --- |
| Calories per Serving | 155 |
| Total Fat | 13.1 g |
| Saturated Fat | 2.5 g |
| Trans Fat | 0.0 g |
| Cholesterol | 20.7 mg |
| | |
| --- | --- |
| Total Carbohydrates | 5.5 g |
| Dietary Fiber | 1.4 g |
| Total Sugars | 2.4 g |
| Sodium | 11.8 mg |
| Protein | 6.2 g |