The Biggest Factors Leading To The Most Dangerous COVID-19 Outcomes According To Experts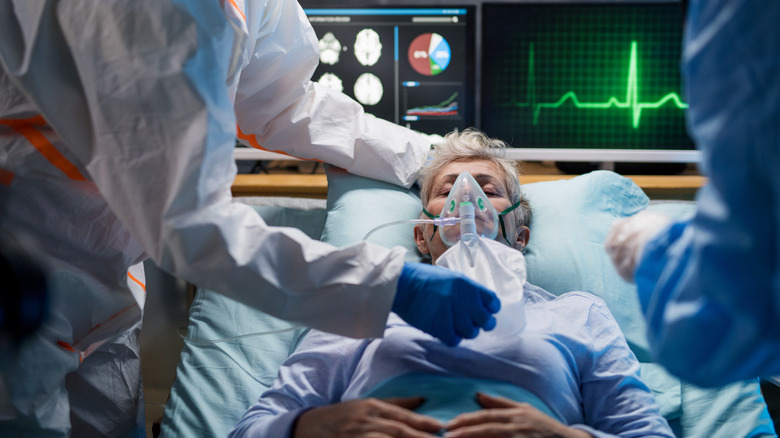 Halfpoint/Shutterstock
While the number of COVID-19 hospitalizations continued to drop across the country in February, the number of COVID-19-related deaths has remained steady (via Healthline). This week, hospitalizations decreased by roughly 20,000 cases compared to last week, but the reported daily average of COVID-19 deaths in the United States continues to stand at over 2,000 cases, as it has for the last month (via CNN).
Although many Americans are eager to return to their day-to-day lives, experts stress that daily COVID-19 deaths are still at an all-time high when compared to data tracked throughout the duration of the pandemic (via CNN). So much so, that experts report the current numbers of deaths per day are similar to the numbers seen during the winter surge prior to the vaccine rollout.
As we move through the latter portion of the current Omicron wave, here is who is still most at risk of severe complications and death from COVID-19.
The influence of age and vaccination status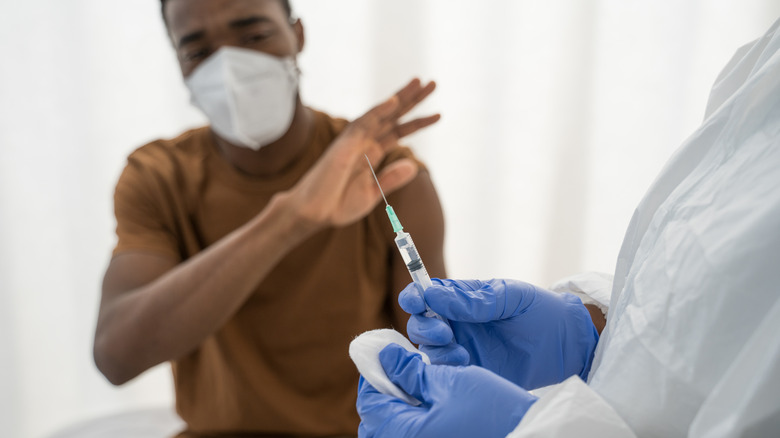 Olena Yakobchuk/Shutterstock
While the elderly have been reported among those most susceptible to severe complications from COVID-19, as the pandemic currently stands, young people appear to be at an increasingly higher risk for death from COVID-19 (via CNN). According to the U.S. Centers for Disease Control and Prevention (CDC), while COVID-19 had previously been responsible for over 1 in 5 deaths among elderly nursing home residents in 2020, the virus now accounts for less than 1 in 10 nursing home deaths (per CNN).
In addition to young adults, children continue to be at risk for COVID-19-related death. The Georgia Department of Public Health reported the death of a 2-year-old boy in Clayton County this week. This brought the state's total number of COVID-19 deaths in those under the age of 5 to 7 deaths, and those under the age of 17 to 28 deaths (via 11 Alive).
Vaccination status also continues to be a factor when it comes to the risk for dangerous COVID-19 outcomes. "I've long since lost track of the number of people I've seen die of the disease, but the reality is that almost everybody who is critically ill, in the ICU or dying now remains unvaccinated," Dr. Stephen Threlkeld, medical director of the infectious diseases program at Baptist Memorial Health Care, told CNN.
Social factors currently impacting COVID-19 risk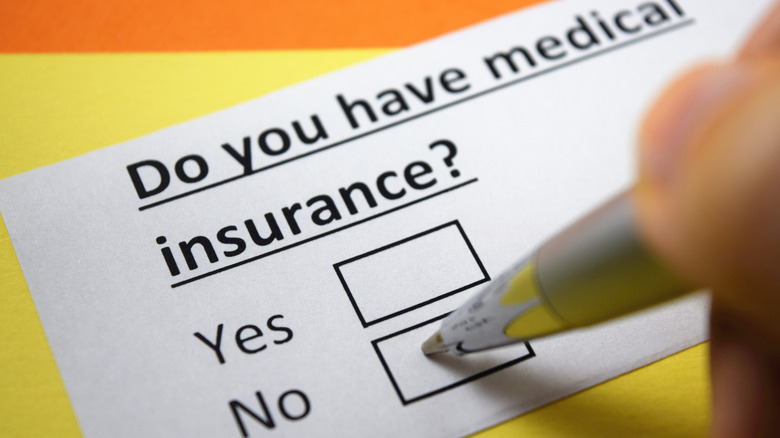 Yeexin Richelle/Shutterstock
In addition to age and being unvaccinated, certain social factors are now having a bigger impact on COVID-19 complication risk than in previous pandemic years (via CNN). Lack of health insurance, the presence of underlying health conditions, and racial disparities in healthcare are among the top current factors influencing risk for severe complications and COVID-19-related death. That being said, vaccination still remains an effective way to prevent significant illness and death.
"I think ramping up vaccines needs to remain a focus," Dr. Jamila Taylor, director of healthcare reform and a senior fellow at The Century Foundation, told Healthline. "Over the long term, the vaccine continues to be our best intervention. It is important that we continue to drive the message that the vaccines are working as intended. They are protecting people from death and getting seriously ill due to COVID-19. In turn, they are also keeping people out of the hospital."