How To Tell Whether You Have COVID-19 Or The Flu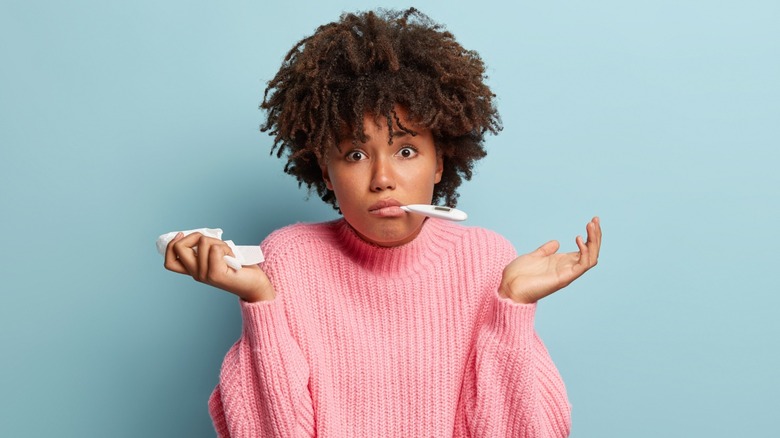 WAYHOME studio/Shutterstock
COVID-19 and the flu have a number of symptoms in common. Thus, it can be easy to confuse the two. Their similarities recently received public attention when the Supreme Court's public information office reported that Supreme Court Justice Clarence Thomas had been admitted to the hospital with flu-like symptoms, not COVID-related (per CNN).
So, given the confusing overlap in symptoms, if you start feeling sick, what's the best way to confirm if your flu-like symptoms are COVID-related?
As vaccine and mask-wearing mandates ease and more people are out and co-mingling, experts are still strongly advocating that you get fully vaccinated and boosted as the best way to protect yourself from a severe COVID-19 infection. However, even if you have received all the shots, experts say that testing is still the only definitive way to confirm that the illness you are experiencing is COVID-19. "Short of getting a test, I would say it's really tricky to distinguish right now," Dr. Sarah Ash Combs, attending physician at Children's National Hospital, tells CNN. 
But if you are unable to access a test, is there a way to know which virus you have?
Distinctions between COVID-19 and the flu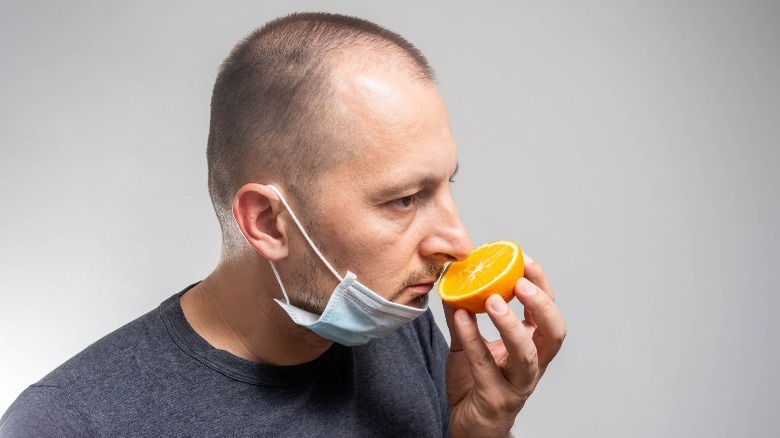 Nenad Cavoski/Shutterstock
According to the Centers for Disease Control (CDC), while COVID-19 and flu viruses are both respiratory infections and share symptoms such as fever, fatigue, body aches, sore throat, and vomiting, they stem from different viruses. COVID-19 is caused by the coronavirus, and a flu infection is caused by an influenza virus.
One notable distinction is that COVID-19 seems to spread more easily than the flu — the recent, highly transmissible Omicron variants being one example. Another distinction between COVID-19 and the flu is that COVID-19 is more likely to make some people seriously ill. People who are positive for COVID-19 are also more likely to remain contagious for longer periods than those infected with a flu virus (via CDC).
If you are feeling sick and are unable to get tested right away, a severe headache, dry cough, and especially a loss of taste or smell are typically red flags for COVID-19, former Detroit Health Director, Dr. Abdul El-Sayed, told CNN. "If you are starting to feel any of these symptoms, it's worth asking: Has anybody with whom I've come into contact been infected with Covid? It's also worth isolating and taking a rapid test," Sayed said.
If you want to be sure to have immediate access to a test, President Joe Biden announced via Twitter earlier this month that you can now order up to eight free at-home tests from the government, even if you previously ordered tests. Visit COVIDtests.gov for more information.