How To Get Through The Infant Formula Shortage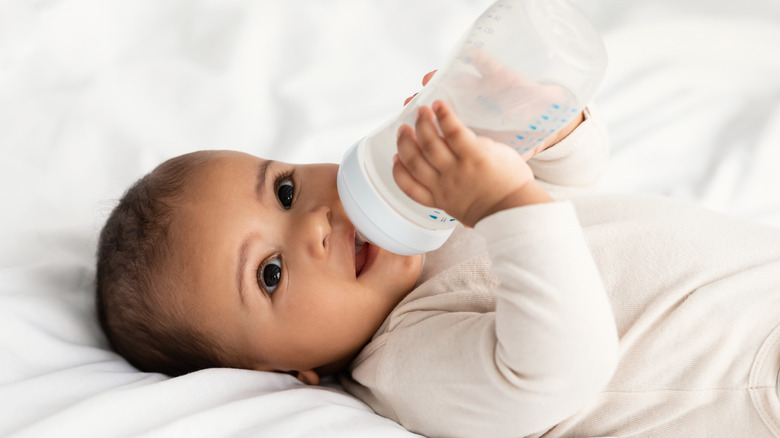 Prostock-studio/Shutterstock
Between product recalls and supply shortages, infant formula has been more and more difficult to get, leaving parents unsure of how to feed their babies, per CNN. According to Datasembly, 43% of baby formula products are now currently out of stock.
While the United States Food and Drug Administration (FDA) is working with formula suppliers to ensure that appropriate measures are being taken to reinstate recalled products, they stress that the most important thing is to ensure that no corners are cut in this process. As former FDA Associate Commissioner Peter Pitts explained to USA Today, "The only thing worse than a baby formula shortage is allowing substandard baby formula to be sold to American families. The FDA must walk a delicate tightrope between safety and shortages. It is doing so right now and, together with manufacturers is working to assure a supply of high-quality baby formula to American parents."
The thought of not having enough food to feed your baby is many parents' worst nightmare and with shortages continuing to rise, many are searching for alternative methods for formula. But not all suggested formula alternatives are safe to give your baby.
Safe alternatives to your baby's formula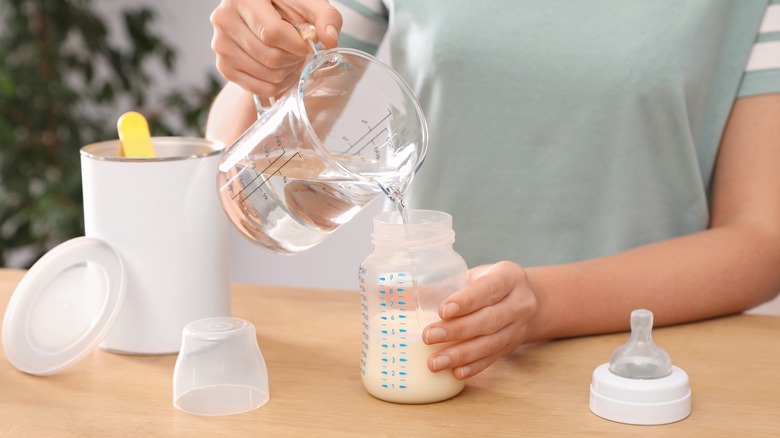 New Africa/Shutterstock
While there is a lot of information out there about alternative formula options, it's important to know that they are not all created equal. The American Academy of Pediatrics (AAP) warns parents not to feed their babies homemade or watered down formula as even just a few days of this can make your baby sick due to a lack of vital nutrients as well as the potential for contamination. AAP also warns against giving your baby cow's milk as it is not a sufficient substitute for formula or breastmilk.
What you can do is talk to your pediatrician about either switching formula brands or buying formula from abroad, as long as it is tested and approved by an organization like the Clean Label Project which is dedicated to providing information about the safest products for your baby, per USA Today.
Another option is to give your baby breastmilk that you get through a certified donation bank (via USA Today). These banks screen, test, and pasteurize the milk to ensure that it is free from any contaminants and safe to give to babies.