Healthy Chicken Salad Recipe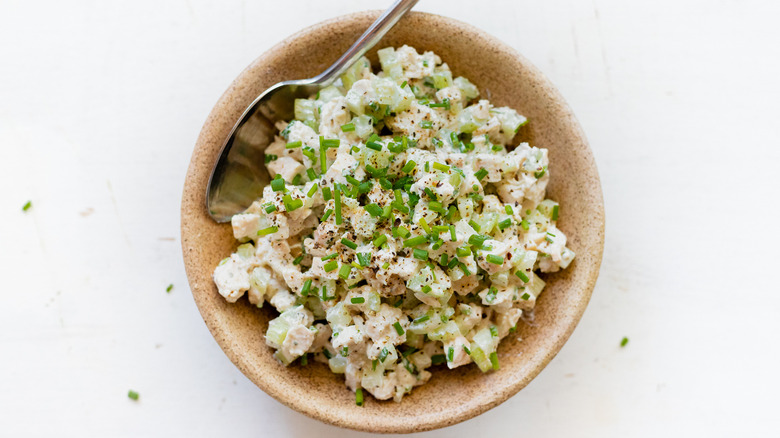 Sher Castellano/Health Digest
Creamy, protein-packed chicken salad is a classic lunchtime favorite, but the traditional, mayonnaise-based version doesn't always fit into a healthy eating plan. If you're looking to cut some of the fat and calories without skimping on flavor, this healthy chicken salad recipe is guaranteed to do the trick. 
"The special ingredient in this recipe is the Greek yogurt," says recipe developer Sher Castellano. "It replaces mayo in traditional chicken salad recipes, and adds an unexpected zip." And it's that "zip" or "tang" that might even turn chicken salad skeptics into true believers, as it offers a fun new way to enjoy a mix of cold chicken and veggies. 
It's also hard to beat the simplicity of the recipe itself, a reality not lost on Castellano. "I love [this recipe's] simplicity and ease. You can turn leftover chicken breast into a new meal entirely, and it only uses a few ingredients." If you've been looking for an easy and healthy way to use up your leftover chicken, this recipe will definitely solve that problem!
Gather your ingredients for healthy chicken salad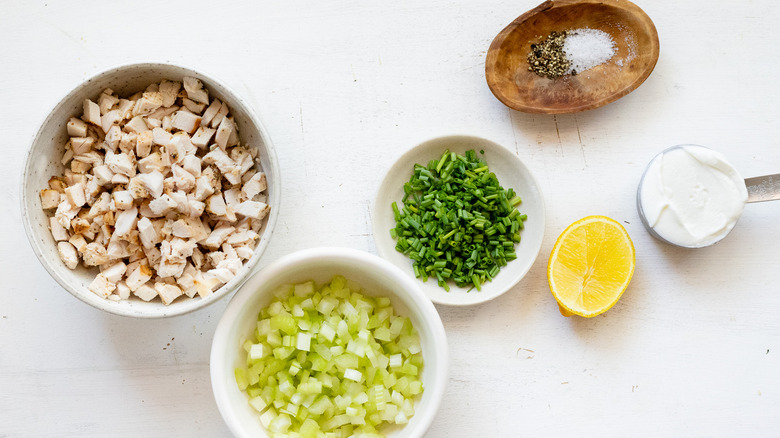 Sher Castellano/Health Digest
You won't need much to mix up this healthy chicken salad recipe. Just gather up cubed or chopped chicken breast, low-fat Greek yogurt, diced celery, minced chives, lemon juice, fine sea salt, and black pepper. You're welcome to purchase pre-diced celery and chives, just make sure they're diced very small so they combine well with the other ingredients.
Also, Castellano assures us that any type of chicken works for this recipe. "Whatever anyone has is perfect because they all have their place. Leftover chicken breast (depending on how you cooked it) and rotisserie chicken will lend more smoky notes, and canned chicken will be more basic," she says. But she points out that canned chicken is often packed with sodium, so if it's very salty, you might want to use less salt as you prepare your chicken salad. 
Mix the ingredients in a bowl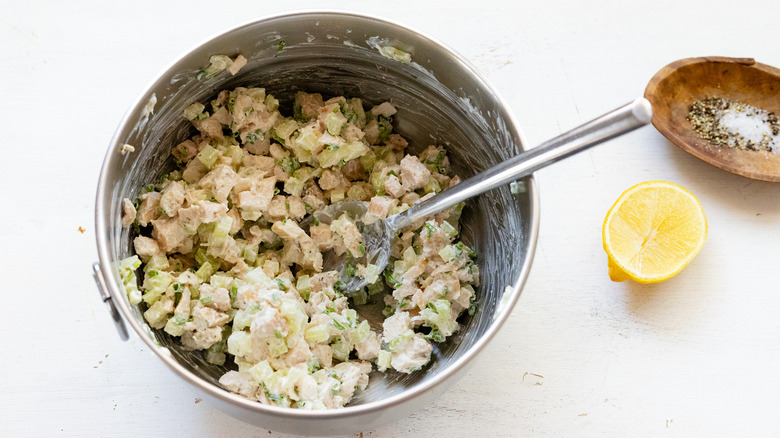 Sher Castellano/Health Digest
Once you have your ingredients in front of you, the prep work couldn't be easier — all you need is a bowl and a spoon. Simply place the chicken, yogurt, celery, and chives into a bowl and stir to combine. Once well-mixed, add the lemon juice, salt, and pepper, then stir all the ingredients again. Really, that's it! Your chicken salad is now ready to serve. Just keep in mind, it won't taste exactly like your grandma's chicken salad. "The celery, chives, salt, and pepper keep the chicken salad familiar, but the yogurt gives it a special kick. Someone who doesn't like mayonnaise but wants to eat chicken salad might especially love this," Castellano says. 
Serve and enjoy your chicken salad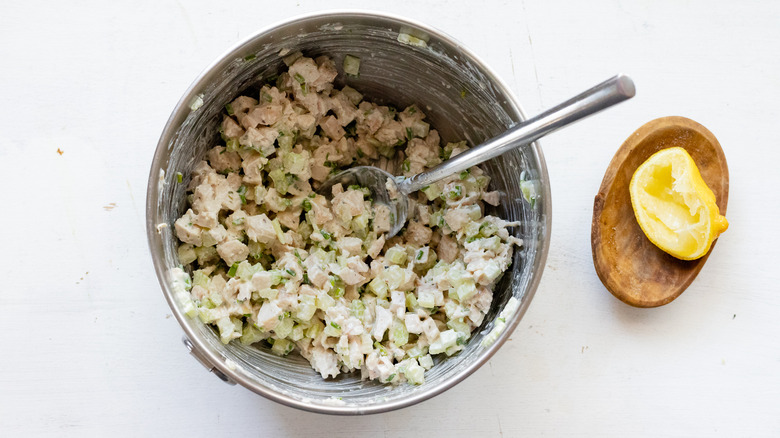 Sher Castellano/Health Digest
Once your salad is mixed, it's ready to be enjoyed. You can always eat it straight from the bowl (technically, it makes two servings, so you may want to hold back on eating the whole thing), or you can enjoy it with veggies, crackers, or on bread for a sandwich. And if you happen to have leftovers, it keeps well when stored in the fridge for up to 48 hours.
Healthy Chicken Salad Recipe
This healthy chicken salad swaps out mayo in favor of Greek yogurt, making for a creamy and delightful lunch option.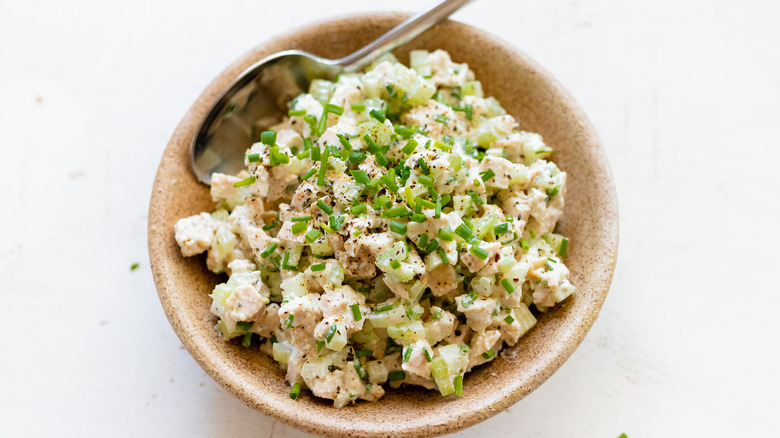 Ingredients
6 ounces chicken breast, cubed or roughly chopped
¼ cup low-fat Greek yogurt
½ cup celery, diced very small
¼ chives, minced
1 tablespoon lemon juice
¼ teaspoon fine sea salt
¼ teaspoon black pepper
Directions
In a medium-sized mixing bowl add the chicken, yogurt, celery, and chives, and stir with a spoon to combine.
Add the lemon juice, salt, and pepper, and stir to combine once more.
Serve alone with veggies or crackers or on bread for a sandwich.
Nutrition
| | |
| --- | --- |
| Calories per Serving | 180 |
| Total Fat | 8.7 g |
| Saturated Fat | 2.8 g |
| Trans Fat | 0.1 g |
| Cholesterol | 56.2 mg |
| | |
| --- | --- |
| Total Carbohydrates | 3.0 g |
| Dietary Fiber | 0.5 g |
| Total Sugars | 2.0 g |
| Sodium | 359.4 mg |
| Protein | 21.6 g |