How Big Of A Difference Will Operation Fly Formula Really Make In The Formula Shortage?
The Toidi/Shutterstock
The nationwide baby formula shortage in the U.S. has many parents concerned about how they're going to feed their infants. Caused by supply chain issues and a massive formula recall, the months-long shortage has millions of Americans across the country wondering when formula products will finally be back in stock. According to Dr. Robert Califf, the commissioner of the U.S. Food and Drug Administration (FDA), store shelves could be fully restocked as early as July (via Good Housekeeping).
This news comes just weeks after President Joe Biden implemented the Defense Production Act to increase formula production and authorized the use of military aircrafts to fly baby formula from other countries into the U.S., as part of the government's Operation Fly Formula. The FDA has also loosened some of its regulations on formula manufactured overseas. In addition, Abbott Nutrition, the major formula manufacturer that recalled its formula due to bacterial contamination, is expected to restart production in a matter of weeks, according to Good Housekeeping.
Baby formula shipments from overseas will make a noticeable difference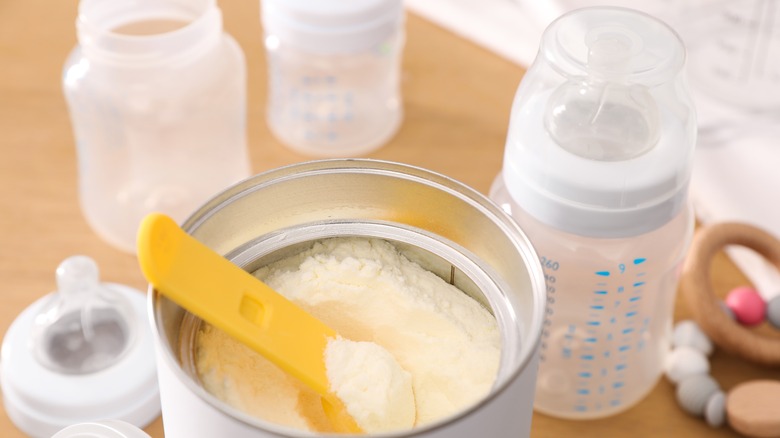 New Africa/Shutterstock
According to CNN, Operation Fly Formula has brought in 960,000 pounds of baby formula so far. This is the equivalent to 11.4 million 8-ounce bottles. While this is only roughly twice the amount of formula products sold in a single day, this number is only a small fraction of the total amount of formula that is expected to arrive in the coming weeks. In fact, future flights are set to bring in a total of 127.5 million bottles worth of formula. Experts agree that this amount should make a noticeable difference, especially for parents who need to buy specialty formula for their infants.
These formula shipments will likely also have a bigger impact in regions of the country with the highest need. "When these formulas hit the stores, I think you're going to see a lot of easing up on hoarding and stressing," Dr. Steve Abrams, a neonatologist and immediate past chair of the American Association of Pediatrics Committee on Nutrition, told CNN. "I think that there's going to be this big hurrah when people can go to Target and see formula again."