Healthy Vegetable Soup Recipe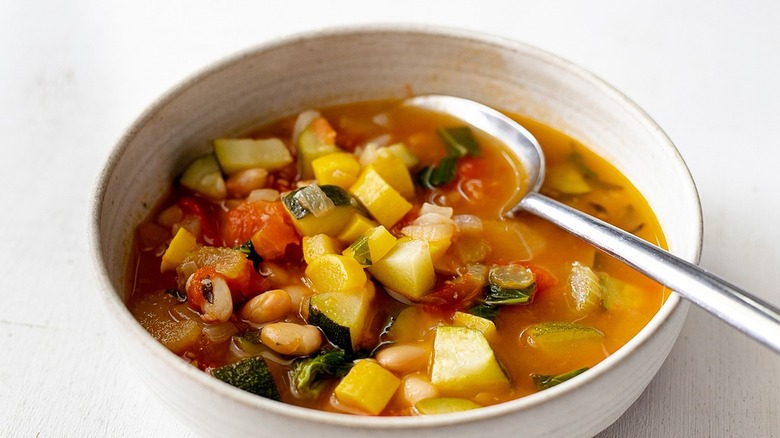 Sher Castellano/Health Digest
Vegetable soup is something that certainly ought to be healthy, but if you're getting it out of a can, it might be high in sodium and low in, well, actual vegetables. Sure, it's fun to spell out words with the tiny noodle letters, but that's about the only plus side. For a truly nutritious soup, though, you're best off making one from scratch. This way, you can cram in all of the vegetables that your heart desires, and maintain control of every ingredient that goes into the soup.
As recipe developer Sher Castellano says of this healthy vegetable soup recipe, "This is a great soup to make good use of all the summer vegetables and herbs." This recipe calls for five fresh vegetables, one canned vegetable (or legume, technically) as well as two fresh herbs and some garlic. One of the vegetables Castellano likes to use here is vitamin-rich zucchini, something she describes as "abundant and hard to put to use." She does note, though, that this soup recipe is a very flexible one. While she has noted several ingredient substitutions here, you can feel free to make your own swaps in order to make sure this soup includes your favorite vegetables and leaves out the ones you don't much care for.
Assemble the ingredients for this healthy vegetable soup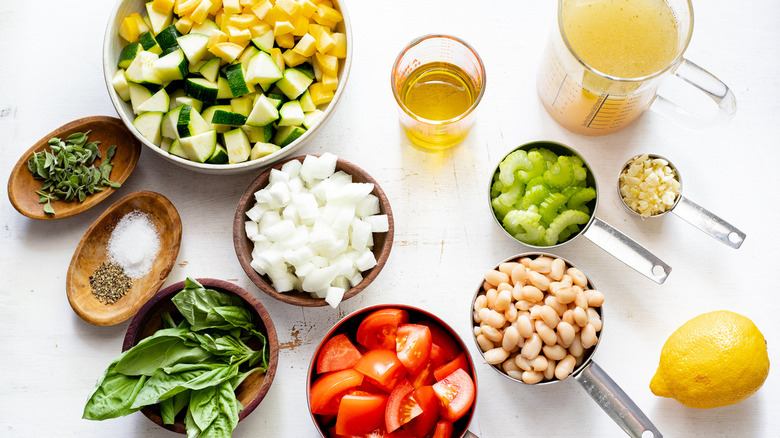 Sher Castellano/Health Digest
The vegetables Castellano uses in this soup are yellow onions, celery, tomatoes, zucchini, squash, and cooked white beans (canned are fine, though you can start from dry if you're feeling ambitious). Castellano says you can use any kind of white beans here, or even sub in chick peas if you prefer. She also says you could use fennel in place of celery, but only do so as long as you don't mind that faint licorice flavor in your soup.
You're also going to need garlic, basil, and oregano -– Castellano uses the fresh kind, but says you can use ¼ teaspoon dried oregano instead (or more, if you prefer). Other ingredients for this soup include salt, pepper, olive oil, and vegetable or chicken broth. There's also one very special ingredient that Castellano feels really takes her soup over the top. As she tells us, "Lemon juice or vinegar is a must," explaining that "acids allow aromatics and herbs to build flavor."
Sauté the onions, celery, and garlic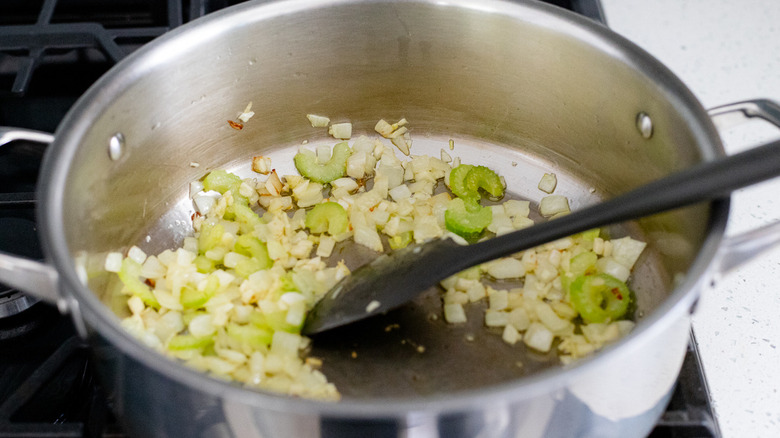 Sher Castellano/Health Digest
Heat up the oil in a large pot on a medium setting. Sauté the onion and celery for 5 minutes until they are starting to appear translucent. Toss the chopped garlic in the pot and cook it for 2 minutes, then turn the heat up to medium-high and cook everything for a minute more.
Add the seasonings and tomatoes to the pot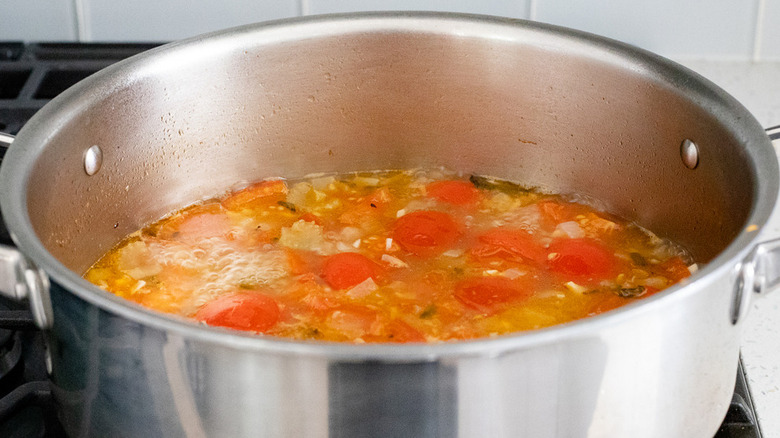 Sher Castellano/Health Digest
Pour the lemon juice or vinegar into the pot and stir, and be sure to scrape up any vegetable bits at the bottom of the pot. Stir in the oregano, salt, pepper, broth, and tomatoes, then bring the soup to a boil. As soon as it starts bubbling, turn the heat back down so it's just simmering. Cook it, uncovered, for 10 minutes.
Finish off the soup with the final ingredients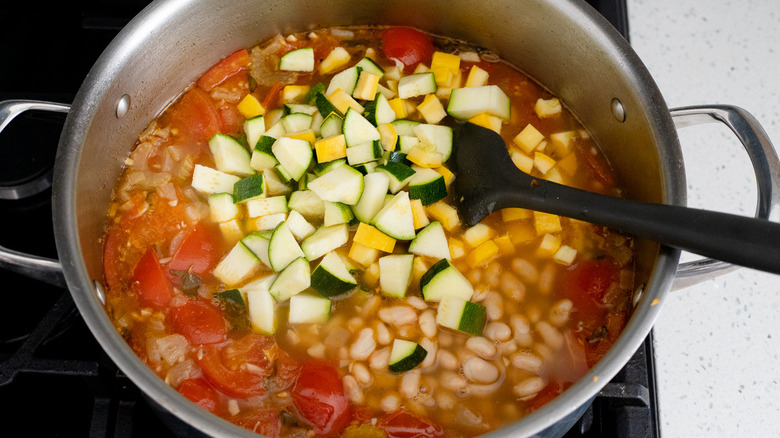 Sher Castellano/Health Digest
The last of the vegetables go into the pot at this point: the zucchini, squash, and beans. Cook the soup for 5 more minutes, at which point the squash should be tender. If it isn't, the soup might need a few minutes more. Once this healthy vegetable soup is done cooking, turn off the heat and stir in the basil.
Castellano tells us, "You can eat [this soup] hot or cold," adding that it's "delicious served with crusty bread or with a simple protein or grilled vegetable." She notes that it should be good in the fridge for a couple of days, but if you won't be eating it that soon, you can always freeze it for later.
Healthy Vegetable Soup Recipe
This healthy vegetable soup is easy to make and loaded with a true abundance of veggie goodness.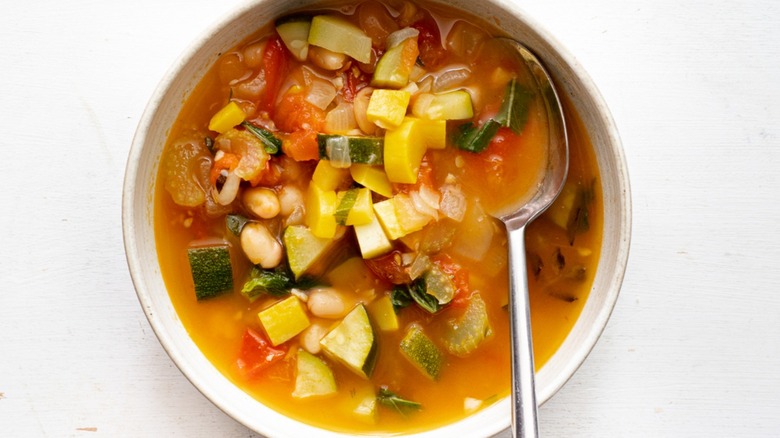 Ingredients
2 tablespoons olive oil
1 medium yellow onion, diced
½ cup celery, sliced
2 tablespoons garlic, minced
2 tablespoons lemon juice
1 tablespoon fresh oregano
½ teaspoon fine sea salt
¼ teaspoon black pepper
4 cups vegetable or chicken broth
3 cups fresh tomatoes, diced
2 cups zucchini, diced
1 cup yellow squash, diced
1 cup cooked white beans
½ cup fresh basil, chopped
Directions
Heat the olive oil in a large pot over medium heat.
Sauté the onion and celery for 5 minutes, until translucent.
Add the garlic to the pot and sauté for 2 minutes.
Turn the heat up to medium-high and cook the vegetables for another minute.
Add the lemon juice to the pot and stir in any browned pieces on the bottom of the pan.
Stir the oregano, salt, pepper, broth, and tomatoes into the mixture.
Bring the soup to a boil, then immediately reduce the heat and simmer, uncovered, for 10 minutes.
Add the zucchini, squash, and beans to the soup and simmer it for 5 minutes or until the squash is tender.
Remove the soup from the heat and stir in the basil.
Nutrition
| | |
| --- | --- |
| Calories per Serving | 186 |
| Total Fat | 7.0 g |
| Saturated Fat | 1.3 g |
| Trans Fat | 0.0 g |
| Cholesterol | 4.8 mg |
| | |
| --- | --- |
| Total Carbohydrates | 23.7 g |
| Dietary Fiber | 5.6 g |
| Total Sugars | 6.6 g |
| Sodium | 439.2 mg |
| Protein | 8.6 g |