The Highest Fat Item On Panera Bread's Menu Isn't What You Think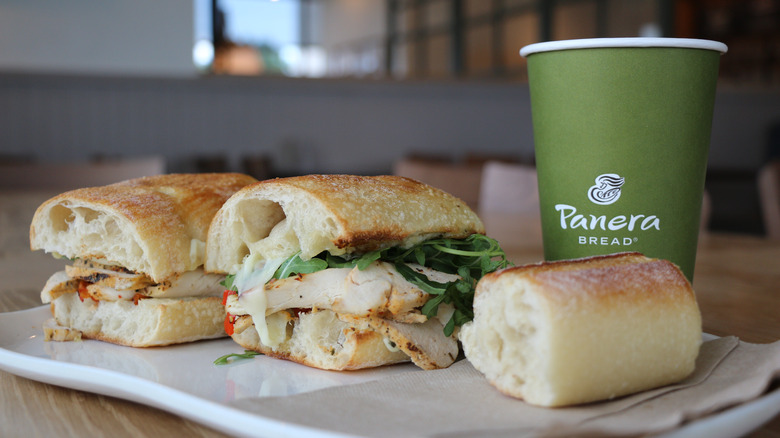 Deutschlandreform/Shutterstock
Panera Bread is a fast-casual restaurant chain with a diverse and appealing menu. Known for its soups, salads, and sandwiches, Panera has a variety of appetizing dishes ranging in taste, style, and size. While Panera Bread isn't necessarily considered healthy, its menu contains plenty of nutritious and low-fat options. For instance, one of Panera's healthiest menu items is the 10 Vegetable Soup.
According to registered dietitian Natalie Rizzo, the soup contains 100 calories, 5 grams of protein, and only 2 grams of fat, and can go great with either a salad or a sandwich (via Eat This, Not That!). "Rarely do you ever get 10 veggies in one sitting, and this soup makes that easy," Rizzo said. Another healthy option is the Mediterranean Veggie Sandwich on tomato basil bread. Made with heart-healthy ingredients like onions, hummus, cucumbers, tomatoes, and feta cheese, the tasty sandwich only contains 440 calories and 13 grams of fat, and can provide you with 18 grams of protein per serving. However, not everything at Panera Bread is quite as nutritious.
The item with the highest amount of saturated fat is a dessert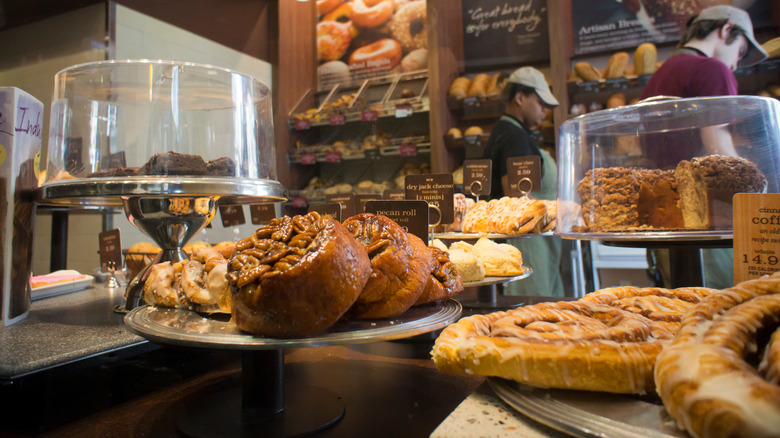 rblfmr/Shutterstock
As a matter of fact, there are more than a few items on the menu that contain an excess of fat, sugar, calories, and sodium. According to Verywell Fit, some menu items contain almost half of your daily recommended intake of calories. For example, the Chipotle Chicken Avocado Melt — which is made with avocado, chicken, cheese, chipotle sauce, and black pepper focaccia bread — contains 930 calories, 49 grams of fat, 15 grams of saturated fat, and 1,990 milligrams of sodium.
The menu item with the highest amount of saturated fat, however, is the Kitchen Sink Cookie. This Panera Bread dessert contains 800 calories, 28 grams of saturated fat, 44 grams of fat, and 56 grams of sugar. Because of this, Panera recommends sharing it with a friend. Eating only half of the Kitchen Sink Cookie would bring the amount of saturated fat down to 14 grams per serving.