The Highest Fat Item On Dunkins Menu Isn't What You Think
Nitpicker/Shutterstock
According to Statista, Dunkin' ranks number one among brands of donuts that Americans consume the most. In 2020, over 63 million Americans reported eating donuts from Dunkin'. That's a lot of munchkins! While donuts are hard to resist for many, it turns out that donuts are not the highest fat item at Dunkin' — but what else could it be?
According to Eat This, Not That, the Sausage, Egg and Cheese Croissant clocks in at a whopping 51 grams of fat — it wins the prize for the highest fat item on Dunkin's menu. Considering the Cleveland Clinic states that you should only consume between 44 and 77 grams of fat daily, eating this one sandwich almost maxes out your fat intake for the whole day. In addition, Dunkin's Sausage, Egg and Cheese Croissant contains 1,200 milligrams of sodium, 41 grams of carbohydrates, and 710 calories. The only seemingly healthy aspect of this sandwich is the 22 grams of protein.
If you're looking to pair an iced coffee drink with your meal, be sure to stay clear of the Frozen Coffee Caramel Swirl with Cream. This tempting drink contains 900 calories and 30 grams of fat, including two grams of harmful trans fat.
These are the healthiest menu items at Dunkin'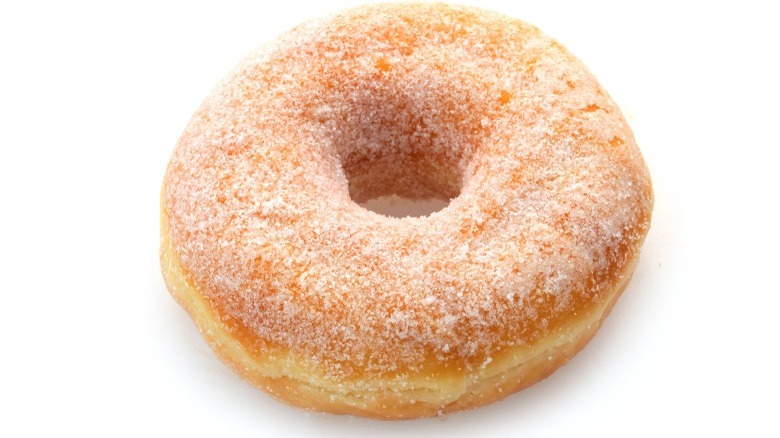 Misses Jones/Shutterstock
If Dunkin' is your only option to grab a bite and beverage on the go, are there actually any healthy menu items to consider? Registered dietitian Vicki Shanta Retelny provided a number of suggestions while speaking to Taste of Home — her top pick is the Egg Bowl. It's a great source of protein, and at 250 calories, it's roughly a third of the calories of the Egg and Cheese Croissant. The Egg Bowl also has no added sugar. At 290 calories and 17 grams of protein, she also recommends the Veggie Egg White Sandwich on Multi-Grain Thin.
However, if you can't walk into a Dunkin' and deny yourself a donut, don't despair! If a plain, sugar donut is enough to satisfy your sweet tooth, you'll do yourself a lot less harm than consuming other types of donuts and muffins on the menu. According to Eat This, Not That, the classic sugar donut is 230 calories, which is even lower in calories than the Egg Bowl. While the sugar donut contains 14 grams of fat, it still leaves room during the day to consume other foods containing fat.
As far as iced coffee drinks go, opt for a small size if you simply can't escape the siren song of the Frozen Coffee Caramel Swirl with Cream. Ask for it without flavoring and request skim milk to mitigate calories and eliminate the unhealthy trans fat, per Eat This, Not That.