The Unexpected Benefits Of Adding A Few Tablespoons Of Olive Oil To Your Hair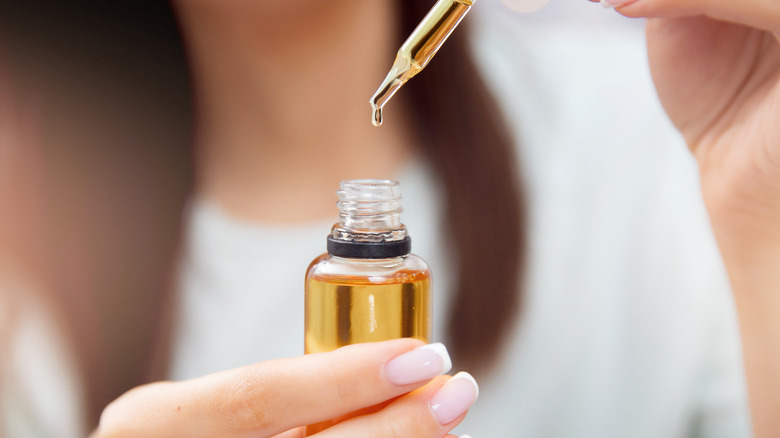 Parilov/Shutterstock
We all love a silky and voluminous mane, and beautiful hair can be a sign of good health. Haircare developers promise the newest shampoos or conditioners will restore damaged hair. However, achieving the same result is possible with one simple ingredient: oil.
High ponytails, flat irons, and blow dryers can turn luscious locks into brittle tresses. Among women, hair loss can be a sensitive topic. Nonetheless, the Cleveland Clinic estimates over 30 million women struggle with thinning hair in the U.S. alone.
We are deeply connected to our hair — it holds our genetics and connects us to our culture. For women with long tresses, preservation is a priority. Those with thicker hair are always looking to smooth flyaways, restore shine, and seal their ends. The most popular products that nourish hair have oils like jojoba, argan, or castor oil, but what about olive oil?
In cuisine, olive oil is renowned for the earthy flavor it adds to dishes. The Mediterranean diet welcomes an abundance of healthy fats like omega-3s, and it can also be a key to restoring hair health. Across the pond, Mediterranean women have used olive oil in hair care for ages. Hairfinity notes the importance of scalp care to promote healthy hair and suggests the use of olive oil as a treatment. 
Olive oil naturally treats dry hair and scalp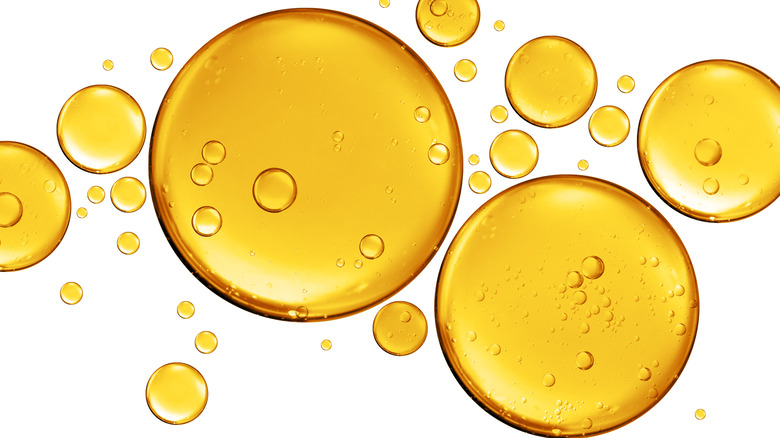 Beautyimage/Shutterstock
There are more than 200 bioactive components found in olive oil that can nurture a healthy mane, says eMediHealth. The thick oil penetrates and moisturizes dry scalps, helping to clear up flaky dandruff. Olive oil is also a sealant for damaged ends, and it works wonders when used lightly as a natural moisturizer. If you have high hair density and textured curls, you may benefit more than those with other hair types.
There are different ways to create an olive oil hair treatment. For dry hair and scalp, MindBodyGreen suggests a pre-shampoo ritual of taking a moderate amount in hand and distributing it evenly from root to ends. Treat yourself to a little scalp massage while you're at it, and wear a bonnet or shower cap for 15 minutes before washing it out. You can go about your regular wash day routine, shampooing first and adding drops of olive oil to your conditioner for shine and moisture. Hairfinity recommends mildly warming the oil to use as a mane and scalp hot oil treatment.
Olive oil is a natural way to restore health to your hair. Best of all, it's a chemical-free way to seal split ends and allow your hair to grow.