States With The Highest Vaccination Rates In In The US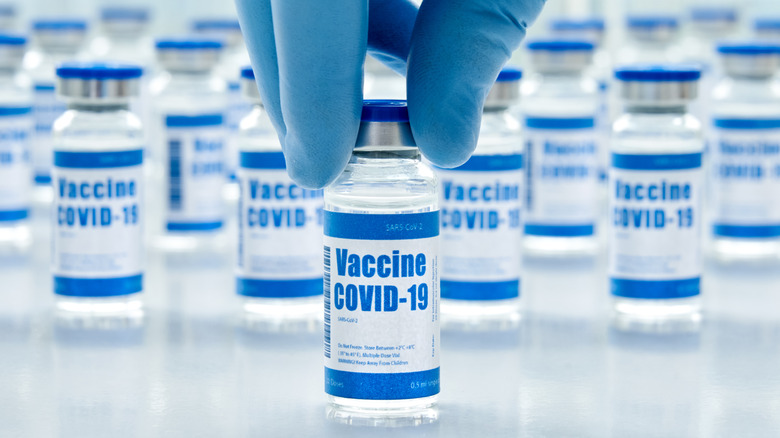 Ground Picture/Shutterstock
Between July and August 2022, the U.S. has seen a downward trend in COVID-19 infection numbers with an average of 98,229 new cases emerging daily, according to the Centers for Disease Control and Prevention (CDC) weekly COVID-19 data tracker. In addition, their most recent data shows that there have been less than 500 deaths as of this month compared to over 2,000 deaths back in February (via CDC). In fact, vaccination numbers continue to vary significantly by state, including rates of first-round vaccination versus completed two-dose vaccination.
Currently, the states with the highest rates of first-round vaccination are Connecticut, Massachusetts, Rhode Island, Vermont, and the District of Columbia, which all stand at a 95% rate of first doses given. Following closely behind are Maine at 92.8% and New Jersey at 92%. In comparison, the states with the lowest rates of first-round vaccination are Wyoming at 59%, followed by Mississippi at 60.6%, and Louisiana with 61.8%.
Second dose vaccination rates between states
Rates of completed vaccination differ between states. To date, the state with the greatest number of individuals who have received two doses of a COVID-19 vaccine is Rhode Island, with a vaccination rate of 84.3%. The state with the second highest rate for full vaccination is Vermont at 82.4%. The state with the third highest rate for two-dose vaccination is Maine, ranking just short of 81%. In contrast, states with the lowest rates of two-dose vaccination are Wyoming at 51.7%, Alabama at 51.9%, and Mississippi with a 52.7% full vaccination rate.
Research recently published in the American Journal of Infection Control identified various factors thought to play a role in low vaccination numbers. Among them were education level, barriers to vaccine access, as well as a degree of trust in the healthcare system. In examining more than 3,000 U.S. counties, research results showed that vaccine hesitancy was strongly tied to a lack of transportation, disability, poverty, and education below a high school level. As outlined in their research, the study team points out that leaders could help address low vaccination numbers by implementing strategies to support residents in states where such barriers exist.