Everything You Need To Know About The Recent Capri Sun Recall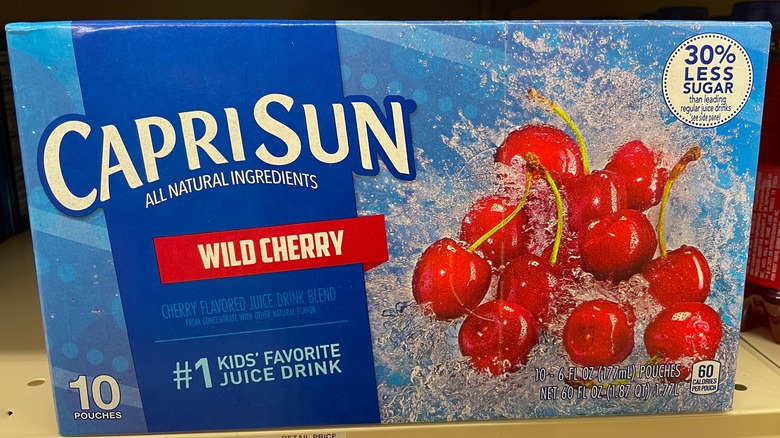 Billy F Blume Jr/Shutterstock
Recognized by its signature silver pouch, Capri Sun is a beverage enjoyed by adults and children alike. Containing all-natural ingredients, Capri Sun promotes that it's devoid of artificial colors, preservatives, and flavors, and contains 50% less sugar than standard juice drinks. On August 12, the company behind Capri Sun, Kraft Heinz, announced in a statement that they had issued a voluntary recall of over 5,700 cases of the beverage.
The recall does not apply to all Capri Sun products, however. The affected beverages are only Capri Sun Wild Cherry Flavored Juice Drink Blend products manufactured and distributed in the U.S., as per the press release. The decision comes after the company was alerted to potential accidental contamination of the drink products by a diluted cleaning solution used to sanitize their food processing equipment at one of their facilities. The issue was first brought to their attention following consumer complaints about how the beverages tasted. In response, Kraft Heinz is working to remove products suspected of contamination from retailer and distributor shelves.
For consumers who may have recently purchased Capri Sun Wild Cherry Flavored Juice Drink Blend beverages, here's how to determine whether or not your product may have been affected and what to do if ingested.
How to determine if your product was affected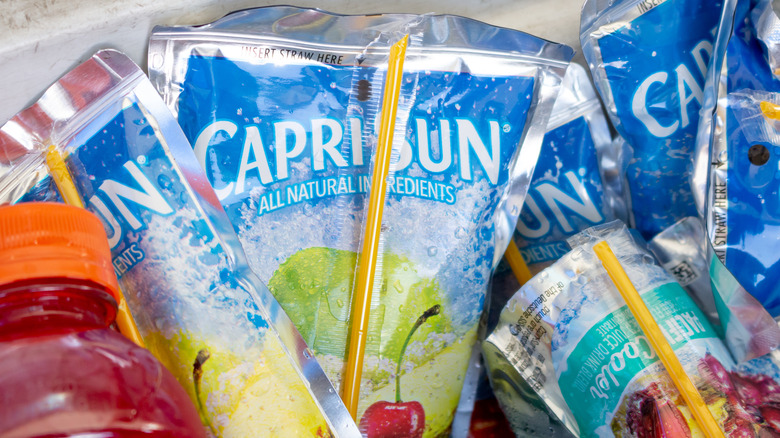 The Image Party/Shutterstock
Consumers will want to check the "Best When Used By" date on the packaging of any Capri Sun Wild Cherry Flavored Juice Drink Blend beverages purchased, via the press release. Representatives stated that the recall pertains to products with a printed date of June 25, 2023. Wild Cherry Juice pouches with an alternate best before-date have not been included in the recall, reports Healthline.
If you're unsure as to whether or not your Capri Sun juice product has been affected, Kraft Heinz is encouraging individuals to reach out at 1-800-280-8252. The company is also offering reimbursement for those that have been recalled.
While representatives did not specify whether illness had been reported in relation to the beverage, consumers are encouraged to be on the lookout for any potential side effects. "If someone thinks they have consumed or drank a recalled product, they should contact their medical provider, especially if they are feeling any adverse reactions," director of the food systems and safety program team at Clemson University Extension Service, Dr. Kimberly Baker, told Healthline. For symptoms such as burning or throat irritation, drinking milk or water may help relieve some minor discomfort, according to experts at Everyday Health. 
Individuals may also reach out to The American Association of Poison Control Centers at 800-222-1222 for questions regarding specific poisons ingested. However, Dr. Baker stresses via Healthline, "If there is a medical emergency, then 911 should be called for immediate assistance."