Is Hybrid Fitness The New Future Of Working Out At Home?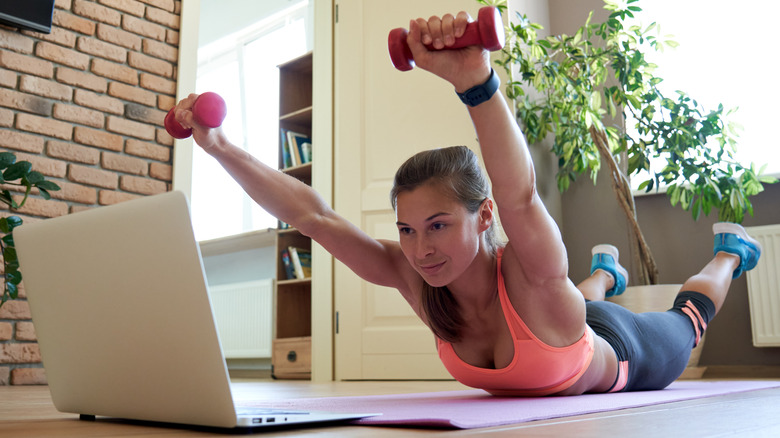 Ground Picture/Shutterstock
The pandemic closed the doors of many gyms in early 2020, and some of them never opened again, according to a 2022 study published in Society and Economy. People got used to working out at home or taking their workouts outside. As gyms began opening up in 2021, almost 21% of people said they would opt for a hybrid approach to fitness, mixing virtual and in-person classes (via Business Wire).
According to a 2022 survey from GoodFirms, 17% of respondents said they use on-demand or virtual subscription fitness classes. Fitness clubs are picking up on this trend, with 40% of them offering both in-person classes and virtual options for their members. The 2022 study in Society and Economy said that although fitness clubs prefer their members to come into their facilities, clubs need to adopt this hybrid model to meet the demands of fitness enthusiasts. The study reported that people preferred exercising at home or outdoors rather than going to the gym.
Working out at home is more convenient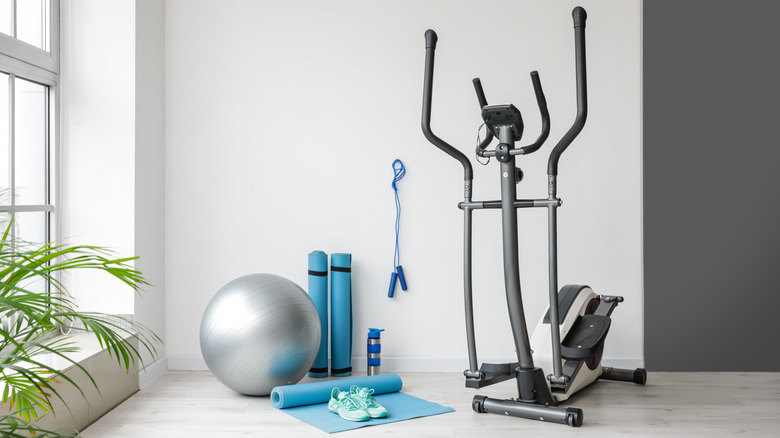 Pixel-Shot/Shutterstock
The Washington Post reported that sales of home equipment more than doubled during those long months in 2020. People bought Peloton bikes, Mirror fitness monitors, and Tonal devices, while at-home fitness apps saw spikes in downloads. Online training became the #1 fitness trend in 2021, according to a 2021 study in the American College of Sports Medicine's Health & Fitness Journal.
However, this trend continued even as gyms were opened. The 2022 study in the American College of Sports Medicine's Health & Fitness Journal surveyed more than 4,000 dieticians, gym owners, personal trainers, medical professionals, and coaches about fitness trends in 2022. The study found that for the first time, home exercise gyms appeared on the list of trends at #2. Live virtual and on-demand classes ranked #9, but group exercise dropped to #20.
The 2022 survey from GoodFirms found that more than half of its 410 participants worked out at home mostly because it's more convenient and affordable. After a long commute home in the rain, it's much easier for people to get in a quick workout at home. Plus, according to the survey, working out at home allows for a little more privacy and work-life balance.
The perfect body is no longer the focus of fitness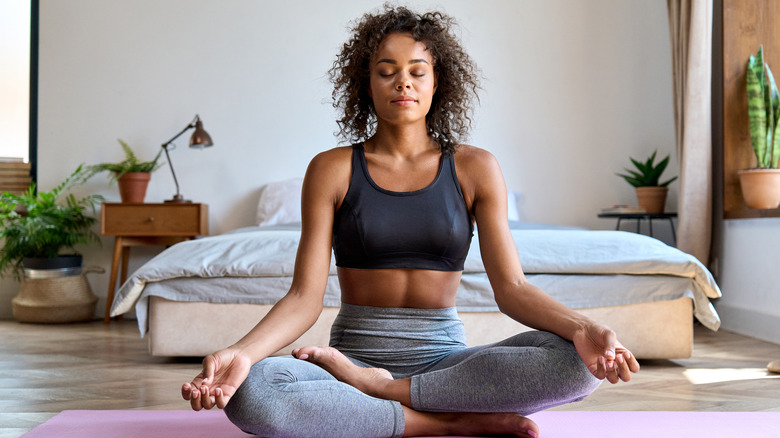 Ground Picture/Shutterstock
The 2022 study in Society and Economy said that the pandemic also saw a shift in fitness focus. Rather than promoting a desirable body shape, the fitness industry is heading more towards overall health with themes like "exercise as medicine." The GoodFirms survey also found that 85% of people believed it was important to incorporate practices emphasizing mental, emotional, and spiritual health. Almost 44% of the respondents included meditation as part of their wellness practices.
A 2022 report from MindBody also recognized that people are becoming more interested in mental wellness over physical wellness. Among 16,000 Americans, reducing stress was the main reason for exercising, and second was improving mental health. The survey also found that virtual classes make fitness more friendly for beginners because they can sample virtual offerings before stepping inside an in-person class.
Based on current trends and research, Women Fitness predicts that the biggest trends for 2023 will be geared toward mental health, our immune system, and alternative healing therapies such as breathwork.