The Snack-Able Food That Fights Pain Like Aspirin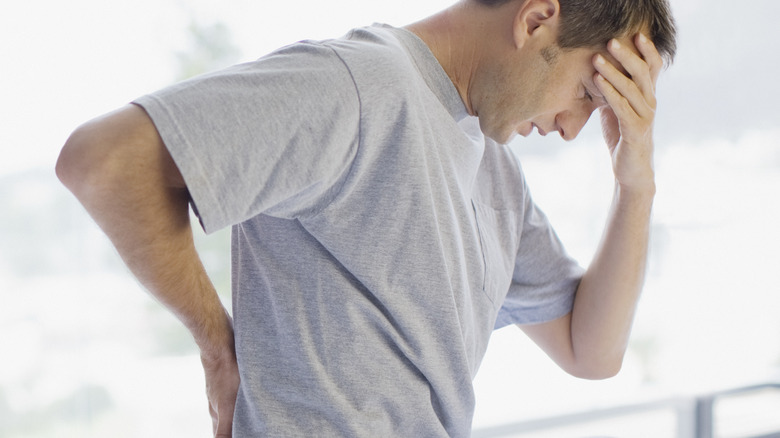 Paul Bradbury/Getty Images
If you often rely on over-the-counter (OTC) pain medications to alleviate your daily aches and pains, you may be familiar with the potential side effects these pills can have, not to mention the long-term health risks they pose. Fortunately, there's a promising and natural alternative that you should consider, and that is olives.
According to Haaretz, olives have an incredibly rich history that spans thousands of years. The fruits, leaves, and oil of olives have been culinary staples and traditional remedies in many cultures. Researchers have been inspired to explore the therapeutic potential of olives. As a result, there is a growing body of scientific evidence that supports the many health benefits of olives.
Beyond their delicious taste, olives have remarkable health benefits that have been studied and documented. Recent studies have shown that incorporating olives into your diet can have a positive effect on your health by reducing inflammation (per Healthline). The anti-inflammatory properties of olives make them a natural remedy that can help alleviate discomfort without the use of medication, ultimately improving your overall wellbeing.
How olives compare with aspirin
Paul Bradbury/Getty Images
The comparison between olives and aspirin is a fascinating subject for exploration. Aspirin and other non-steroidal anti-inflammatory drugs (NSAIDs) are widely known for their anti-inflammatory properties that reduce pain. However, long-term use can cause adverse effects, such as stomach ulcers, according to the Cleveland Clinic. On the other hand, olives offer a natural and potentially gentler way to alleviate inflammation without the risk of such side effects. 
Although the effects of olives may not be as immediate as those of aspirin, they can be a valuable addition to one's diet for long-term inflammation management. Recent scientific studies have started to uncover the true potential of olives in reducing inflammation. For example, a 2018 study published in the Journal of Nutritional Biochemistry demonstrated the anti-inflammatory effects of oleocanthal. A 2014 study appearing in the International Journal of Molecular Sciences highlights how oleocanthal specifically targets and inhibits COX-1 and COX-2 enzymes, similar to aspirin. These enzymes play a crucial role in the inflammatory pathway, and by blocking them, olives may help in reducing pain and inflammation.
Olive's role in inflammation reduction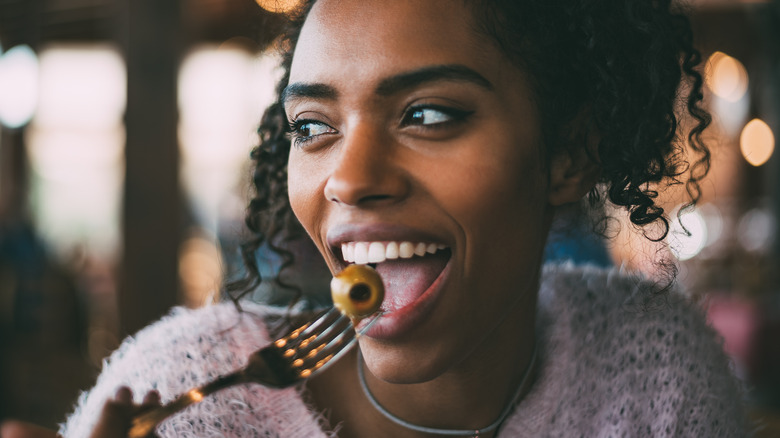 David-prado/Getty Images
Inflammation is a natural response of the human body to injury, infection, or stress. Although it's a necessary process, it can also be painful and uncomfortable, and if not managed properly, it can lead to chronic conditions. Olives are rich in compounds that possess anti-inflammatory properties, such as oleocanthal. The body releases pro-inflammatory substances that cause pain and discomfort when inflammation occurs. Oleocanthal reduces the production of these pro-inflammatory substances, thereby lowering inflammation and relieving pain. A study in Current Pharmaceutical Design found that the anti-inflammatory properties of oleocanthal are so potent that it can be more effective than ibuprofen, one of the most common NSAIDs.
Olives also contain other compounds like hydroxytyrosol and tyrosol that possess antioxidant properties. A study published in the journal Antioxidants in 2021 shows that these compounds work in tandem with oleocanthal to reduce oxidative stress and inflammation in the body. By incorporating olives and olive oil into your diet, you can reap the benefits of these natural anti-inflammatory agents and promote overall health and wellness.