Peach Kale Ginger Smoothie Recipe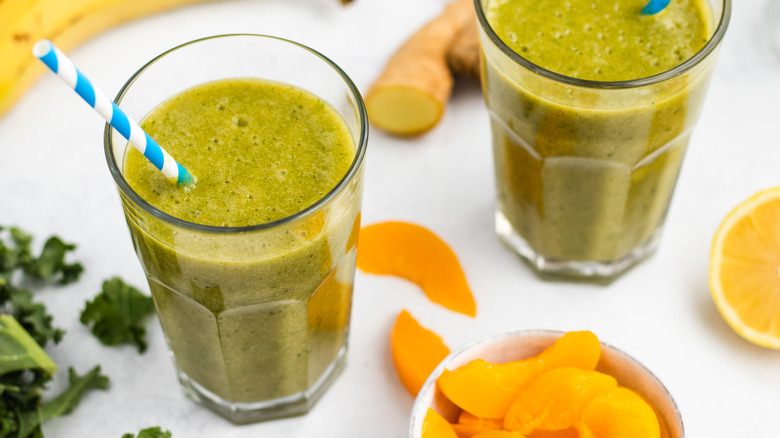 Catherine Brookes/Health Digest
If you are looking for an incredibly easy yet seriously healthy and delicious smoothie recipe, then you've found it with this peach kale ginger smoothie, courtesy of recipe developer Catherine Brookes of Blue Sky Eating. Take a quick look at the instructions laid out below, and you'll see just how simple it is to whip up this refreshing treat.
Really the only effort involved in making this nutritious delight is gathering and prepping the ingredients, and even that will take you all of two or three minutes, assuming you already have the stuff on hand. That and there may be a bit of patience needed if you choose to freeze the banana you'll use for a frosty chilled smoothie. (Or you can just add ice cubes, of course.) And it's great that it's so quick and easy overall, because as Brookes notes, "[It's] definitely best served fresh."
Provided you have said ingredients in the kitchen already and you have a good blender at your disposal, then let's not waste any more time talking about this time-efficient smoothie. Let's blend!
Gather your ingredients to prepare this peach kale ginger smoothie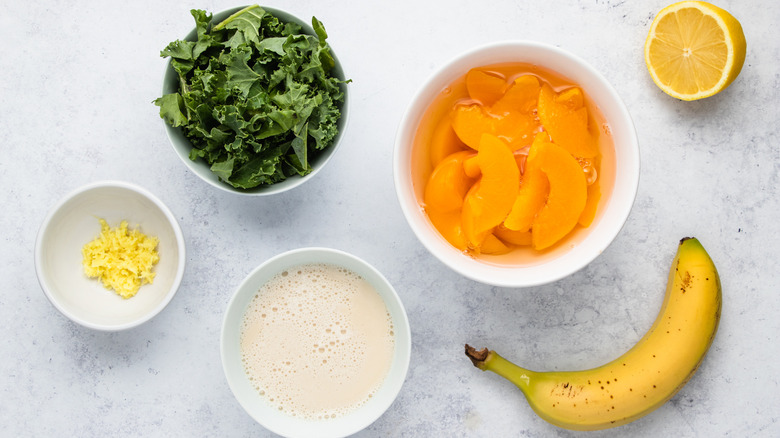 Catherine Brookes/Health Digest
Fresh peaches can be hard to come by based on where you live and what season it is, but no worries there, because this recipe calls for canned peaches, complete with that super sweet juice in which they are preserved. Beyond the can of peaches, you'll need some kale, some peeled and grated fresh ginger, a banana, some lemon juice, and your choice of a dairy-free milk, such as almond milk or soy milk. (You can also use a different fluid, like a different juice or simply water. "Coconut water might be another good option," Brookes says.) And for an iced smoothie, you can freeze the banana ahead of time or add in a few ice cubes.
Blend your ingredients into a smoothie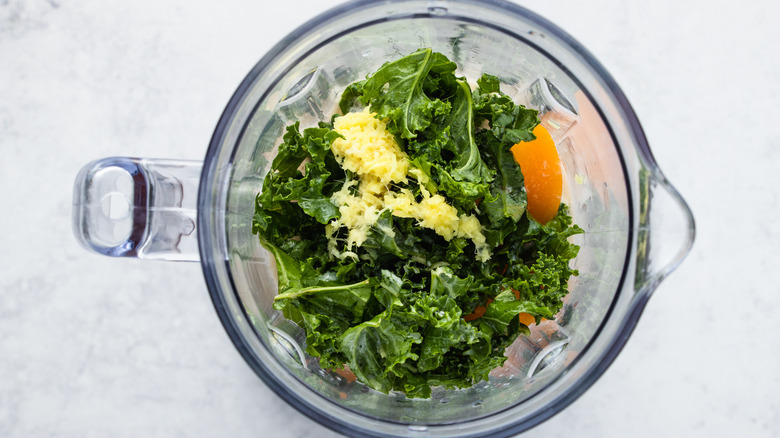 Catherine Brookes/Health Digest
Once all of your ingredients are gathered and prepped — which means the kale rinsed and the stems removed, the ginger peeled and grated, the banana peeled, and the can of peaches opened — there is really only one step here. Simply add all of your fresh ingredients to the blender, and blend on high speed until everything is combined evenly and smoothly.
That's literally it! We weren't lying when we mentioned how easy whipping up this smoothie would be. It makes the ultimate post-workout snack or rejuvenating breakfast treat. And now you can enjoy one of the two servings this smoothie recipe yields and share the other with a friend. You can guzzle them both down, or even cut the recipe in half. The choice is entirely yours.
Are canned peaches healthy?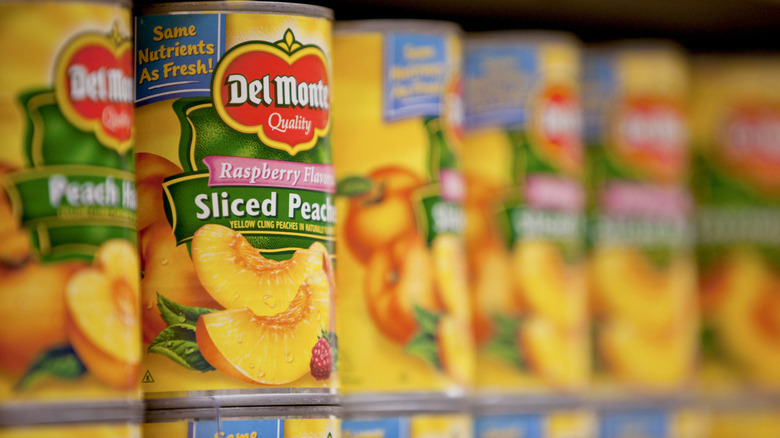 Bloomberg/Getty Images
We all know that fresh fruit is ripe with nutrients, if you'll pardon the pun, but you could be forgiven for suspecting that canning a fruit somewhat reduces its health value. When it comes to peaches, canning does indeed change the nutrient stats of the fruit, but not in the way you're likely thinking. Canned peaches are not only jam-packed with nutrients like fresh peaches, but they may even offer additional health benefits (via NPR).
That's because the very process of canning a peach can boost its bio availability of vitamins C and E and can increase available folate content, too. Canning peaches breaks down some of the cell walls in the fruit and, just like cooking does with so many foods, it can make it easier for the good stuff in that tasty fruit to get into your body instead of just passing through as roughage. And if you opt for canned peaches without added sugars, there's really no downside to eating the fruit in this format, nutritionally speaking.
The health benefits of kale
Shutterstock
Kale started having its "moment" many years ago, and then it just never went away. Why? Because when prepared properly, it's absolutely delicious, and because it's hard to beat this leafy green when it comes to health benefits.
In the case of this smoothie, proper preparation really just means lots of blending. "[Make] sure to blend it until it's really smooth so there are no bits, as kale can be quite hard to break down," Brookes says. But don't even think about leaving the kale out of this tasty beverage! Not only would that affect the taste, but it would also mean, given the ½ cup of kale used per serving, that you would be missing out on more than 300% of your daily needed vitamin K, over 100% of your vitamin A, over 65% of your vitamin C, as well as on plenty of manganese, fiber, antioxidants, and more, according to Healthline.
Peach Kale Ginger Smoothie Recipe
If you are looking for an incredibly easy yet seriously healthy and delicious smoothie recipe, then you've found it with this peach kale ginger smoothie.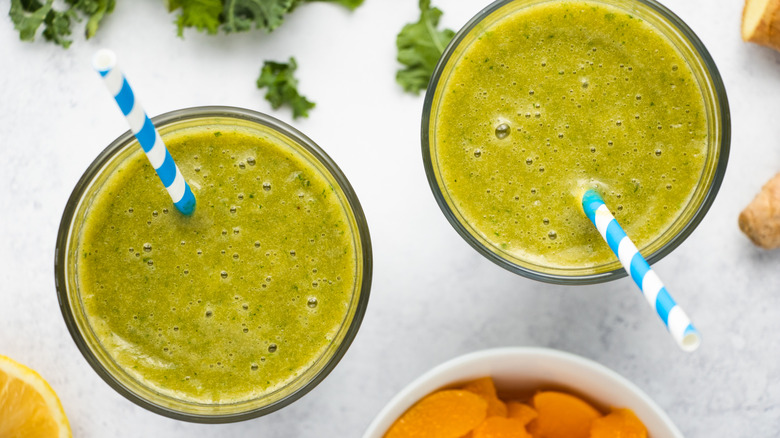 Ingredients
1 (14-ounce) can peach slices in juice
1 cup kale
1 thumb-sized piece of fresh ginger, peeled and grated
1 small banana
1 tablespoon lemon juice
½ cup soy milk (or alternative liquid of your choice)
Directions
Add all of the ingredients (including the juice from the can of peaches) to a blender, and blitz until smooth.
Pour each serving into a glass, and enjoy.
Nutrition
| | |
| --- | --- |
| Calories per Serving | 171 |
| Total Fat | 2.8 g |
| Saturated Fat | 1.3 g |
| Trans Fat | 0.0 g |
| Cholesterol | 6.1 mg |
| | |
| --- | --- |
| Total Carbohydrates | 36.0 g |
| Dietary Fiber | 4.8 g |
| Total Sugars | 26.4 g |
| Sodium | 30.8 mg |
| Protein | 4.8 g |