Keto Risotto Recipe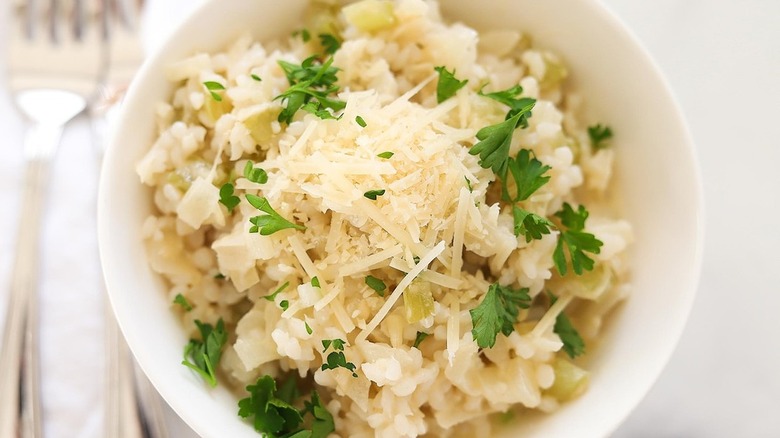 Kit Hondrum/Health Digest
If you've ever had risotto, then you know just how creamy and decadent the dish is. Risotto is typically made by cooking rice in broth until it becomes creamy, and it's pretty easy to understand how that would be incredibly delicious on its own. And when you throw in some butter, wine, and Parmesan cheese, risotto could be one of the tastiest dishes out there. While there are plenty of ways to get creative with risotto, most versions aren't keto-friendly ... unless, of course, you're following this keto risotto recipe!
Recipe developer Kit Hondrum of Kit's Kitchen crafted this wonderful keto recipe, and it has all of the decadence of traditional risotto. "I love that this dish gives you all the yummy traditional flavors of risotto but without the carbs," Hondrum raves. "It's perfect if you're following a keto diet or if you're just looking for a lower carb dinner option. This risotto is perfect for a date night in, but also for a quick weeknight meal that the whole family will love." And, if you're worried that this carb-reduced recipe will take away from the flavor, Hondrum is here to calm your worries: "The flavors are spot on with traditional risotto — it's got the flavors of white wine, chicken stock, aromatics, plenty of garlic, a nice tang from the cheese, and just a hint of brightness from the fresh lemon juice at the end," she says. So, without further ado, let's jump right in to this recipe!
Gather the ingredients to make keto risotto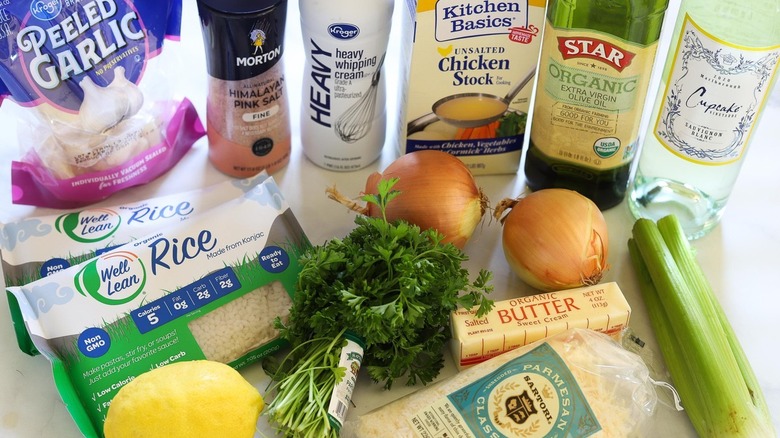 Kit Hondrum/Health Digest
Before you dive into this keto risotto recipe, you need to have the right ingredients on hand. In fact, Hondrum stresses the importance of preparing and measuring ingredients before you get started. "Prep and measure all ingredients before beginning," she explains. "It's really important in this recipe to have everything ready to go." With any risotto recipe, you have to stay on top of it as it cooks — and this one is no exception!
For this recipe, you'll need salted butter, olive oil, diced yellow onions, diced celery, minced garlic, dry white wine, chicken stock, Well Lean rice (or another low carb rice brand), sea salt, heavy cream, shredded Parmesan, freshly-squeezed lemon juice, and chopped parsley as an optional garnish. 
Cook the vegetables and add the broth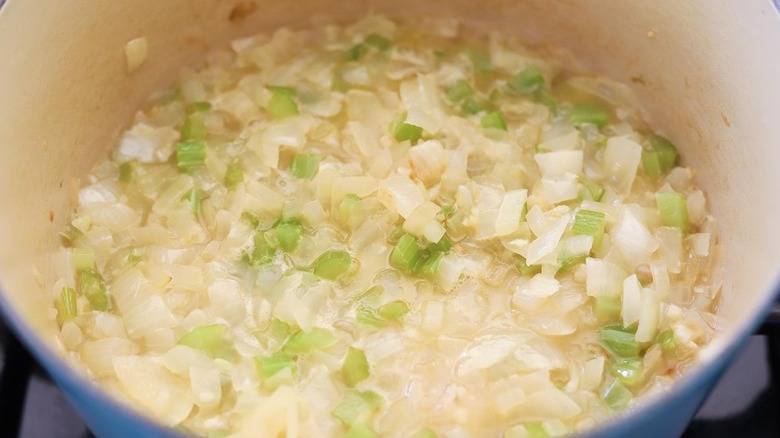 Kit Hondrum/Health Digest
With all of your ingredients sorted, you can begin cooking. First, put a large pot over medium-high heat, and add in the olive oil and a tablespoon of butter. Then, add in the onion, garlic, and celery — make sure the veggies are chopped beforehand — and cook for 8 minutes. You want the vegetables to soften, but not brown. You can keep them from browning by stirring regularly, and if they do start to brown, reduce the heat.
After 8 minutes have gone by, add in the chicken broth and white wine. Bring the liquid to a boil, then to a simmer, and wait for the liquid to reduce by half. This process should take about 4 minutes.
Add the rice and make the risotto creamy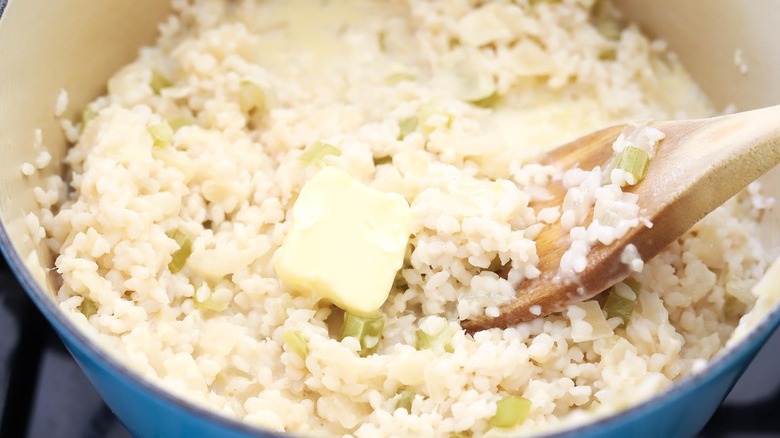 Kit Hondrum/Health Digest
Now, it's time to add in the rice, which, by the way, is what makes this dish keto-friendly. "This [Well Lean} rice does have a different texture when compared to regular rice," Hondrum explains. "It's more gelatinous, I would say. But not in a bad way. Just in a different way." 
Make sure the rice is rinsed and drained beforehand, then pour it into the pot, allowing it to absorb all of the liquid. Also, add the salt at this point, and stir everything to combine. It shouldn't take too long for the rice to absorb the liquid, and if it's still a little liquidy, simply allow the rice to continue cooking, until it has that perfect, creamy risotto consistency. 
Once the rice has absorbed the liquid, cut the heat to low, then add in the heavy cream, remaining tablespoon of butter, and Parmesan cheese. Taste the risotto and add salt, if necessary. Allow the whole thing to cook for a minute more, just until the cheese has melted. 
Garnish the risotto and serve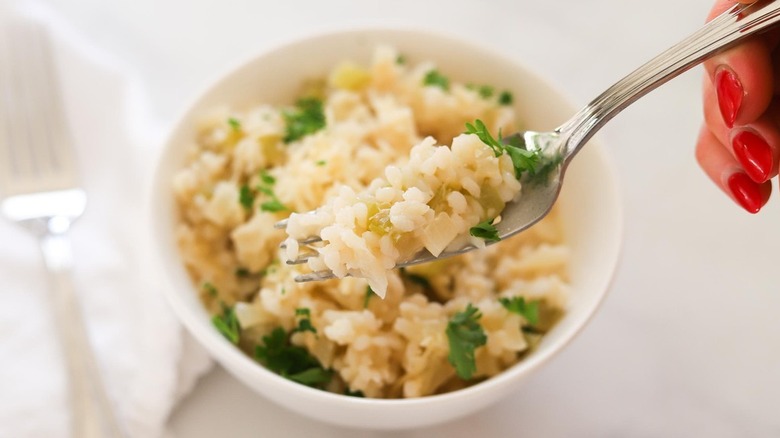 Kit Hondrum/Health Digest
Once the cheese is done melting, cut the heat and add in the lemon juice, stirring to combine. Optionally, garnish the risotto with extra Parmesan cheese and fresh chopped parsley, and you're ready to serve and enjoy this low-carb side dish! Hondrum notes that steak, shrimp, or a green salad are all great pairing options. Whether you follow a keto diet or simply love low-carb recipes, this delicious risotto recipe will not leave you disappointed.
Keto Risotto Recipe
If you thought a veto-friendly risotto recipe would be impossible to make, think again. This keto risotto recipe is quick, easy, and low-carb.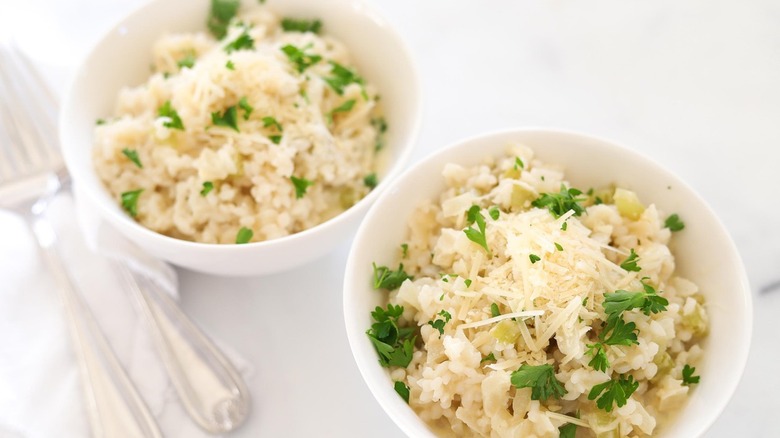 Ingredients
2 Tablespoons salted butter
1 Tablespoon extra virgin olive oil
2 medium yellow onions, diced
2 stalks celery, diced
3 large cloves garlic, minced or pressed
⅓ cup dry white wine
¼ cup unsalted chicken stock
3 ⅓ cups Well Lean rice, drained and rinsed
1 teaspoon fine sea salt
¼ cup heavy cream
4 ounces shredded Parmesan cheese
1 teaspoon freshly squeezed lemon juice
Optional Ingredients
chopped parsley for garnish
Directions
In a large pot, add the olive oil and 1 tablespoon butter and heat over medium heat.
Add the onion, garlic, and celery. Cook for 8 minutes or until the vegetables are softened, stirring occasionally. Take care not to brown. If browning occurs, lower the heat.
After the vegetables have softened, add the wine and broth and bring to a boil. Once at a boil, reduce to a medium simmer and allow the liquid reduce by half (about 4 minutes)
Add rinsed rice and salt and stir to combine. There shouldn't be much liquid left. If there's too much liquid, just reduce it more until it's evaporated to get more of a risotto consistency.
Reduce the heat to low and add the heavy cream, 1 tablespoon butter, and Parmesan. Stir to combine. Taste the risotto and add more salt, if desired. Allow to cook for about 1 minute or until cheese is fully melted.
Remove from heat, add lemon juice, and stir to combine.
Garnish with extra Parmesan and chopped parsley and serve immediately.
Nutrition
| | |
| --- | --- |
| Calories per Serving | 878 |
| Total Fat | 23.1 g |
| Saturated Fat | 12.5 g |
| Trans Fat | 0.2 g |
| Cholesterol | 54.9 mg |
| | |
| --- | --- |
| Total Carbohydrates | 138.0 g |
| Dietary Fiber | 1.3 g |
| Total Sugars | 3.5 g |
| Sodium | 769.3 mg |
| Protein | 22.5 g |