Chickpea Quinoa Salad Recipe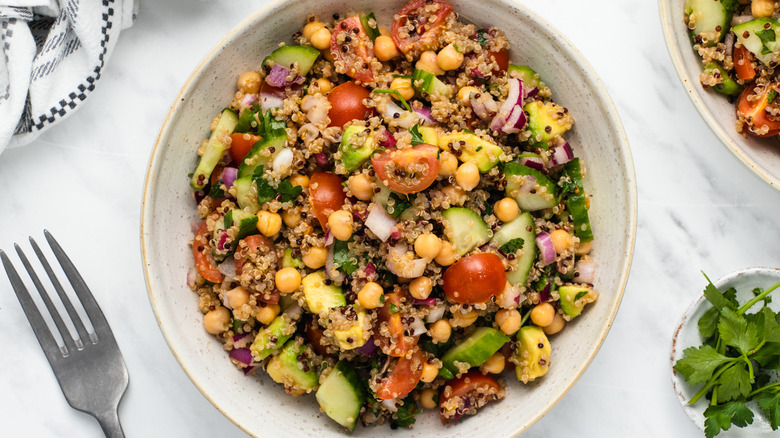 Catherine Brookes/Health Digest
If you thought salads were limited to boring bowls full of flavorless lettuce, let us introduce you to this bright and refreshing chickpea quinoa salad, courtesy of recipe developer Catherine Brookes. We typically want two things out of any meal: nutritional value and flavor. And boy, does this delightful salad deliver on both ends!
"I love the variety of nourishing ingredients that you can pack into this salad," Brookes says. "It's full [of] different flavors and textures and feels like a filling complete meal in itself." As the name suggests, there are both chickpeas and quinoa in this salad, but there's also plenty of other goodies, including cucumber, cherry tomaotes, and even pomegranate seeds, with a subtly sweet and tangy Dijon dressing to top it all off. Brookes describes the flavor of this salad as "fresh, crunchy, [and] earthy," and adds that the dressing "has a nice combination of sharpness, sweetness, and some tang from the mustard." We can't think of anything more that you could ask for from a salad, so let's get slicing and dicing!
Gather the ingredients for chickpea quinoa salad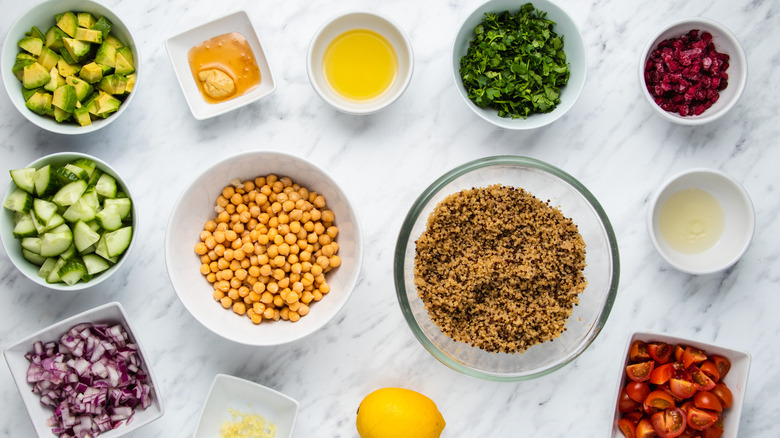 Catherine Brookes/Health Digest
For this refreshing chickpea quinoa salad, you'll need a few ingredients: a can of chickpeas, pre-cooked quinoa, a large cucumber, cherry tomatoes, pomegranate seeds, an avocado, a red onion, and parsley. For the dressing, you'll need olive oil, apple cider vinegar, the juice of one lemon, a garlic clove, honey, Dijon mustard, and salt and pepper, to taste. Brookes notes that there's some room for substitutions with the ingredients, like using a different kind of onion, or swapping the parsley out for cilantro.
Add the vegetables to a salad bowl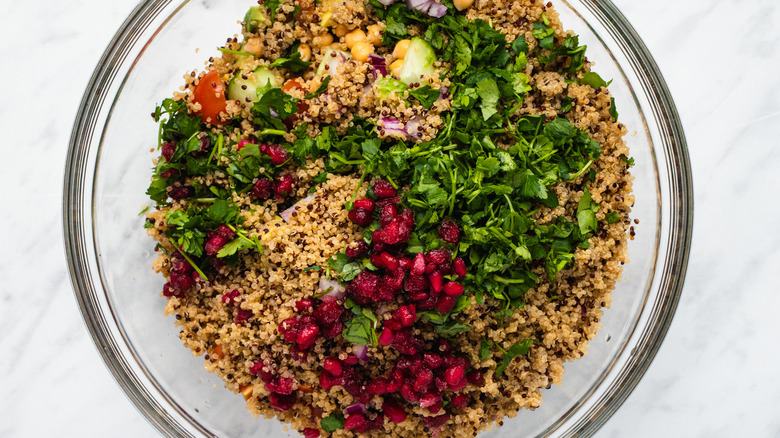 Catherine Brookes/Health Digest
Before you begin constructing the salad, make sure all of the ingredients are properly diced and chopped. The cucumber and avocado should be diced, whereas the onion and parsley should be finely chopped. Also, the cherry tomatoes should be quartered. Once all of the chopping is done, add the vegetables to a large bowl, along with the pre-cooked quinoa, drained chickpeas, and pomegranate seeds. 
Make the tangy dressing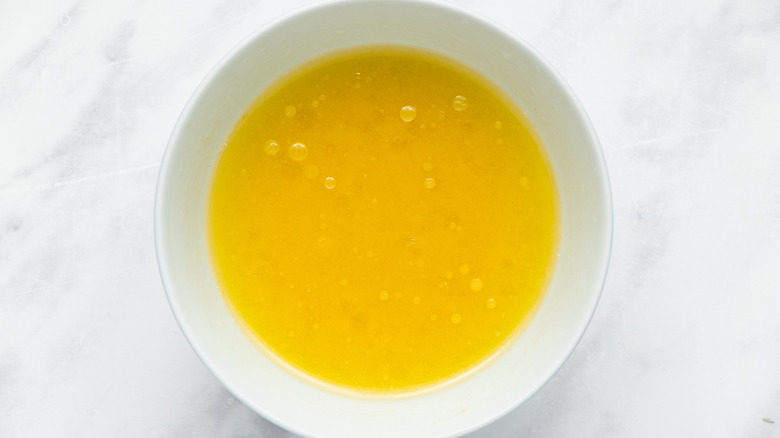 Catherine Brookes/Health Digest
It wouldn't be a salad without dressing, right? In a small bowl, mix together the olive oil, apple cider vinegar, lemon juice, garlic clove (which should be crushed), honey, and Dijon mustard. Add a little bit of salt and pepper, to taste, and your dressing is ready to go.
Toss everything together and serve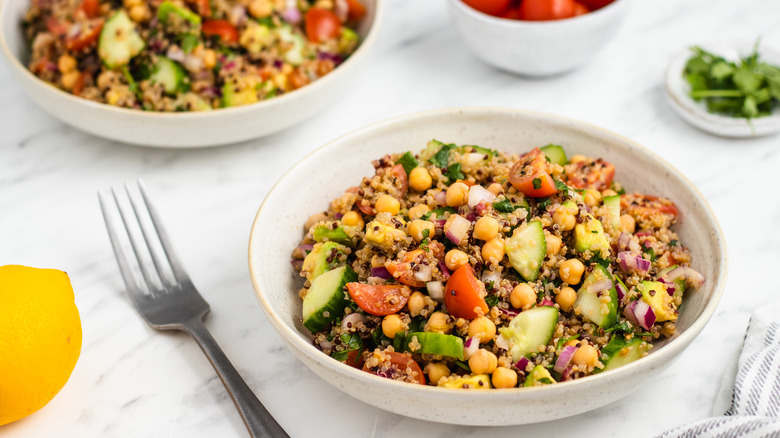 Catherine Brookes/Health Digest
Drizzle that dressing right onto the salad, use your hands to toss it all together, and voila! You now have a healthy salad that you can serve up, either on its own or as a side dish. "You can definitely eat it on it's own, but [you] could always add some roast chicken, hard boiled eggs, [or] tuna," Brookes suggests. And, as for leftovers, you can store them in the fridge for up to three days — perfect for meal prepping!
Chickpea Quinoa Salad Recipe
Skip the leafy greens for your salad base and instead try this protein-packed chickpea quinoa salad recipe for the next time you want to eat extra veggies.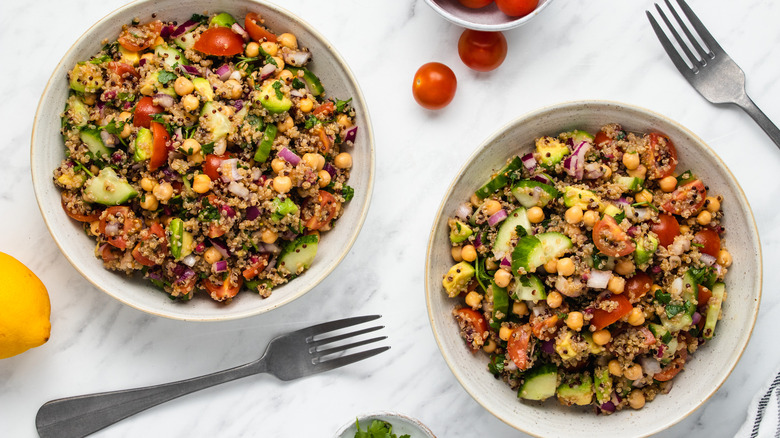 Ingredients
1 14-ounce can chickpeas, drained
2 cups pre-cooked quinoa
½ large cucumber, diced
1 heaping cup cherry tomatoes, quartered
1 large avocado, diced
⅓ cup pomegranate seeds
1 small red onion, finely chopped
½ loosely packed cup parsley, chopped
2 tablespoons olive oil
1 tablespoon apple cider vinegar
1 lemon, juiced
1 clove garlic, crushed
2 teaspoons honey
1 teaspoon Dijon mustard
salt and pepper, to taste
Directions
Add the chickpeas, quinoa, cucumber, tomatoes, avocado, pomegranate seeds, onion, and parsley to a large mixing bowl.
In a small bowl, mix together the olive oil, apple cider vinegar, lemon juice, garlic, honey, Dijon mustard, and some salt and pepper, to taste.
Pour the dressing into the bowl with the salad ingredients and mix well with your hands to combine.
Nutrition
| | |
| --- | --- |
| Calories per Serving | 667 |
| Total Fat | 24.4 g |
| Saturated Fat | 3.2 g |
| Trans Fat | 0.0 g |
| Cholesterol | 0.0 mg |
| | |
| --- | --- |
| Total Carbohydrates | 95.5 g |
| Dietary Fiber | 19.1 g |
| Total Sugars | 12.3 g |
| Sodium | 929.3 mg |
| Protein | 21.9 g |