Abbott Resumed Production Of Specialty Formulas. Here's When They Should Be Available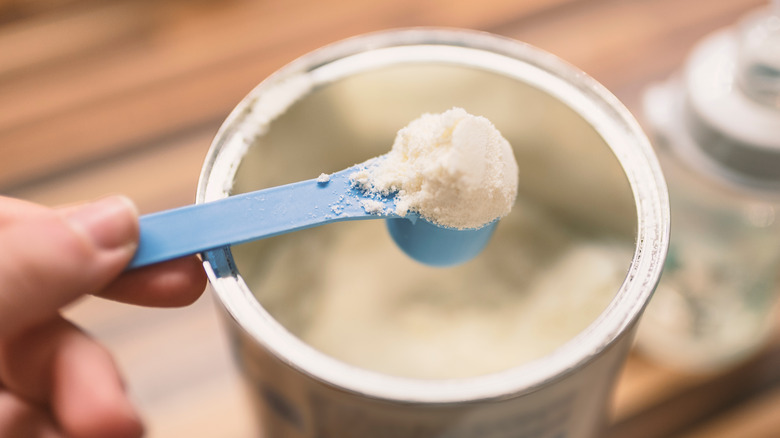 Dragana Gordic/Shutterstock
Baby formula will soon be on its way after Abbott Nutrition resumed production of its EleCare formula last Friday, according to a statement on the Abbott website. You should see the products on the shelves by June 20 and the company hopes to restart Similac production shortly.
Abbott had initially recalled its formula in February from its Sturgis, Michigan plant after four infants who consumed formula from the plant were hospitalized with the Cronobacter sakazakii bacteria. According to the U.S. Food and Drug Administration (FDA), two of the infants died from the infection. The state of Michigan, the FDA, and the Centers for Disease Control and Prevention (CDC) found no bacteria inside the Abbott formula used by the infants (via Abbott). However, an inspection by the FDA in February found the presence of the Cronobacter sakazakii bacteria on surfaces within the Sturgis plant.
According to the Chicago Tribune, families have filed lawsuits against the manufacturer for insufficiently warning consumers about the formula's dangers and failing to replace those that were recalled. The FDA is also under federal investigation for its slowed response to the investigation (per NPR).
Replenishing the supply of baby formula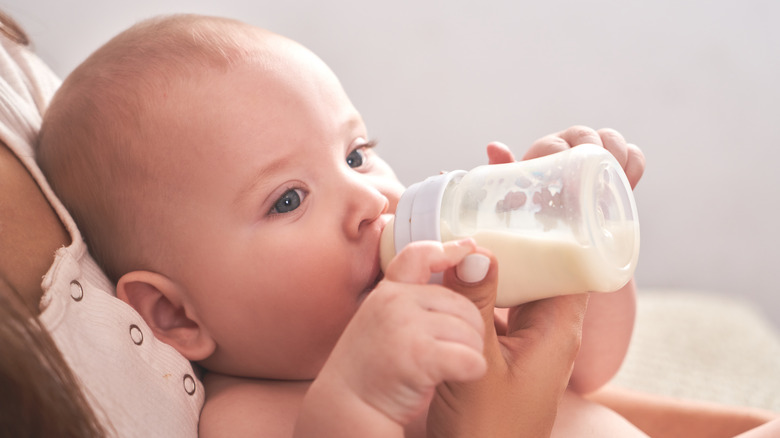 ivan_kislitsin/Shutterstock
The resumed production of baby formula at Abbott comes as a relief after a nationwide shortage. Although the Abbott recall was only part of the supply issue, the U.S. government is taking steps to increase production. Health and Human Services (HHS) Secretary, Xavier Becerra, called on the Defense Production Act to speed up the delivery of ingredients such as corn syrup and sugar to baby formula manufacturers (per HHS). This order also gave priority to Abbott in obtaining materials for its formula. 
The FDA announced that it will make it easier for imported formulas from Nestlé, Bubs Australia Ltd., and Kendal Nutricare Ltd. to be approved for distribution in the United States. Some shipments of formula have already arrived from other countries, although they've been reserved for babies with specific medical needs (per CNN).
If you're stressed over the baby formula shortage, the HHS offers some help, such as finding safe substitutes for your current formula. Be sure to consult with your pediatrician if your child needs a hypoallergenic or specialized formula.