Why Hundreds Of Thousands Of Plant-Based Infant Formula Cans Are Being Recalled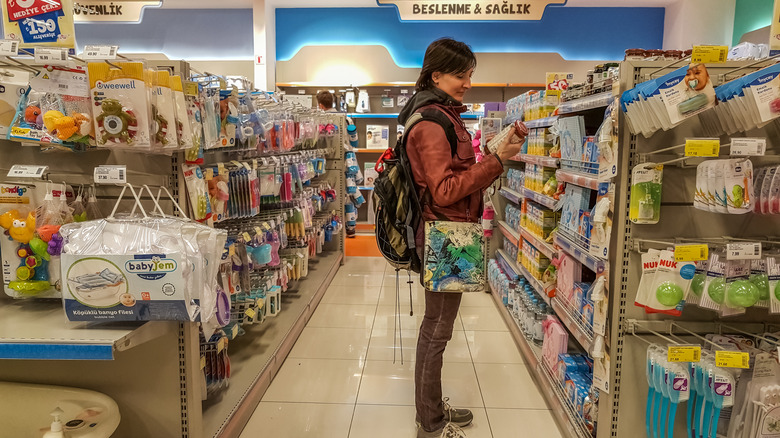 Ipek Morel/Shutterstock
It's been a challenging year for those who use infant formula, from supply chain issues to product recalls creating a nationwide shortage that wreaked havoc throughout most of 2022. But we're not out of the woods yet, as recalls continue to be issued and the future of infant formula in the U.S. remains precarious.
In early 2022, Abbott Nutrition, a manufacturer of infant formula in the country, recalled many types of formulas and shut down production at a plant in Michigan, which spurred a nationwide shortage (via USA Today). The situation became so dire that babies were being hospitalized for malnourishment. Therefore, the Biden administration stepped in to try to alleviate the crisis. But while production has increased and shelves are slowly becoming stocked again, over a third of families were still having trouble procuring formula as of December 2022, causing some to wonder how the Food and Drug Administration (FDA) has handled the crisis. Dr. Susan Mayne, director of the FDA's Center for Food Safety and Applied Nutrition, said that the FDA has made considerable movements to address the issue in the long run. But recalls continue to persist, including a recent FDA recall that impacts multiple batches of Enfamil plant-based infant formula.
Another infant formula recall parents need to be concerned about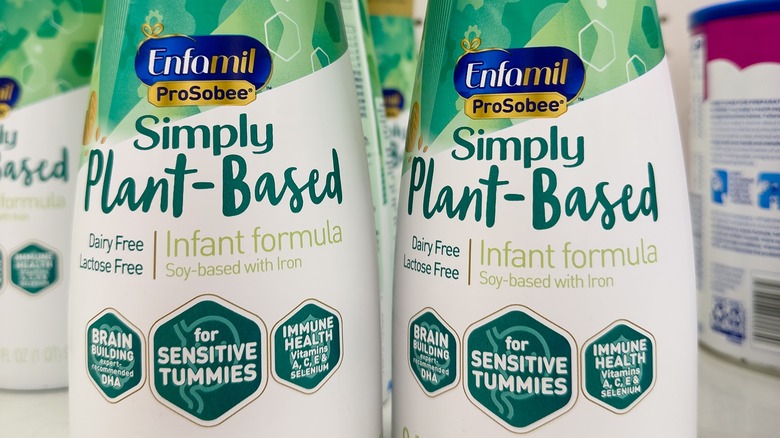 ZikG/Shutterstock
A top manufacturer of infant formula in the U.S., called Reckitt, has recalled approximately 145,000 cans of Enfamil ProSobee Simply Plant-Based infant formula due to potential contamination with a bacteria called Cronobacter sakazakii (per FDA). The issue stemmed from an ingredient from a third-party vendor, which Reckitt says they have since corrected. They also said they're no longer doing business with this vendor. Cronobacter is the same bacteria that caused the Abbott Nutrition recalls and impacted the shortage last year as well (via CNN).
Cronobacter is a bacteria that lives in dry spaces, so it can be found in products like powdered milk, herbal teas, and infant formula, according to the Centers for Disease Control and Prevention (CDC). Anyone can be infected by Cronobacter, but infants under 12 months old are particularly susceptible to illness, including sepsis and meningitis. Those younger than two months of age are even more vulnerable. In the U.S., 20% of infants who develop sepsis or meningitis due to a Cronobacter infection died.
Reckitt recalled 12.9-ounce cans that were manufactured between August 2022 and September 2022 (via FDA). The cans have a use-by date of March 1, 2024, and are stamped with batch numbers ZL2HZF or ZL2HZZ. They have a UPC code of 300871214415 and were distributed in the U.S., Guam, and Puerto Rico. If you have these products, you should throw them away or return them to the store for a refund.