Ally Arcuri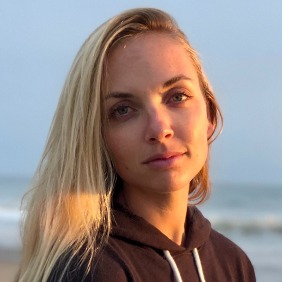 School
California State University Fullerton, Yandara Yoga Institute
Expertise
Exercise, Yoga, Nutrition, Cancer, Health
Ally spent 7 years working with a physical therapist and acupuncturist to hone her therapeutic exercise skills. After moving to California's central coast, she became a full-time personal trainer and exercise instructor. Always trying to stay at the cutting edge of research, Ally is currently studying to the CSCS exam.

In 2019, Ally became a stage 3 cancer survivor. Unfortunately, the months of chemo, radiation, and surgery have made her an expert in terms of cancer experiences. This phase in Ally's life taught her to slow down and allowed her to hone in on her writing skills.

Ally jokes that she has been writing a book for a decade — but it's true! A natural-born writer, she loves feeling deeply and constructing sentences to convey stories and emotions. Ally strives to grow as a fitness writer every day.
Experience
Ally is an adventurer, artist, athlete, and cancer survivor. She is an Exercise Specialist, who travels the country in her refurbished motorhome looking for peaks to bag. Ally earned her Bachelor's degree in Kinesiology and is a 200-hour registered yoga teacher. She currently writes running and fitness gear reviews for Outdoor Gear Lab, which is based out of her hometown (South Lake Tahoe, CA). In her free time, Ally can be found snuggling with her wolf-dog, geeking out over exercise physiology, or practicing headstands on her paddleboard.
Education
Ally has her Bachelors degree from California State University Fullerton. She earned her degree in Kinesiology. Shortly after graduating from CSUF, Ally completed her 200-hr Yoga Teaching Certificate at the Yandara Yoga Institute in Baja California, Mexico. She has over 11 years of experience working in the fitness and therapeutic exercise world. She is pre and post-natal certified and holds certifications to teach spin, TRX, boot camp, and others. She has spent the last few years exploring how to teach yoga to people who have significant disabilities.
Health Digest Editorial Policies
Health Digest's coverage is an authoritative collaboration of editorial professionals and experts. Our goal is to keep readers informed on everything related to health and wellness, with a focus on the accuracy and integrity of our content.
Trust is of the utmost importance, and in addition to our roster of highly-qualified experts, we consistently fact-check and verify all claims, as well as refresh our articles with the most current health industry updates. See our full policy page for more on our editorial process.